Bionicle Heroes
The Lego series of toys rock. If you are not familiar with the Bionicle type of toys, then they are like high tech robots that have been followed up with a series of comics, cartoons and other bits and pieces that have driven the kids crazy and thus the need for this game!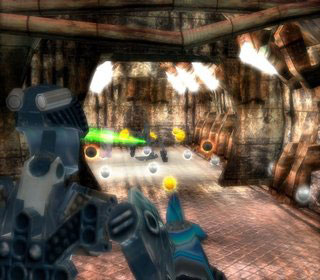 You are introduced to the title through a short narrative in the beginning, however all you need to know that is that you are the good guy and you are going to shoot damn well anything that gets in your way. The game is shown from an over the shoulder angle and you are given elemental powers that make up the reason for you having to travel around levels made appropriately of fire, ice and water etc.
As you make your way through the game blasting other pieces of lego to pieces you will collect things similar to Lego Star Wars and be able to upgrade things as you progress. You will face a variety of enemies through the game and there are a number of boss battles that should keep you on your toes.
During the first part of the game most gamers will be entertained with the humour and all the little things that can be done. After that the game does suffer from repetition and the story doesn't carry you through enough to not pay attention to the fact that you are doing the same thing over and over again. Younger players will possibly find this reassuring though as they will be faced with familiar challenges throughout.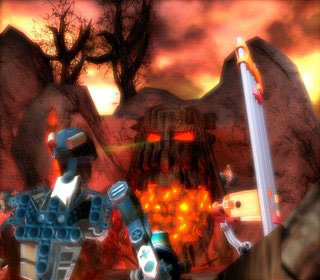 Graphically, the game is a mish mash of good and bad. It appears that there have been some efforts made to doll up the look of the title however it does get confusing as there are blurry effects that I am sure are in place to make the title look prettier than it is. The disappointing thing is that the blur tend to over take the visuals and get in the way of the game itself.
Overall this is a game that is really going to be the pursuit of the very young, anyone older than about eight is going to see through the flaws of what is not a very compelling story.