24 the Game
This game was a conundrum to me. I love the series 24 on TV and was keen to see what would be made of the game. After all, it features all the real people from the series and even voice acting was carried out by the real deals which was pretty sweet. Unfortunately we find that 24 is trying to be too much to too many and falls short of the massive expectation that I had for it.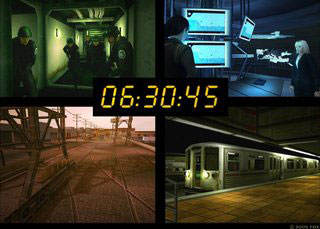 The title doesn't take 24 hours to play which would have been interesting seeing how you could control the player dynamic and a predetermined storyline at the same time. I found it took about 10 and a bit hours to plow through it all and the story behind the whole thing is very tight and worthy of sitting up there next to the television show. All the usual drama that you get with the game is present and accounted for and there is a real sense of tension felt throughout.
Cutscenes in the game are well rendered and thought through. Audio in the game and cutscenes shines and really adds to the ambience of the experience. It's just the actual ingame stuff that makes you wish that you were playing a different kind of 24, possibly along the lines of a Tom Clancy title would have made for a better game. Even if it just stuck to being a shooter.
For the most part, you will be playing the role of agent Jack Bauer, played by Kiefer Sutherland in a third person style of gameplay. Throughout the game there will be occasion that you swap out to another key character, however Jack is the star of the show and the one that you will want to spend the most time with. Some of the problems in this game take place during close quarters combat are affected to a great deal by a niggly camera that is pretty hard to nigh impossible to control, making it hard to draw a bead on the bad guys. If you get them from a distance though you should be fine.
Possibly the worst part of the game is the shocking driving scenes, these are disappointing to say the least and gamers will be struggling to take control of their vehicles which feel like they have been doused with grease before being placed on the road. The enemy AI is a bit over the top too, ramming you with their cars even if it means that they blow themselves up in the process. I really didn't enjoy these sections of the game.
There are a variety of other missions too which involve you interrogating suspects and entering codes and blowing stuff up as well. Make sure you have a pen and paper handy when you hear radio transmissions as they will sometimes contain codes that for some silly reason are not repeated! Failure to put a correct code into a computer at a crucial moment will mean instant retry folks, so stay on your toes.
Overall this is a game that has great potential that is never fully realised. Sloppy physics, terrible camera and a not quite right feel ensure that this is a game that you be grateful that we played for you unless you are an absolute die hard fan of the game who is prepared to overlook all the bad stuff just to see another "season" of 24.