10,000 Bullets Review
Enter the world of Crow and Judas, two professional hit men who handle all the "dirty work" for the Tonio Family, a powerful crime syndicate based in Rome, Italy. Having lost his mother at a young age, the aimless Crow was taken in by Papa Tonio and was raised to serve the syndicate as one of its members. For his entire life, Crow had only one goal in mind, to avenge his mother's death.
Unbeknown to Crow, he also possessed a secret power, the power of "Gunslinger" that allowed him to foresee the future. With his powers and determination for revenge, Crow matured to became the finest hit man in town. Though understandably a loner, Crow eventually found himself a friend in Judas, a fugitive from France who taught Crow the finer arts of the gun.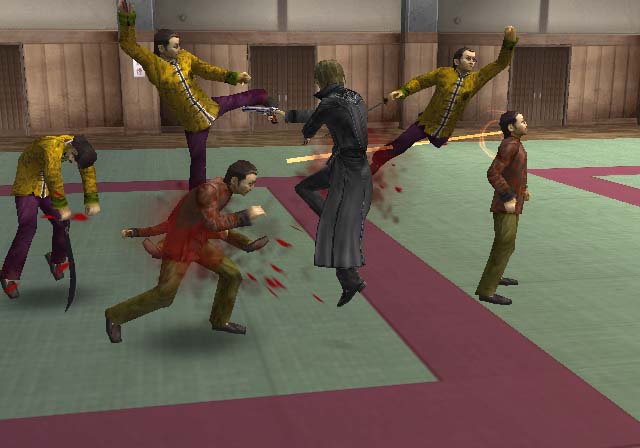 Grab your guns, wits and valour as it's time control some of the deadliest gunslingers mankind has ever seen in this action-shooter adventure that is a mixture of the Matrix meets the Wild Wild West. Undoubtable a "B" grade PS2 game, this title has enough raw grunt in graphics and gameplay to give the (pun intended) the big guns a run for there money.

Features
Control four deadly "Gunslingers" that include Crow, Alice, Dragon and Boris

Enhance your senses, feel the "Bullet time", freeze time and master all the special techniques of the professional gunslinger

Each Gunslinger has its own ability path fully customizable an upgrade

Furious full-action-shooting-adventure through an impressive sets of scenarios
10,000 Bullets is a strange game that brings forth a variety of different genres into one entertaining and highly cheesy game. Gamers get to control four characters, each with different special abilities and weapons. The game itself is a third person view that has the gamer completing a variety of quests in order to progress the title. Using whatever weapons are available and also martial arts, the player also has access to "bullet time" as made famous by the Matrix that enhances the gameplay of this addictive title.
As you progress through the game, you soon become to master your skills by performing a variety of different combo attacks and critical shots that assist in replenishing your gun gauge that is then used for bullet time. Fortunately you don't have to rely on your guns all the time as your characters have super-human strength that enable to take on the best of the best.
Graphically, 10,000 Bullets is a little dated but does have some highly detailed characters with a variety of texture details for that extra realism. Match that with a wide gamut of special effects from bullet time, lighting and Hollywood style explosions and you have one kick ass game. As with the graphics, the audio of this title matches the genre perfectly with its heavy soundtrack and realistic sound effects that go hand in hand with the game. Unfortunately both aspects of this game is a little dated when compared to some of the new titles out on the market at the moment.
In conclusion, Taito have managed to put the "old school" back into the gaming world with 10,000 Bullets that contains a very clichéd storyline, addictive gameplay and just good damn fun but many gamers will be put off from the graphics and unfortunately the title steals way too much from the Matrix series... not that that is a bad thing... Maybe worth a rent before a buy!