Norton Internet Security 2011
Symantec continue their golden run with their Internet Security products and Norton Internet Security 2011 (NIS2011) cements this further with a variety of new features such as reputation scans, performance alerting and my favourite, the protection map. Installation is once again lighting fast and in just under a few minutes, the installation was completed and we were greeted to the new 2011 interface that was quite slick and relatively very easy to use.
New Features
Reputation Based Security instantly checks when and where programs originated to identify and stop new malicious programs faster than ever. Nortonís reputation system also allows users to determine if their overall download behavior is more or less risky compared to the 58 million Norton Community Watch members today.
System Insight 2.0 with new Proactive Performance Alerts monitors all running applications, and now proactively alerts users if any program is overusing system resources and slowing them down so they can make changes to improve computer performance.
Download Insight 2.0 delivers the most aggressive reputation-based protection yet, checking every downloaded file for safety before it is allowed to run.
SONAR 3 brings a new level of behavioral security to Norton 2011, providing true "zero-day" protection against new and emerging threats that are specifically designed to evade other security features. With its improved classification techniques, SONAR 3 identifies suspicious software based on its behaviors and automatically handles any decision making on behalf of the user.
Norton Bootable Recovery Tool conveniently allows Norton users to boot a PC into a safe state when a system is so deeply infected with a rootkit or other troublesome malware that installing security software or even properly starting up becomes impossible. New this year, the Norton Bootable Recovery Tool wizard automatically creates a CD/DVD/USB bootable device in a quick and easy way.
Not only does this product protect your from traditional threats, it also goes beyond by providing protection from websites that use keyword stuffing and dodgy applications via FaceBook. It's good to see that Symantec are keeping up with not only the new threat landscape but new forms of internet use such as social media and of course, identity theft.
In terms of scanning, it continues to be done while the computer is idle and whether this is 5 minutes or 60 minutes of idle time, it does not impede the user at all. Updates are also done while the computer is idle, however the user does have the option of forcing NIS2011 to scan or check for updates if required.
But from our experience, itís better and easier to let NIS2011 do all the work and to ensure that the program is running correctly, it will display a logo at the bottom of your task bar and if something should go awry, it will warn you. Another positive feature is that if NIS2011 does discover a problem like malware or an external threat, it will take care of the problem without directly informing the user. This is perfect for novice users who already have enough on their plate if they are a little weary of their PC.
Even for a professional user such as myself, I really donít need to be bothered and this works quite well but if you require more information, this is also available via the accessible menu system. This is the type of protection that users want and when installed, NIS2011 will be silently monitoring any internet threats which is quite proactive if it does find a threat. Logs are also available if required. After using this product for several weeks now, Symantec continue to be heading in the right direction and I could not fault this product.
As NIS2011 continues to adapt with the changing threat landscape and even though the program protects against traditional threats such as viruses or Trojan Horses, Malware and Identity Theft plays a bigger part of online dangers. Thanks to the Norton Community which includes thousands upon thousands of userís world wide, it uses reputation technology that tags ďsafeĒ files and websites.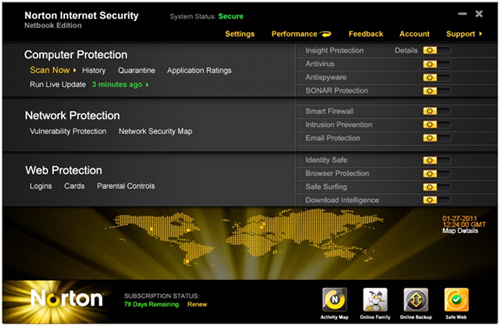 If something is found nefarious, it does not take long before other members are informed and this technology is far more beneficial than traditional internet security techniques. As this reputation base for both downloadable content and websites is monitored on a regular basis and as an example, not all websites will be flagged as a risk indefinitely via Norton Safe Web. Impulse Gamer was attacked and breached with malware about a year ago and Norton did mark us as a risk, however once we discovered the threat and fixed it, we were back on the safe list. This is definitely a great feature.
Apart from security, NIS2011 features some great new tools to benefit the user such as Norton Power Eraser. This free tool that is loosely integrated into NIS2011 is ideal for removing certain viruses or threats to your computer that have comprised your Operating System which may not allow your PC to boot or prevent NIS2011 from doing its job. By running this tool, this will attempt to clean-up the issues that your PC may be facing and Iíve spoken to some colleagues who needed to use this on their friends PCís and it done a remarkable job. Another tool that NIS2011 boasts is the Norton Bootable Recovery Tool that allows users to create a bootable rescue CD to help restore your operating system should it be struck down by something like a virus or Malware issue.
Norton have also revamped their monitoring software of CPU, Memory and applications used on your PC. This gives the user a detailed summary of how much memory is being used, including how much is used by NIS2011 and once again, itís on the low scale. Other options include a real-time summary about the Norton Community Database, access to OnlineFamily.Norton and a map of your region (Protection Map), informing the user of where threats have been located. Identify Safe is still incorporated into the product which assists in preventing your identity or details from being stolen and is a great password manager as well. As with older versions, the program features an extremely sturdy firewall and has some great spam options for e-mails.
In the end, we've just briefly touched some of the great features of Norton Internet Security 2011 that we could happily recommend to both novice and professional users. This is definitely a must have in this world of cybercrime and apart from the one year of updates, it also offers some of the best support available. Definitely a must have software accessory for your PC!