MiniMint
This is the perfect product for mobile businesses, whether you're a gardener, a dog groomer or have a stall at a market... MiniMint may just be the product that you're looking for. Best of all, it's MYOB compatible and whatever mobile business you have, it will definitely streamline and make things easier for you.
Quite simply, this is one of the most ingenious products of the year which allows users to take on-the-spot credit card payments with only your mobile phone. It gets better because MiniMint is also Australian owned, unlike some other third party providers which require US activation. That's not the case with MiniMint!
Simply by connecting a credit card interface to your MiniMint mobile phone compatible device (e.g. smartphone), the user only needs to swipe the device and it automatically does the rest. The money goes into the users account and a receipt is even generated for the buyer. This information then gets sent to a secured database in order for the user to add this to their accounting system.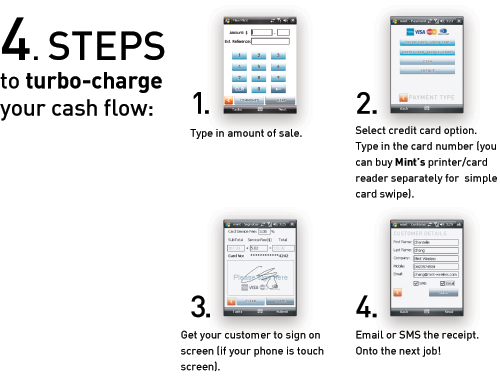 So is it secure? The simple answer is yes as it uses encryption technology to ensure that information cannot be accessed by unauthorised users which is great news for the service provider and buyer. The MiniMint database also allows for additional users to be added for your company and this is the hub where you setup your products or services. Of course, there is a cost at additional users, however compared to the private of purchasing an expensive EFTPOS machine, this is definitely the way to go for some users.
The installation of the software onto the Smartphone was quite easy and once installed, we were ready to test this software on our Nokia Smartphone. If do you get stuck, there is a great tutorial/training video and of course 12-months of in-depth technical support. The interface is quite easy to use that even the most technological challenged should be able to easily navigate and arrange transactions.
This service does come at a cost to the user which is a 12-month subscription to the MiniMint system which includes the software and costs $199. Once this expires, a renewal of $199 is required for an additional year plus each transaction is charged at 99 cents.
In our opinion, the costs are quite relative as it allows the user to automatically get their payment and it benefits the buyer as they can pay immediately. Easy to use and a great online interface, MiniMint is a must have for mobile business users.
Recommended!
Features of MiniMint:
MiniMint includes software for a Smartphone:
Record and process all credit card, Visa and MasterCard debit card, cash, and cheque payments.

Generate receipts and email or SMS them to your customer.

Includes training video to get you started.

Includes software upgrades for 12 months.

Includes technical support for 12 months.

Your own online reporting website:

Records every transaction for future reference.

Log in and track sales as they happen.

Export reports into a spreadsheet for accounting purposes.

Monitor field staff progress.

Provides unprecedented insight into sales transactions.
A business can have one user or hundreds of users reporting to the same back end system.

What are the costs?
MiniMint is a subscription based product with an annual renewal subscription fee of $199 and $0.99 for every credit card transaction
Included in the initial pricing is a 12 month subscription as well as 20 bonus transactions

MiniMint works with your standard bank's credit card merchant account, if you don't have one Mint will help you set one up. Standard merchant fees will apply.

The MiniMint system gives you the option of setting a transaction fee to recover these costs from your customers.

Benefits of MiniMint:
With the large number of Australian businesses becoming more mobile including plumbers, financial advisors and personal trainers - MiniMint is the perfect solution for businesses to be paid instantly using a mobile phone, boosting cash flow and reducing debt!

Get rid of the security risks of carrying around cash - use your mobile phone with MiniMint software instead!

MiniMint will put you on the right track to improving both business efficiency and productivity by providing an effective and trouble free payment method.
You can now halve administration overheads and get rid of time consuming paperwork by sending receipts via email or SMS on the spot.

Peace of mind is assured for both you and your customers with MiniMint being certified under the payment industry standard, used by the major banks (3DES).
Specifications
Operating System PC running Windows® Vista®/XP Home or Pro
Processor 1GHz Processor
Memory (RAM) 256MB RAM
Other Internet connection required if you wish to access the back end reporting system; Please visit www.mint-wireless.com/miniminthandsets for the latest detailed list of compatible handsets.