What happens when you combine iOS with the Mac OS? The answer is Mac OS X Lion that successfully merges the advanced features of the iPad operating system into the world's most advanced desktop operating systems. Even better is that the cost to upgrade your previous operating system to OS X Lion only costs $29.99 and after a 4GB download, your Mac will never feel the same. With over 250 new features implemented into this operating system, there is simply just too many to list in this review. However for the purists, a detailed list can be found below on the official webpage from Apple.
Features
http://www.apple.com/macosx/whats-new/features.html
In order to keep this review accessible, we will highlight the main features in this review that include Multi-Touch Gestures, Mission Control, Full-screen Apps, AutoSave and Versions, Mission Control, Mail and my personal favourite, the Mac App Store. With all these impressive features and just when Mac changed the world of computers with their WYSIWYG graphical interface for their OS, Apple have taken things even one step further by even eliminating the mouse.
Installation
The installation of the Mac OS X Lion was a very simplistic process and once we commenced the download of this upgrade from the net, we simply waited until the download was complete. We did leave our Mac running overnight while it downloaded and installed Lion. The next day, we were in for a treat and although the operating system still had that classic Mac feel to it, things were considerably different. Fortunately none of our existing programs had to be re-installed once the upgrade was complete, so it was definitely a smooth transition.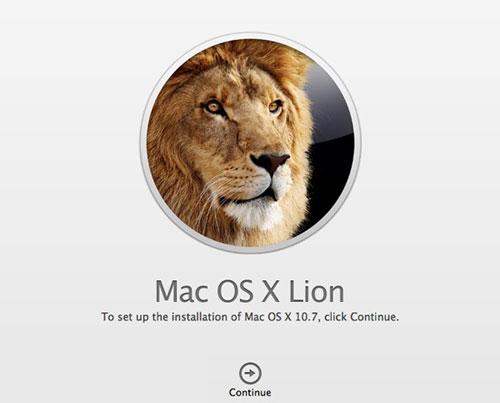 Interface
Users familiar with Leopard should have no issues in the transition to Lion but those users who have come to love and enjoy the iOS for the Apple iPad or iPhone will be pleased with the addition of Multi-Touch Gestures. For just $69, users can now throw their mice in the bin and replace it with the new next-gen control system for the Mac called the Magic TrackPad. This device works just like the screen of the iPad which allows your fingers to do all the clicking, scrolling and swiping. Deleting is even done like the iOS of the iPad where you simply hold down on the app until it starts to wiggle with an X through it.
Initially, I was a little unsure of the Magic TrackPad but in just a few hours, this product was far superior than the mouse as not only did it increase my accuracy but felt considerable more natural than using a mouse. I'm actually quite surprised that no-one has thought of this before. Just like the iPad, you can pinch the screen to zoom in and out or swipe web pages like you are reading a newspaper. Using your finger as a mouse pointer is also vastly superior and definitely makes navigating the operating system a much more productive and enjoyable experience. Another interesting feature of the TrackPad is that you use it like a real note book (e.g. paper based), so if you want to move up on a page, you move up as opposed to moving the mouse down.
Before I lose track of what this review is about, the Magic TrackPad uses Bluetooth and can be used up to 33 feet away and for just $29.95, you can purchase a recharger battery pack from Apple so you will never be without a spare battery again. If this feels a little too futuristic, the standard mouse can still be used with Lion, although our opinion, it's no way as good as the Magic TrackPad. You can also down grade the gestures of the Magic TrackPad as well.
Gaming companies will definitely make the most of the Magic TrackPad and as a gamer, I'm eagerly awaiting to see some of the bigger titles released on the Mac now. Lion does however come with a rather impressive 3D full-screen chess game which is actually quite fun. The operating system even comes with QuickTime with some basic video editing capabilities that is reminiscent of iMovie.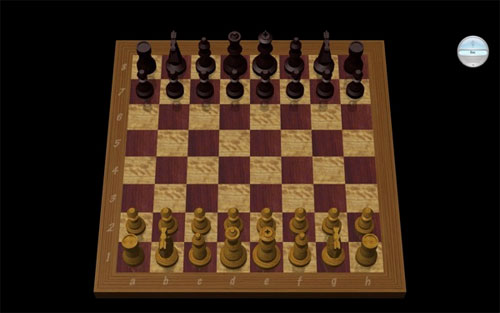 Designers will be pleased to know that Lion supports full-screen apps that takes up your entire screen space. Whether you're using a word processing program or a photo application, this features makes a huge difference to older operating systems. Seeing photos full page and scrolling between them via the Magic TrackPad, especially on a 27" screen definitely removes unwanted clutter. However all that important clutter is still accessible and just a finger slide away.
This also includes the three finger swipe which allows you to swap between full screen applications. It does take a little getting use to the controls via the TrackPad but if you are unsure, pop into your local Apple store to give one a whirl. It will change the way you think and use your operating system. The full screen feature is also great for accessing webpages, whether that was Impulse Gamer or something more productive like The Age newspaper online.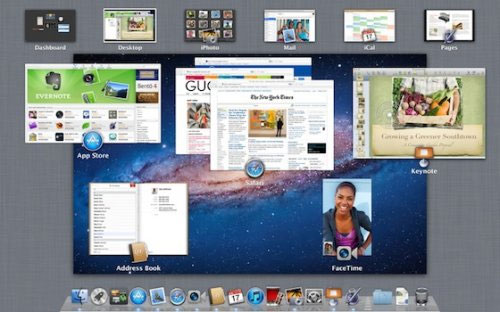 Although Lion still has all the main icons at the bottom of your screen, the new Mission Control feature allows you to get a birds eye view of all your programs that you are currently using. For example if you have Safari, Microsoft Word, Aperture, Mail and the App Store open, you will see this displayed on your screen and swapping between them is quite flawless. In order to access the Mission Control, you simply swipe up with three fingers on your TrackPad.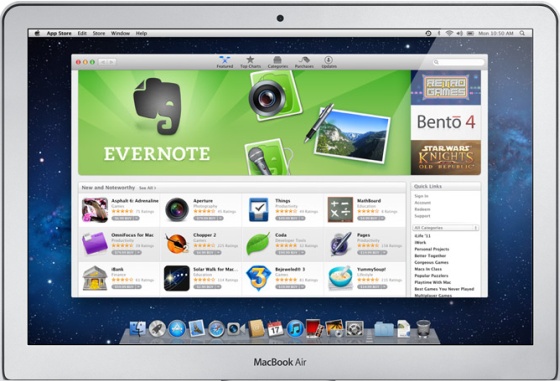 The App Store. Just like the iPad and iPhone, the App Store on these devices have become a worldwide hit and with virtually thousands upon thousands of different applications available, Mac users can now experience this amazing place for Productivity, Music, Games and just about everything else. This also opens up for developers which makes designing programs for iPhones, iPads and the Mac considerably easier now. The good thing about the App store is that if you are overseas or working interstate, you can basically access ALL your apps from another Mac. Simply by logging in as yourself on their Mac, you can download any App that you have downloaded in the past and go from there.
Like the iPad, you simply select the App you want and wait until it downloads to your computer. I'm quite excited to see the App Store grow on the Mac because this it the place for up and coming developers to showcase their wares. Another highlight of the App Store is quite a few of the applications are quite affordably priced.
Those users who work on documents and are scared that they may lose information will be pleased with the new Auto Save and Versions feature of Lion. Instead of pressing Command-S all the time to save, the new OS basically saves automatically for you. Versions is another cool feature that basically keeps a detailed history of documents you might be editing so if you accidentally delete something and continue writing, you can virtually go back and open that document which had the original information you wanted. You can even paste from older versions to new ones. Lastly, resume in Lion X basically allows you to power down your Mac with everything still opened. When you turn it back on, it will be just like you left it.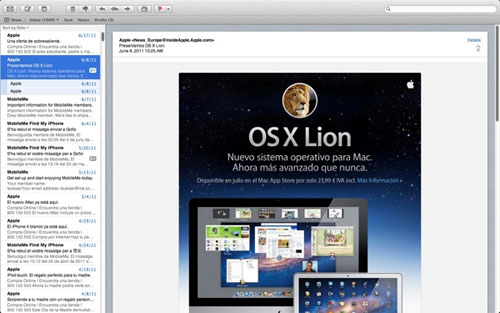 Safari is still basically the same in Lion with the exception of gestures, however Mail has been updated considerably. Apart from seeing more content from your e-mails, this powerful program that although looks a little simplistic allows you to group and sort your e-mails in a variety of different ways. From making folders to creating favourites or by flagging e-mails from different users. This simplistic yet powerful approach is definitely the way of the future and prevents you getting stuck in hundreds or sometimes thousands of messages. The new search bar is considerably more powerful than previous instalments as well and whether you're typing a recipients name or a keyword, all searches will come up.
For those who share files, especially in offices, AirDrop allows you to share files without complicated WiFi setups. All you need to do is drag a file to the person's Mac and it will prompt them if they wish to accept the file. Best of all, this allows for high speed transfers of up to 30 feet away with in-built encryption. To send a 50MB file, it basically took around one minute which is quite fast.
Conclusion

In conclusion, Mac OS X Lion is definitely the world's most advanced desktop operating system that successfully combines the great features of the iPad operating system with that of desktop and notebook computers. Mac OS X Lion is also quite fast to use and we did not have to wait for anything to load or while the operating system was doing things in the background. The future benchmark of operating systems has been set and one can only imagine what the future will hold for Mac users after this powerful and amazing release. But hey... for just $29.99, you really can't go wrong!
Highly Recommended!