Old MacGamer had a farm, E-I-E-I-O
And on his farm he had a cow, E-I-E-I-O
With a "moo-moo" here and a "moo-moo" there
Here a "moo" there a "moo"
Everywhere a "moo-moo"
Old MacGamer had a farm, E-I-E-I-O

Old MacGamer had a farm, E-I-E-I-O
And on his farm he had a penguin, E-I-E-I-O
With a… what the? Uhmmm… Penguins? That's right my fellow casual gamers, Old MacGamer really does have in farm in Farm Frenzy 3, the latest casual strategy game. If you ever wanted to be an international farmer, then why not attempt to manage five farms from around the world with some truly strange farming techniques. With 30 animals to control, you also need to watch out for the hungry predators that roam around your farm in this addictive casual gaming title.
This casual strategy game also boasts a whopping 95 levels as you become a farmer in order grow crops and animals to create produce and manufacture some worldly goods for profit. Players control Scarlet as she attempts to turn her farms into a profitable venture with a goal of becoming the president of the farmers union.
Each farm has a variety of objectives must be completed such as making a set amount of money or creating X amount of eggs for produce, some challenging and some easy. To add in another element, you need to compete for stars with the gold star being the best which is a similar vein of other casual games.
The interface of Farm Frenzy 3 is quite easy which all revolves around a simple point and click interface as you ensure your animals are fed and attempt to create produce to progress to the next farm. As you earn money, you can upgrade building, purchase additional animals and even vehicles to assist in achieving Scarlet's dream. Best of all, each time you play a farm, the outcome is only limited by your imagination, so this is one can that be played over and over again.
Graphically, Farm Frenzy 3, and to borrow a word from the developers is quite zany, especially because of its cartoon graphics and over the top animals. They had me sold when the word penguin was mentioned and do these icy little tackers look cute. Everything in Farm Frenzy 3 is quite childlike and family friendly which mimics some of the online interpretations of this title. The menu system is simple and quite easy to access in the game with icons and the like. Add in a plethora of zany sound effects and some pleasant background music and Farm Frenzy 3 an apt title.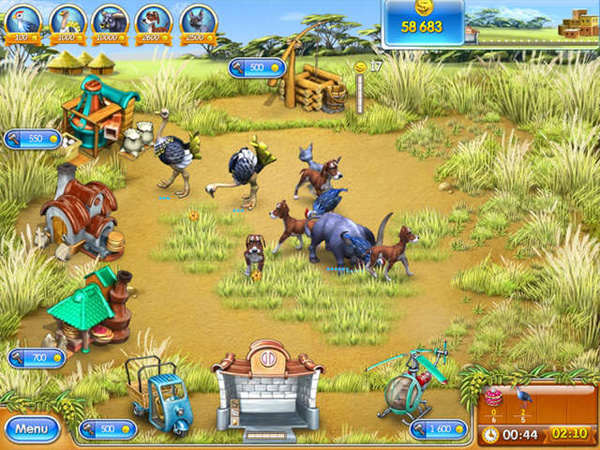 At the end of the day, this is definitely one of those addictive casual games but best of all is the price which is extremely affordable at $19.95. If you ever wanted to be a farmer or attempt to play a strategy game based on a farm which most of you probably would not but the friendly atmosphere, the comedic value and the gameplay makes this a fun and interesting challenge. With over 90 different levels to compete in, you'll be playing this addicted game from the get go and unfortunately once it ends, you'll be clamouring for more farms.
Check it out!