Let Me In is a film that should and will be watched and enjoyed by a large audience. It is a well-crafted and visually striking film with impressive performances from its young cast. Director Matt Reeves is no doubt indebted to the atmospheric horror masterpiece, Låt den rätte komma in (Let the Right One In), and for those lucky enough to have seen the original, you may find yourself feeling a little ripped off when you leave the cinema. Despite its numerous strengths, Let Me In is just another film to add to the long list of pointless Hollywood remakes.
Let Me In tells the story of Owen (Kodie Smit-McPhee, The Road), a bullied and lonely boy who befriends Abby (Chloë Moretz, Kick-Ass), a mysterious young girl who we soon discover is a vampire. Questions surrounding Abby and her guardian (Richard Jenkins) arise following a string of malicious attacks that shock the quiet town of Los Alamos, New Mexico. Meanwhile, Owen struggles with his developing feelings for the unusual Abby, as well as the increased ferocity of his bullies' attacks.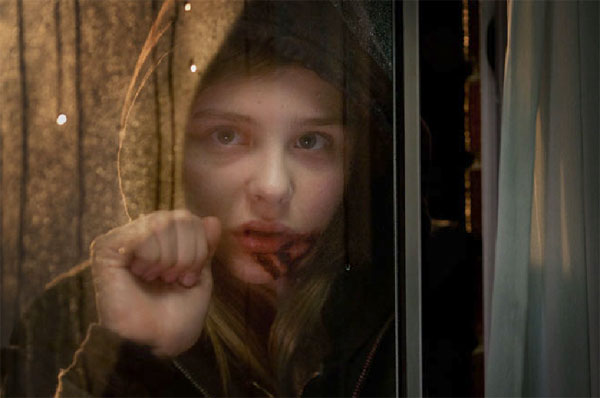 Chloë Moretz plays Abby, a young girl with a dark secret – and taste for blood.
Following the critically and financially successful Cloverfield, Reeves slows things down in an attempt to replicate Tomas Alfredson's unique and stunning visual style that made the original film so impressive. Alfredson voiced his opinion that the only reason to remake this film was to improve upon the original – something he deemed unnecessary. Reeves has openly stated that this film is a remake of the film, rather than another take on John Ajvide Lindqvist's novel. Thus, it seems appropriate to judge the film with this in mind, considering Let the Right One In had not long opened in European cinemas before this remake was being developed. Unsurprisingly, Let Me In pales in comparison despite being an impressive thriller in its own right. Hints of the original are still there, but instead of a sparse, bleak aesthetic, Reeves gives us warmer tones and more conventional characters. While Alfredson recognised that less is often more, Reeves moves in the opposite direction, offering jolting and unnecessary CGI and a policeman sub-plot that feels a little on the clichéd side. It's important to recognise the way Reeves captures memorable scenes from Alfredson's adaptation. At no point does he reinvent them in a way that extends or improves upon the original. Again I ask – what's the point?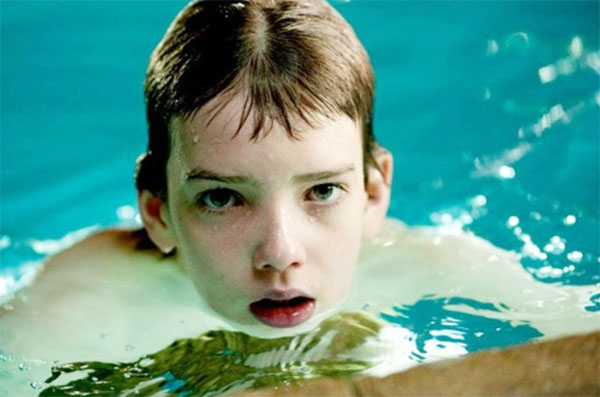 Kodi Smit-McPhee continues to deliver engaging performances, this time as the innocent Owen.
Thankfully the heart of this tale remains. The relationship between Owen and Abby is so moving and their simple exchanges are the highlight of the film. In terms of framing, Reeves doesn't stray far from Alfredson's visual realisation, preferring to capture the actors in effective close-ups. These young actors are phenomenal and have already showed the world what they are capable of. The innocence of Owen is captured simply in Smit-McPhee's piercing eyes, while Moretz once again inhabits a character that is well beyond her years.
All things considered, this remake is certainly not a complete waste of time or money. It is a gripping, engaging and highly accessible introduction to the source material – but it's a lesser retread of the original. Hopefully the release of this film will spark a renewed appreciation for the initial film adaptation which exhibited just how effective modern vampire tales should be told.