Devil is the first film in the Night Chronicles, a trilogy of films based on M. Night Shyamalan's creepy story ideas. Finally, Shyamalan has decided to hire some fresh, young writers and directors to realise his vision as he steps back into the producer role. Directed by John Erick Dowdle (Quarantine, The Poughkeepsie Tapes) and penned by the talented Brian Nelson (Hard Candy, 30 Days of Night) Devil tells the story of a group of five strangers who become trapped in a malfunctioning lift in a high-rise office in Philadelphia. A mildly annoying situation soon turns sinister, as the group realise that one of the people among them is not who they seem and will stop at nothing until they are all dead.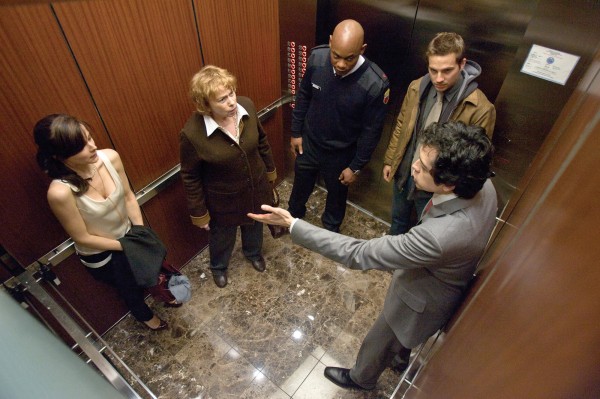 Accusations fly as the threat becomes more real.
The decision to stage this supernatural tale in the confines of an elevator was a brave one – and certainly pays off. All five actors deliver solid performances and convey their terror and suspicion convincingly. As they try to figure out who is responsible for the strange and increasingly violent occurrences, the finger of blame moves swiftly from one person to the next. Many may find it easy to work out who is indeed the 'devil', but I found myself second-guessing throughout the course of the film. Dowdle frequently builds up an obvious character as the culprit only to pull the rug out from underneath you just when you think you've figured it all out.
Devil is an entertaining and often unsettling thriller that uses its modest budget and limited scope to a creepy effect. However, unlike Buried earlier in the year, Dowdle intercuts the claustrophobic elevator events with a more unoriginal detective thriller plot line, as skeptical homicide Detective Bowden (Chris Messina) makes every effort to free the trapped individuals. The more impressive parts of the film occur when the audience is left trapped in the elevator with these five shady individuals. The sound design is so rich and textured – as soon as the lights go out you can expect some disturbing sounds to paint a picture for you.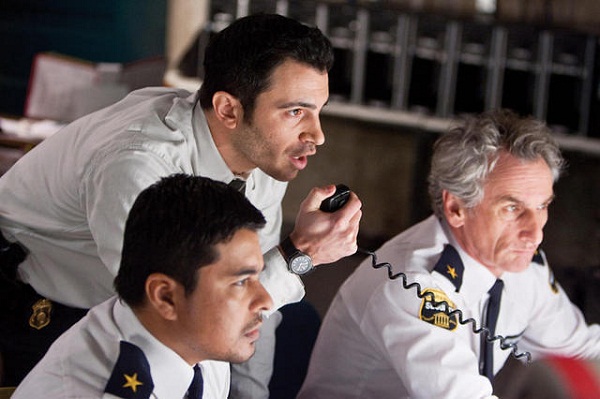 Detective Bowden (Chris Messina) must channel his inner Scully to solve this supernatural crime
Devil certainly has its shortcomings. The conclusion is less than satisfying and though the concept is very promising, the film seems to tread some very clichéd ground more often than it should. The film could have been much more interesting had the entirety of the story taken place within the confines of the elevator. Despite this, the film is an engrossing and often chilling supernatural tale. The next installment of The Night Chronicles is Reincarnate, to be written by Chris Sparling (Buried) and directed by John Stamm (The Last Exorcism). I can only hope that this pairing will result in an even stronger entry in the supernatural thriller genre.