Certified Copy
Reviewed by George Constantin on March 7, 2011
Madman presents a film written and directed by Abbas Kiarostami
Starring: Juliette Binoche, Wiliam Shimell, Adrian Moore, Jean-Claude Carriere
Running Time: 106 minutes
Rating: M15+
Released: February 17, 2011

8/10

Certified Copy is Abbas Kiarostami's first film shot and produced outside of Iran. I must admit that I had quite a few misgivings as to the wisdom of such a move. For Kiarostami, the undisputed master of the Iranian 'New Wave' and director of films such as Close Up (1990) and Through the Olive Trees (1994), directing a multi-lingual European film must have carried a considerable amount of risk.
At the launching of his latest book on art reproduction titled 'Certified Copy', author James Miller (William Shimell), arrives late. He explains to his audience that he has no excuses, as he only had to climb down the stairs of his hotel room. Elle (Juliette Binoche) is nervously telling her son (Adrian Moore), who's busy playing with a game console, to stop annoying her. Elle, we are led to believe, is a single mother who arrives just in time to catch Miller's speech. She invites the author to her gallery, and at his insistence, they agree to a leisurely drive in the country, and end up in a nearby village where couples go to get married because it's supposed to be good luck. They visit a restaurant, where Miller bitterly complains about the lack of service. In doing so, he fails to notice Elle's newly applied make-up. In the book, Miller questions whether there's more value in genuine art when compared to reproduced art. The subject matter of the book becomes an obvious metaphor for their relationship. Nothing is as it seems; is the relationship real? Have they known each other before, or have they just met? Is this reality, or a perception of what may be real?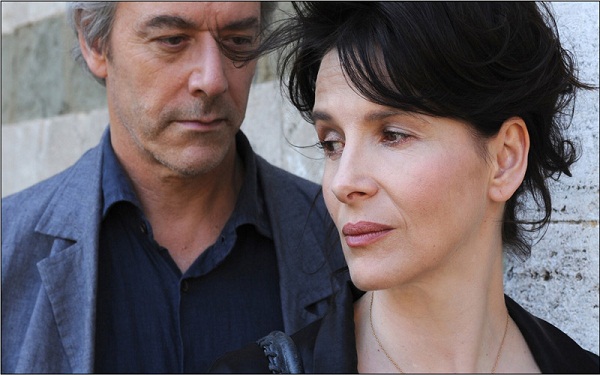 There are certain elements of Alain Resnais's iconic Last Year At Marienbad, particularly the constant probing of supposedly past experiences, memories, and emotions. However, Certified Copy reverses the roles, and the ubiquitous third person does not exist. Also, there is a complete absence of nostalgia. Instead, we see a man and a woman going through their motions, discovering (or rediscovering?) each other. Binoche is superb as the long-suffering Elle. Her portrayal is both intelligent and sensitive. La Binoche (as she is affectionately known in France) it seems, is simply incapable of giving a bad performance. The Cannes jury agreed - she picked up the Best Actress Award at last year's festival.
Certified Copy marks Shimell's screen debut. He is a well known opera singer known internationally for his interpretation of Mozart's Don Giovanni, and his performance is more than adequate for a newcomer, considering the difficulty of the role.
One of the highlights of the film is cinematographer Luca Bigazzi's stunning camera work that brilliantly captures the essence and the eternal beauty of Tuscany. Abbas Kiarostami's style has often been linked with Roberto Rossellini, the father of Italian Neo-Realism, particularly in the use of both professional and non-professional actors. Like Rossellini, he argues that the two complement each other, thus adding to overall value of the work.
Although, far from his best, I'm most happy to say that after watching Certified Copy, my initial fears were laid to rest.