When it comes to remakes, viewers are quick to jump to the conclusion that the original is 'better.' With Arthur, a 21st century re-working of the 1981 film of the same name, this may very well be the case.
Arthur (Russell Brand in the Dudley Moore role) is an alcoholic playboy who is heir to the multi-million dollar Bach family business, headed by matriarch Vivienne (Geraldine James). Apart from being affiliated with MoMA and buying up other businesses, it's not clear what the Bach Company actually does. Nevertheless, Vivienne sees her spineless son as unfit for the entrepreneurial world, and so delivers an ultimatum: marry the business savvy Susan Johnson (Jennifer Garner), or be cut off from all allowances/inheritance. However, when Arthur slowly falls for tourist guide and aspiring children's author Naomi Quinn (Greta Gerwig), he re-thinks his sham engagement.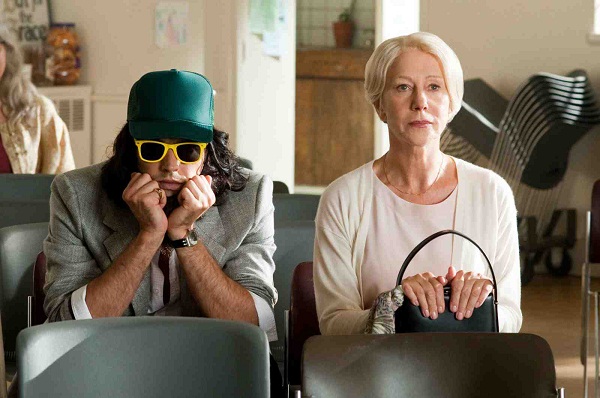 Arthur (Russell Brand) being anonymous at an AA meeting, alongside Hobson (Helen Mirren)
Directed by Jason Winer (Modern Family), this left-field romantic comedy may disappoint a host of Russell Brand fans. The comedian's highly acclaimed work in stand-up and television do not translate well to the PG-rated film screen. This is mainly due to the inconsistency of Arthur's character. He's acaricature that can be off-putting at times, and is bound to have you thinking, 'Is he drunk or just juvenile?' For an intelligent man who uses such as words 'savant,' it's quite silly to see Arthur be reminded by his nanny, Hobson (Helen Mirren), to 'wash his winkie.'
On the upside, the movie poster's caption is right - Arthur is the world's only loveable billionaire. He releases fellow inmates from prison, based on the notion of 'If I go free, so should they,' gives away thousands of dollars in a time of economic crisis, and vacates the entire Grand Central Station for an enchanting rose-adorned date with Naomi; train delays mean nothing when you're in love. And how can you hate anyone with an extensive movie-car collection (the Bat Mobile and the Mystery Machine to name a few)?
Some of the funniest scenes of the film are those that involve Arthur observing city pedestrians through binoculars from his bathtub. He points out the lesbian equivalent to Simon and Garfunkel, as well as a male version of the orphan Annie. Also, Brand will have the audience cracking up as he shows off his improvisational skills, singing along to a pianist's performance during Susan's boring bridal shower: 'Why am I stuck here in this room? I'm not the bride, I'm the bloody groom.'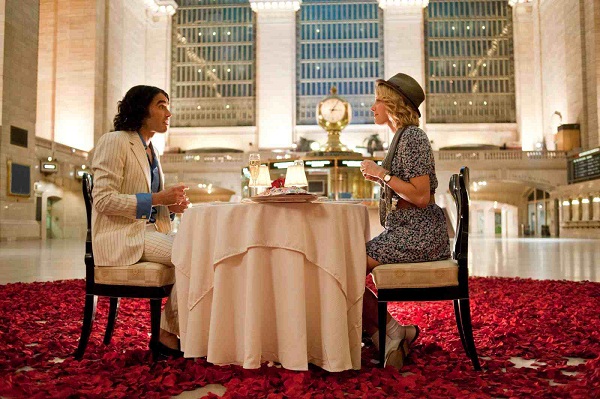 True love blooms in the Big Apple's Grand Central Station - Arthur and Naomi (Greta Gerwig)
As the domineering and money-hungry Susan, Garner - unusually cast as the villain - is exciting to watch. She is a tigress compared to the doe that is Naomi. In this role, mumblecore-star Gerwig (Greenberg, No Strings Attached) is aptly sweet and charismatic. Arthur and Naomi are quite heart-warming together, and share a quirky sense of humour as they find the magical in the mundane. Similarly, Academy Award winner Helen Mirren (The Last Station, The Queen, a few dozen others) maintains a strong film presence as Hobson, sometimes stealing the limelight from Brand thanks to her acting expertise.
As far as romantic comedies go, Arthur is neither the best nor the worst. Considering Brand's sex symbol status, the film did, at times, feel like a marketing campaign to further the comedian's already overwhelming sexual mystique. There were numerous unnecessary crotch-shots.
If you're looking for a movie about an irresponsible, child-like male business heir who falls for a young blonde woman, you'll probably be better off with the more memorable and quotable Billy Madison.