Although there are several MP3 FM transmitters on the market, none come close to Cygnett's GrooveTransmit which features a sturdy cradle for your "Apple" based MP3 player such as the iPhone or iPod Touch.
Although it does support other MP3 players, it's really been designed for Apple iPod products and it's compatible with the following devices;
iPhones

iPod Nano

iPod Touch

iPod Classic

iPod Video

iPod Shuffle
Best of all, the device is quite affordable prices and it boasts an almost flawless installation process that will be installed in minutes once out of the packaging. If you do need some support, there is an instruction sheet to assist in the process but for us, it was relatively quite simple.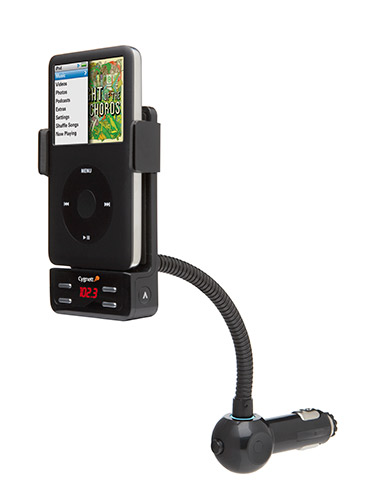 The design of GrooveTransmit looks like a GPS cradle that features a cradle for a variety Apple iPod devices, a metallic moveable "gooseneck" arm that looks like something out of a science fiction movie and of course a connection that plugs directly into the cigarette lighter (power connection) of your car.
The cradle can even be adjusted to snugly hold a variety of different iPod sizes but for this review, we tested the device with the new Apple iPhone 3GS and a 64GB Apple iPod Touch.
The only issue that I was a little apprehensive during the installation was the adjustable pads that hold the device in place as it does require some force to open and close. In hindsight, this was not really an issue, provided you take care when you install your device into the cradle but it can be a little off-putting.
The device also contains a button near the cigarette lighter connection to turn it on and off. However when it's powered, some parts of the device will glow blue which looks rather spiffy.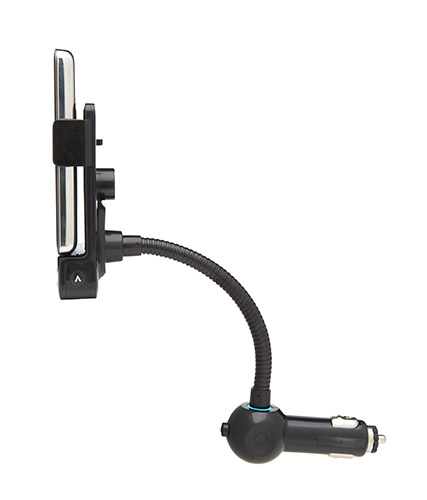 Just below the cradle, there is a display with your current FM transmission frequency and four buttons that can program a variety of different FM frequencies for if you have any interference issues.
Although many FM transmitters on the market require you to pre-tune your own FM frequency, the GrooveTransmit will auto-search for the best frequency and this worked perfectly in a variety of areas in Melbourne from the CBD to the country. It should be noted that the device supports frequencies from 88.1 to 107.9Mhz.
The last feature of the unit is 2.5mm auxiliary jack that allows you to connect other MP3 players, although once again, the GrooveTransmit is more suited for Apple products and personally, I would not recommend other MP3 devices using this device.

The quality of transmission from our iPhone and iPod Touch was pure audio bliss that sounded crystal clear through our stereo system in the car. We also tested this device in two cars, a Mitsubishi Magna and a Holden Commodore and both excelled in audio quality. Even while we were driving through the CBD of Melbourne, we had no interference problems whatsoever and the music flawless kept flowing.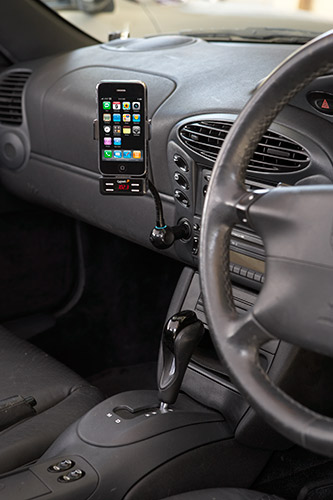 Lastly, the GrooveTransmit will even charge your iPod or iPhones so you can rest assured that you will not run out of batteries and the music will stop. To compliment the product Cygnett offer 12-months warranty on the product for som additional peace of mind.
At the end of the day, Cygnett's GrooveTransmit is a very impressive accessory for your iPhone, iPod or iPod touch and we cannot fault the device at all. It's very easy to set and the device is quite sturdy but the only suggestion I could make to the developers is that it allowed the iPhone to be heard through your stereo system in the car when an incoming call came in, especially considering the new laws in Australia. Even so, if you're looking for well designed FM transmitter than this is the product for you.
Check it out!