Triss Merigold is the beautiful red headed sorceress from Maribor who played a key role in preventing a cataclysmic disaster and keeping the Northern Kingdoms from tearing apart the world. Triss is also romantically linked to Geralt of Rivia, a Witcher who some believe is the Kingslayer of King Foltest.
Welcome to Impulse Gamer Triss, can you tell the readers a little bit about you?
I'm just a simple sorceress. I was King Foltest's mage advisor at one time, but right now I've become something of a freelancer and do not allow any king to command me.
If you want to know more, ask away (laughter).
You have been called the "Fourteenth of the Hill" but as we all know, you are alive and safe after your Battle of Sodden Hill. How did this miscommunication happen?
I'm lucky to be alive, to tell you the truth. I was badly scarred and survived only due to my colleagues' medical skills. I don't really want to talk about it, it's not something that I like to recall.
Next question?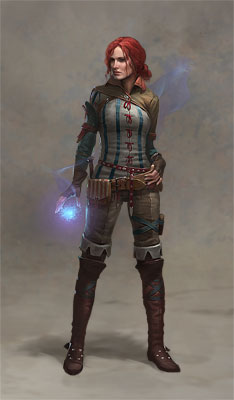 TRISS MERIGOLD - READY FOR BATTLE - CLICK TO ZOOM
What is your favourite spell and why?
You mean along the lines of Philippa Eilhart's famous Orgasm Illusion? (laughter). Or Dethmold's Triple Hurricane? Let me think... There are some spells I use more often than others, but do I have a favourite one? Hard to say, really... Some mages say they prefer to use one kind of magic over another, but I think spells are not something you can like or dislike. You just use them depending on the situation. Although, a big fireball right between someone's eyes can certainly brighten my day (laughter).
How did you first meet Geralt?
We had a mutual friend, Yennefer of Vengerberg. She introduced us. That was some time ago. Since then we've been through a lot together. We're good friends now and share many memories. I can't say the same about Yennefer. We're just... not that close anymore.
There are rumours that you and Geralt of Rivia are romantically linked, is this true?
You know rumours – there's hardly ever any truth to them.
Did Geralt really kill King Foltest?
Of course not! How could you even say that!? That's an outrageous lie!
What REALLY happened under the Elven ruins with you and Geralt?
What happens beneath Elven ruins should stay there...

THE ELVEN GARDENS - CLICK TO ZOOM
It was rumoured at one point Geralt had got drunk and got a tattoo of some woman... was that women you?
Maybe (laughter). Again, rumours...
Do you still have the "The Rose of Remembrance" from Geralt?
No, I think I lost it when I was turned into a figurine. The bitch who did that to me must have taken it. She'll pay... someday.
What is your favourite food?
I like all kinds of game meat, provided it's prepared by an experienced chef. I like seafood too, and fruit, and sweets from time to time. It all depends on my mood, the occasion or even the season. In general, I just like good food (laughter).
Favourite alcoholic drink?
I occasionally enjoy a glass of good red wine, in good company. That may sound trivial, but I honestly miss my college days, when I was a young and spent my free time with friends in a tavern near the Academy. One day we tried to cast spells after getting drunk. Needless to say, it's not something I'd recommend... (laughter) One of my friends can't get rid of a green wisp in her hair to this day.
Turn-ons?
Men who know what they want. And can be romantic from time to time.
Turn-offs?
Inquisitive people (laughter).
Were the sex scenes real in The Witcher and Witcher 2?
I'll leave that to your imagination. I can only say that things can get heated when a real Witcher is around.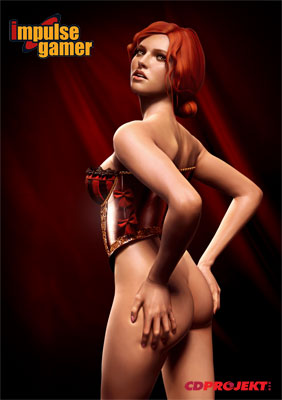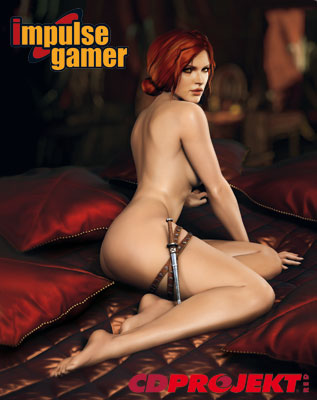 TRISS MERIGOLD NUDE FOR PLAYBOY - CLICK TO ZOOM
Seriously?
No. (laughter) It was all CG – sorry to break your immersion.
You were turned into a statue, was that a painful experience?
More than you can imagine. Spells of that kind are designed to meet the needs of the enchanter, not the enchanted. It's like being crushed slowly and compacted into a an awfully tight space. I'd never do such a thing to another human being. Except for that slut who pretended to be Philippa's apprentice.
What do you think of Philippa Eilhart?
I liked her at one point. Then I got to know her and changed my mind. She's cunning and dangerous. One should be very cautious when she's around. In fact, I wish I had been more cautious myself.
What about the sorceress Sile?
She's very much like Philippa, but a lot more ambitious, and, I daresay, far more stupid. She's this primitive kind of person who thinks she's very clever and better than others. In fact, her motives and goals are painfully apparent, and she's very easy to manipulate. Just my personal opinion, of course.
Why did you agree to join the Lodge?
For the power and the chance to dominate the world (laughter)! No, seriously, I was ASKED, and I couldn't refuse. I had a mission, which I cannot talk about in detail, and wanted in. Besides, it was the only viable option after the Thanedd Coup.
You have denied any rumours of your involvement with the Lodge in relation to the assassination attempts, why you didn't you try warn someone earlier?
When you're a beginner, they don't tell you everything. They simply didn't trust me, the more experienced sorceresses in the Lodge were not eager to share any details with me. It's not that I didn't want to warn people. I just wasn't aware of what was really going on. Or at least I didn't have the full picture.
Is Saskia really a Dragon?
I know nothing about that. Is she? Interesting...
You recently posed for Playboy (May 2011) in Poland, how did this come about?
Believe it or not, I really enjoyed that experience, despite some initial hesitations. And I'm very pleased with the results.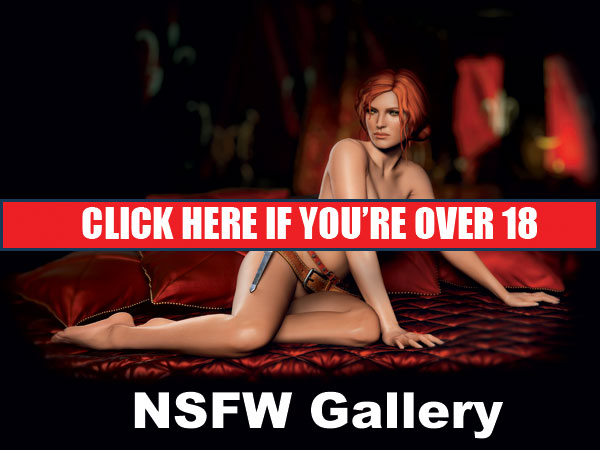 What did you like about your Playboy photoshoot?
The photographers were pure professionals, I liked their approach, they were skilled. It was fun and I wasn't bored or tired afterwards. Everything went very smoothly.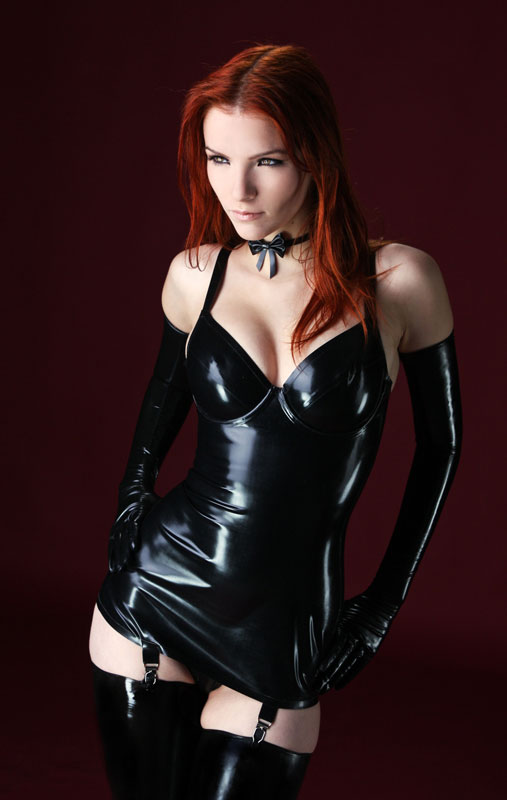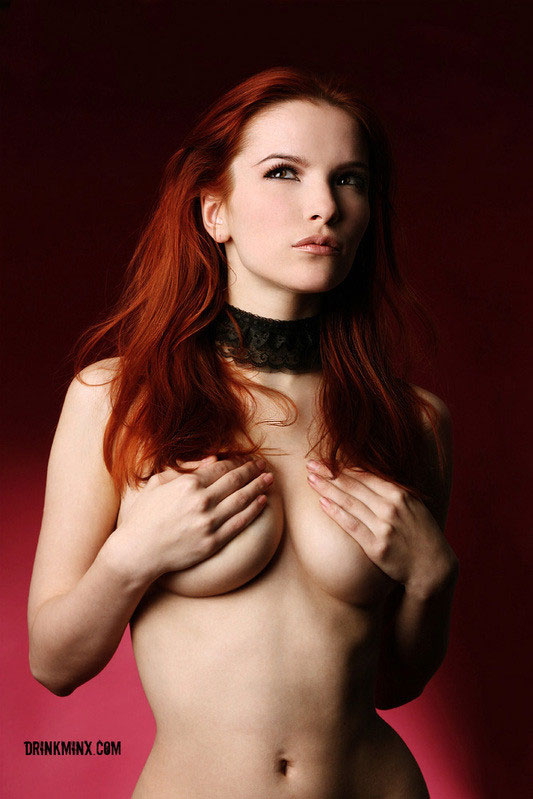 MODEL KLODI MONSOON WHO HELPED TRISS MERIGOLD DURING THE PLAYBOY SHOOT
CLICK TO ZOOM
Will there be more photoshoots in the future?
Who knows? I'm certainly interested, but we'll see.
If they made a movie about The Witcher, which actress would you like to play you?
Either Scarlet Johansson or no one (laughter).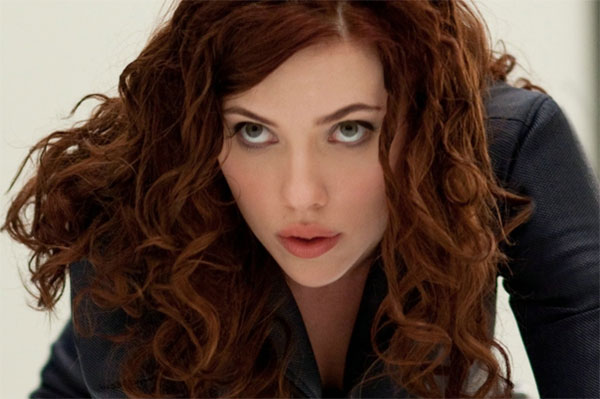 SCARLET JOHANSSON AS TRISS MERIGOLD? - CLICK TO ZOOM
Lastly, what do you want to say to yours fans?
I'd like to thank them – you're all great. I was surprised by how many people like me. Thanks for all your kind words and fan mail.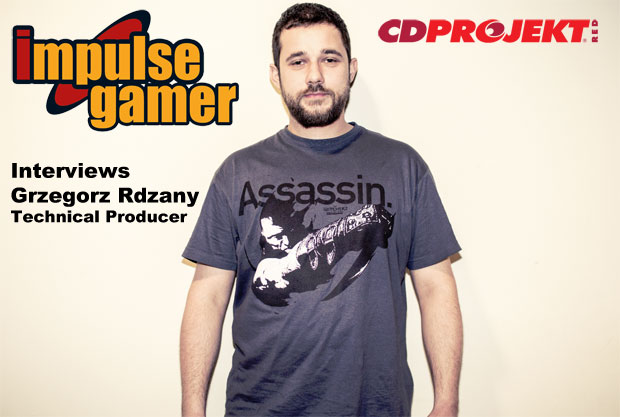 CHECK OUT OUR EXCLUSIVE INTERVIEW WITH GRZEGORZ RDZANY
(TECHNICAL PRODUCER OF THE WITCHER 2)