Black Dynamite: Slave Island Interview with director Scott Sanders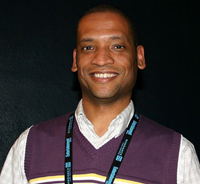 While Michael Jai White is currently dominating the Internet with his portrayal of Jax in Kevin Tancheron's Mortal Kombat: Legacy web series, White's smooth-talking, kung-fu fighting, lady-killer alter ego Black Dynamite is currently strutting his stuff in the comic book world with Black Dynamite: Slave Island. I spoke to the film's director, Scott Sanders, about the Black Dynamite comic.
Do you think the new comic will attract new readers to Black Dynamite or is it more for existing fans?
We had always hoped that both film buffs and comics fans would enjoy SLAVE ISLAND.
In crafting the book, we aimed to pay homage to the legendary Black superheroes of the 1970's (Luke Cage, Black Panther), which we thought would appeal to comics readers; but we also added some unique "Black Dynamite" twists that fans of the original film would appreciate.
The response from reviewers and fans has been fairly positive you must be pleased with how the comic has turned out?

Very pleased, and we're grateful for all the support and positive feedback thus far. The first run of the book actually sold-out, and we're now reprinting. The second run should hit stores in May 2011.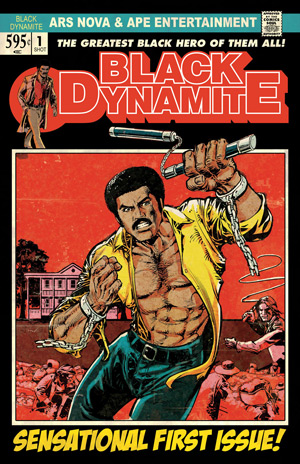 Black Dynamite has his own comic and animated TV series now, where else would you like to see Black Dynamite?
I believe author Brian Ash suggested a breakfast cereal. I don't disagree! "Cream Corn Pops"? In all seriousness, we would love to do a sequel and a video game.
Was it difficult finding a publisher for the Black Dynamite comic?
Ape Entertainment was actually the first comic book publisher we approached, and their team immediately understood the Black Dynamite universe. They made the entire process seamless.
Are there other Black Dynamite comics on the way or does it depend on how well this one sells?
I'm sure we would love to create another Black Dynamite comic. They're a blast to put together.
The story of Slave Island is crazy but was handled really well. Is there any story that would be taboo for Black Dynamite or is that the beauty of the character that nothing is off limits?
Black Dynamite is larger-than-life, and so too are the situations in which he finds himself. Using the original Blaxploitation films as source material, we find that Black Dynamite really can go anywhere: Africa (Shaft in Africa), Transylvania (Blacula), the hair salon (Black Shampoo.)
I loved the fake ads in Slave Island, would we see them in future Black Dynamite comics?
Absolutely. We had a lot of fun putting together the faux-Charles Atlas Ad.
The comic has a really old school feel, what sort of comics inspired Black Dynamites look?
"Luke Cage," as I mentioned above, was a big inspiration. As was Marvel's "Master of Kung Fu." I credit author Brian Ash here, as he is really a student of the genre.
Finally, who do you think would win in a fight Shaft, Power Man (Luke Cage) or Black Dynamite?
Black Dynamite. How could I answer anything else?
So did you hear that Black Dynamite fans? The future, in comic book form, of the most badass, blaxploitation hero around is in your hands, or should I say wallets, and judging by the fact that Slave Island recently sold-out we could be well on our way to seeing another Black Dynamite comic.