Scott Pilgrim vs the World
Mary Elizabeth Winstead and Ellen Wong Interview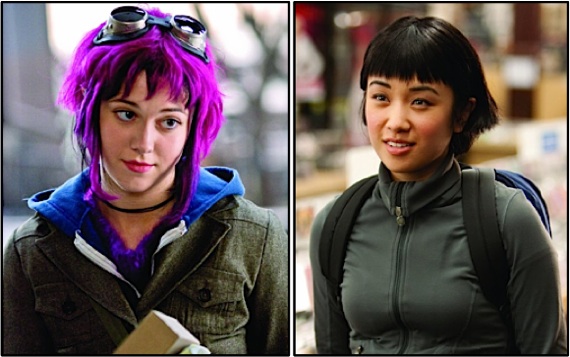 Q: Can you introduce us to who your character is in the movie?
Mary Elizabeth Winstead: I play Ramona Flowers - I am the girl causing all the chaos and mayhem in the film and in Scott's life. Scott meets Ramona at a party and becomes a little bit obsessed with her, a little bit infatuated, and she likes him too, so they start to date and he soon finds out that in order to continue to date her, he has to defeat her seven evil exes in battle. There are a league of evil exes who are hell-bent on controlling her love life and making sure that she's never happy with anyone. And so Scott has to fight and go through a lot to be with her.
Ellen Wong: I play Knives Chau and she's just this young girl. She's starting to feel her own power and she's really coming into her own. She starts out as this unblemished, capricious girl who's got this routine and very predictable life and she meets Scott Pilgrim and falls in love, and for the first time ever, her life changes. He takes her on this journey and she's just excited to be embarking on this adventure and being able to experience all these new things, so it's a lot of fun.
Q: Ah, so then both of you had to go through this fairly rigorous fight training that Edgar was involved in and put everyone through. How was it? It sounds like it was fun, but also fairly tough.
EW: Yeah, for sure it was fun. But at the same time we were working very hard, we were sweating, pushing our bodies to another level, and that was definitely a great challenge. At the same time it was really cool for us to all do it together as a team and be able to prove to ourselves that we could do these things and it was a great way for us to all get to know each other and enjoy each other's company.
MEW: Yeah, it was an extremely unique experience. It was like going to some special school for fighters and we'd all be in different classes and rotations and some of us would be doing kung fu work together and some of us would be doing wirework. Then Michael, Mark and Allison would be off doing band practice and we'd all meet together and rehearse our lines and it was a really special experience to go through all that together.
Q: In terms of the cast, did you go out together a lot? Did Edgar have to keep track of you partying all night?
MEW: No, I mean...
EW: We were all still very responsible.
MEW: And professional!
EW: At the same time, we were all still very passionate about this film and wanted it to be this special thing, because we all felt that way about it. But at the same time, we did go out and have fun. That was key to the filming of it too because then we were able to create that chemistry on set between one another that we wouldn't have been able to if we didn't have that time to get to know one another before.
Q: Did you have rehearsals as well as the fight training?
MEW: We did, yeah. We would occasionally fit in an hour or two amongst all of our fight training and band practice to get together and rehearse our lines. Usually it was key scenes that Edgar really thought needed to be rehearsed and through that we all kind of figured out the dynamic as a whole and how we all related to each other as our characters and the tone and everything. It was really helpful.
Q: Then obviously you've got the music in the movie, these amazing acts. Did you get to meet the musicians? Was it cool?
EW: Yeah! Chris Murphy was on set all the time and it was just fun because he would sit there all the time and try to teach us chords for fun.
MEW: He was so funny too, he was great. And we met Metric and Broken Social Scene. Nigel Godrich was around and Dan the Automator came by. So it was a very fun set in that regard as far as special guests go. There was always someone cool to talk to.
Q: And of course shooting a moving where there are a lot of special effects, there's a lot waiting between shots. Was there anything you guys did to pass the time?
MEW: I remember Michael always having his guitar out. If there's music playing, I can't not sing along and hum to it, so he'd be playing and I'd sing and we'd read and watch movies together and we'd all hang out and act really stupid in our trailers. Just being friends.
EW: At the same time, there's so much going on in this film that there's always something happening on set, so I think a lot of times we tried to avoid hanging out in our trailers, we were on set so much because we wanted to see all the stuff happen. It was really cool. Bill Pope was the DoP on this and he was just amazing to be able to make this movie look the way that it looks. For me, I thought it was really cool to be on set to see how some of the effects were brought to life.
Q: So it was almost a little film school?
EW: It really was! It was like a film school and a fight school.
Q: It sounds like a summer camp!
MEW: It was! It was summer camp, but it was so painful to leave and say good-bye to all the friends you've made.
Q: The comic books are pretty beloved. Did you get the feeling that you got Bryan's stamp of approval?
MEW: I hope so! It was a little intimidating to step into those shoes of a character that so many people have loved and imagined in their own imaginations and you just hope you do it justice and bring it to life in the right way. But I think that everything Edgar did had Bryan's stamp of approval. Bryan trusted in Edgar and that's really all that mattered.
EW: Bryan was on set a lot, too, so as long as we weren't coming off of our scenes and he had an angry look on his face... He was laughing, he was having a good time. So I think, in a way that kind of made us feel like, "we're doing okay... He's cool with this."
Q: And on the flipside of that, you're going to be identified with the characters. Are you ready for that?
MEW: Yeah, I think we'd be honoured to be remembered and recognised as these characters, because it's not often you get to play an iconic role like that. So I would be so happy if this is a role I'm recognised for.
Q: If you could say anything to make people buy the DVD, what would it be?
MEW (Laughs): Allison will kick your ass. So you better buy this DVD!EW: There you go!
MEW: That's what I have to say. Also, I have a feeling, knowing Edgar, and I don't know what the special features are going to be yet, but I have Edgar's past DVDs and the special features tend to be pretty awesome. I think it'll be worth buying for that alone. And the film is so re-watchable so you have to own it, because this is the sort of movie you have to watch on a regular basis, really.
EW: Every day. Seven days a week. Nine to five.
MEW: You'll pick up something new every time you see it. It'll never get old.