ROY THOMAS INTERVIEW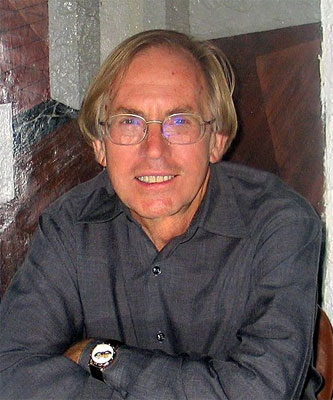 SOURCE: Alan Waite
Impulse Gamer recently chatted with legendary writer and comic scribe Roy Thomas (Alter Ego, The Avengers, Conan, All-Star Squadron & Infinity Inc). Roy discussed his passion of the Golden Age, his work with TwoMorrows Publishing (Alter Ego) and which DC series he would like to continue.
What sparked your enthusiasm for the world of Golden Age Comics?
I was a comics buyer (through my mother) from the age of 4 1/2, and I never ceased liking them, even though I only got in on the last half or so of the Golden Age, starting in 1945.
But I was from an early age, when I got hold of copies of SUPERMAN #19 and ALL-STAR #21 and at least one 1942 comic with Captain Marvel Jr., very interested in what had come before, including the idea of the heroes during WWII.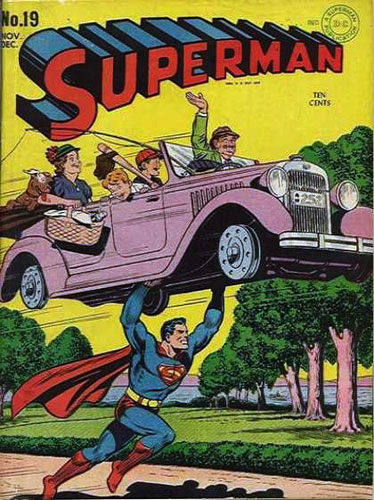 SOURCE: DC Comics
How did you become involved in TwoMorrows Publishing and more particularly Alter Ego?
ALTER EGO #100 told the story in notes from and to Jon B. Cooke. I got in touch with him through TwoMorrows when I read about COMIC BOOK ARTIST being forthcoming, with attention to be paid to "neglected" folks like Gil Kane and myself.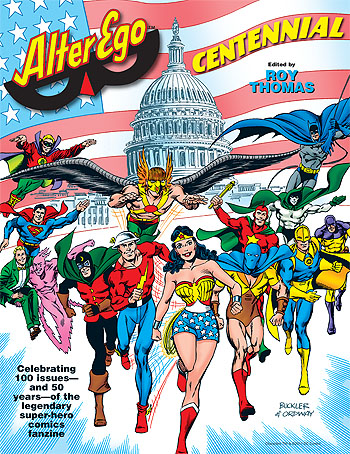 SOURCE: http://twomorrows.com/index.php?main_page=product_info&cPath=55&products_id=969
It fit with my notion of doing an ALTER EGO section, much like the FCA section now in AE.
Do you have any scoops for our readers regarding the JSA (Justice Society of America) edition of Alter Ego 109?
I've had to delay the interview with the daughter of John B. Wentworth, creator of Johnny Thunder. It's finished and it's fascinating, but it will take 6 months or more to get hold of any photos, so I'll have to delay it for the NEXT JSA issue, alas.
But there's still the study of the early work of Bernard Baily (Spectre, Hour-Man) by Ken Quattro, along with Hurricane Heeran's look at various JSA groups that might/should have existed in the 40s (with art by Shane Foley and Al Dellinges).

SOURCE: DC Comics
Also, a look at the 1980s JUSTICE SOCIETY OF AMERICA: INVASION FROM FAIRYLAND mini-series by Michael Bair/Hernandez and me that never was, and various other JSA-related feature. In addition to the beginning of an interview with Leonard Starr about his early work by Jim Amash and of course other features, including coverage of the 50th-anniversary of fandom celebration in 2011 at the San-Diego Con.
Cover by George Perez, which had appeared only on a DC digest issue in the 80s.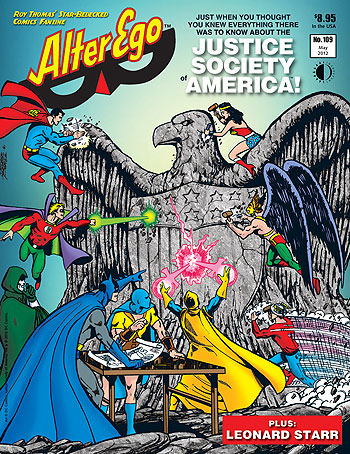 Source: http://twomorrows.com/index.php?main_page=product_info&cPath=55&products_id=1026
Which golden age character would you like to write again? (Your penmanship is sorely missed on the message boards)
I'd like to write almost any of them. Mostly I'd like to write the JSA or All-Star Squadron picking up where ALL-STAR #67 left off. Thanks for the kind words...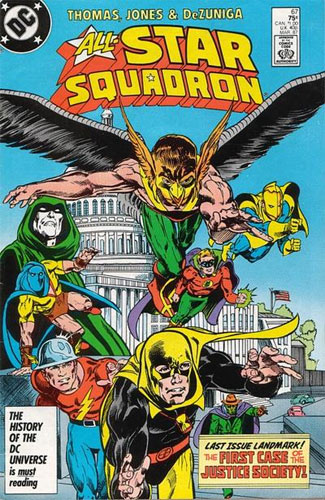 SOURCE: DC Comics
Lastly, what are your thoughts on the new DC-52 and more importantly, the new Earth-2?

No thoughts on DC-52 or Earth-2, since I don't read those comics.
Except, of course, that E2 should never have been destroyed in the first place. I'll be interested in DC when I'm writing a regular comic for them... and not before. Which probably means never.
But they're a company with a fine heritage.
Thanks for your time Roy and good luck with your future endeavours!
Don't forget to check out the http://www.twomorrows.com for more work by Roy Thomas and all things Golden Age!