Impulse Gamer Interviews Ralph Fulton
Tell us about Forza Horizon?
Forza Horizon is a new expression in the Forza series, an open-world action racing game that's all about cars, fun, and parties on the open road. As with the previous Forza Motorsport games, we want you to experience the thrills of driving the best cars in the world; the twist with Horizon is that you are driving in an open world game. You have the freedom to go where you want, when you want; you can compete against your friends online or just head out on the road, explore the gorgeous landscapes of Horizon's Colorado, and build a one-of-a-kind collection of dream cars.
Where does the inspiration of Horizon come from?
Inspiration for Forza Horizon came from many different sources. A primary driver for the feel of the game actually came from the game's soundtrack. We worked very hard with BBC Radio DJ Rob da Bank on the music list for Horizon – as we knew very early on that we wanted to make music a huge part of the experience in Forza Horizon. Rob was instrumental in finding artists that worked with our three in-game radio stations, but also in making sure that all the artists created the ideal listening experience for the player, regardless of their musical taste.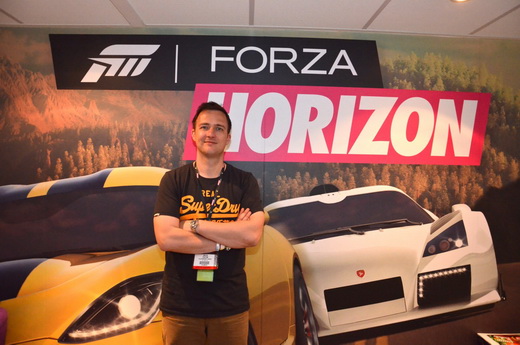 Taking it one step further, the music also informed the Horizon Festival, the fictional music and cars festival that serves as the hub of Forza. We wanted the Horizon Festival to look as exciting and authentic as possible, and we once again tapped into Rob da Bank's expertise. As co-founder of the Bestival summer music festival, Rob has a tremendous amount of knowledge for how to make a festival successful and we applied as much of his experience as possible in making sure that our Horizon Festival was a place you'd want to return to again and again.
Beyond the music and the festival, we are, of course, inspired by car culture in all its various expressions. We love racing, we love cars as pieces of art, we love cars as examples of engineering – essentially, if it's got four wheels and a motor, we'll find something to love about it. Car culture is this huge open-ended subject and what you love about cars might be completely different from what I'm into. One of the reasons I love Forza Horizon is because so many different strains of car culture come together here. If you love to race cars, if you want to take pictures, if you want to paint cars, or simply hop on the road and explore with friends—you can do all of those things and more in Forza Horizon.
What were some of the challenges that you and your team faced in making Forza Horizon?
One of the biggest challenges with the development of Forza Horizon has been in trying to live up to the game's pedigree while simultaneously bringing something new to the series. Forza Motorsport, after all, is one of the most respected names in the games industry and we saw it as our job from the start to live up to that legacy. At the same time, we had our own ideas about what makes racing exciting and how we could bring car culture alive in the game in a way that long-time Forza players could enjoy as well as those who might have never played a racing game.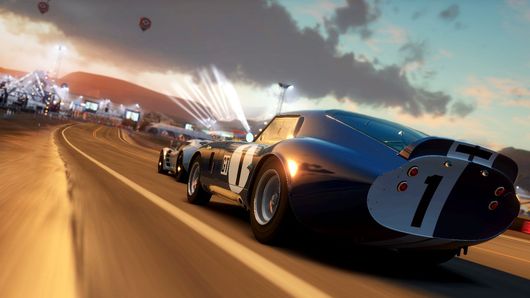 Apart from that, there are the obvious technical challenges of creating a game as massive as Forza Horizon. The Colorado in Forza Horizon is based on the real state of Colorado and we sent multiple developers to tour the state and take reference in the form of hundreds of hours of video and tens of thousands of photographs. From all of the reference came the hard work of creating our vision of Colorado in the game. We wanted a location with epic variety, gorgeous vistas, and the kind of roads you can't wait to drive and I think we delivered just that.
What's the biggest difference with Forza Horizon compared with the previous Forza games?
While there are obvious differences between Horizon and the Forza Motorsport games – that bright pink logo is a start – one of the most important things for me is to point out the similarities in approach. At its core, Forza Horizon is all about the cars; creating the best possible driving experience on amazing roads featuring some of the best cars in the world. The car is the start in Forza Horizon, just like it has been for years in Forza Motorsport.
Now, though the games' central tenants are consistent, all you need is a few minutes in Horizon to appreciate the differences. For starters, Horizon is an open-world game, and the players' progress through the game is up to them. You can go where you want, participate in events in practically any order, and decide how quickly you want to move up the ranks of the Horizon Festival. The game also features plenty of unique event types as well – including races against airplanes, helicopters, and more. Forza Horizon also features a dynamic day/night cycle, a feature that is brand new for the Forza series and one that adds a tremendous level of excitement and variety to the races in the game.
Why did you decide to implement a story into the gameplay?
Colourful characters are just one of the things that make festival culture so popular and we knew that, when dreaming up the Horizon Festival, we had an ideal opportunity to take advantage of that world, to build on the fiction of the Horizon Festival, and give players a new narrative-driven experience in Forza. In Horizon's single player game, your goal is to become the top driver at the Horizon Festival – and to supplant the current King of the hill – Darius Flynt. Along the way, you'll meet a number of rivals who will challenge you, taunt you, and challenge you each step of the way. By giving these rivals a personality, it makes the player feel more connected to the world and more motivated to prove their stuff behind the wheel.
Forza Horizon has been dubbed as "action racing". How does this differ from current games on the market?
Action racing in Forza Horizon is all about driving fast, driving with style, and getting the most out of your car. Where in many racing games, the goal is to get across the finish line first, that's just one of the ways you can have fun in the Horizon. We've designed the game to reward the player however they want to drive in the game. As you drive around the world, you'll earn points for doing things like drifting around corners, narrowly missing AI traffic, catching air over a big jump, among other things. The more cool driving tricks you string together, the bigger points multiplier you'll earn – and these points will move you up the game's popularity ladder and open up new events for you to take part in.
In essence, "action racing" is our way of letting the player know that however they wish to drive, they're welcome in Forza Horizon.
Tell us about some of the cars in Forza Horizon?
One of my favourite subjects! We really wanted to deliver essential cars to the player in Forza Horizon – cars that any car fan couldn't wait to get out on the open roads of Colorado. At the same time, we wanted to choose cars that were true to the spirit of the Horizon Festival. For those reasons, we trimmed some of the commuter cars you might see in Forza Motorsport 4, as well as the prototype race cars that wouldn't really have a place at a show like the Horizon Festival. What you're left with is a sweet spot of really capable cars at the lower end of the performance scale – like the 1973 BMW 2002 Turbo or the 1968 Chevrolet Camaro SS Coupe-- and some truly elite supercars at the top. One of the best cars I've ever driven in any Forza game—the 2012 Ferrari 599XX Evoluzione—was released in the Month 1 Car Pack as DLC at launch. It's got relentless power coupled with tremendous downforce, which makes for a potent combination on the road.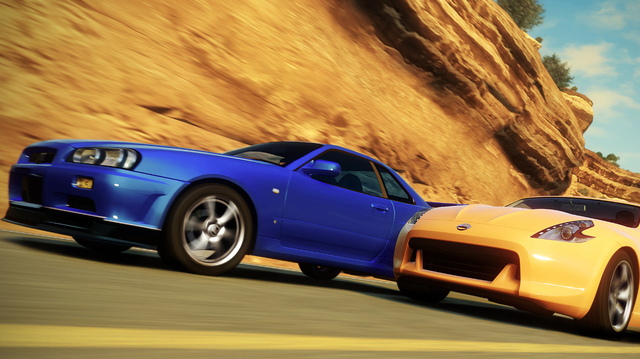 Choosing which cars to drive in the game is often about picking the right tool for the job. If I know I'm trying to beat a speed trap camera on the freeway, I'll go for the straight-line speed freaks like the 2011 Bugatti Veyron Super Sport or the 2012 Hennessey Venom GT. If I want to tear it up in one of our multiplayer playground games like "King" or "Infected", then I typically favour an all wheel drive like the 2011 Subaru WRX STI. And if I'm just going for a cruise, then the anything in my garage is fair game.
Will this be the last Forza game for the XBox 360 until the new Microsoft comes out?
Forza Horizon is what we are currently focused on and we aren't currently discussing any future projects.
What are some things that gamers should be looking out for while playing?
It depends on what you want to do in the game. Forza Horizon has tons of race events to try out – from point-to-point and circuit races, to street races, showcase events, and more. But, as I mentioned before, it's not all about getting the checkered flag. You can hop online with your friends and try exploring the world in our multiplayer free roam mode or explore Colorado on your own and try and find all the barn find restoration cars hidden throughout the world.
Forza Horizon also features incredible tools for creative types who want to take advantage of the game's photography and livery creation tools. The community is a hotbed for these kinds of amazing user generated content; take a quick tour through some of the photography threads on the Forza forums, and it's impossible not to come away inspired.
Tell us a little about the online multiplayer experience?
Ever since the first Forza, multiplayer has always been an important aspect of the game. In Forza Horizon, you can hop online and race against up to seven other drivers in a variety of event types, including street racing, point-to-point races, and traditional circuit events. Players can also hop online with friends and try out the multiplayer free roam mode, where you can explore the world and work together
We've also included many of the multiplayer playground games from Forza Motorsport 4 – games like "King", "Infected" and "Cat & Mouse". These are modes that have proven to be tremendously popular with the Forza community over the years – and while they are fun on closed circuits like Suzuka or the Top Gear Test Track, they absolutely come alive in the open world of Forza Horizon.
One of my favourite examples is playing "King" on the Carson Golf Course. In "King", your goal is to stay "king" as long as possible and you only lose your status if someone else hits you. Bounding across the hills and sand traps of the golf course at top speed while your opponents are flipping, spinning, and otherwise out of control is unforgettable fun.
Will there much DLC available for Forza Horizon?
We love to keep our fans busy with new content for Forza games. For the launch of Forza Horizon, we had DLC available on the first day and this week we announced our November DLC pack which is due to arrive on November 6. We'll be releasing a regular monthly DLC pack in December as well as our upcoming Forza Horizon Rally Expansion Pack, which is coming on December 18.
For players who want to get in on all the latest DLC, the Forza Horizon Season Pass is a great opportunity. It gives you access to six monthly DLC packs, the Forza Horizon Rally Expansion Pack, and five exclusive Season Pass bonus cars that aren't available anywhere else.
Lastly, if you had to sell this game in 10 words or less, what would they be?
"Please buy this game, I've got a newborn at home."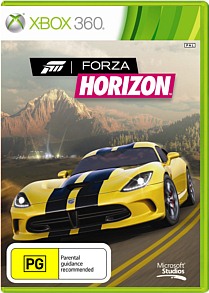 Forza Horizon is available now
on XBox 360!