Andrew Bistak got a chance to throw some questions to Fedor Steer, The Writer /Director of Bff Zombie, A horror comedy film short. And also a few questions towards our own Edwin Millheim who was Action and Stunt/Fight Coordinator for the Film. Edwin also engineered a couple of music pieces for the sound track.
ANDREW: What are the bare bones you can tell us about "BFF Zombie" without giving anything away?
FEDOR STEER: I think "BFF Zombie" is what you would get when you take a bunch of cute teenage girls and mix in some angst, jealousy, an accidental death, and zombies. The main character, Skylar, is bored living in rural Florida, so deciding who among her friends should be her BFF is of major importance in the absence of anything else to do. But the rivalry between her friends for that status reaches from beyond the grave.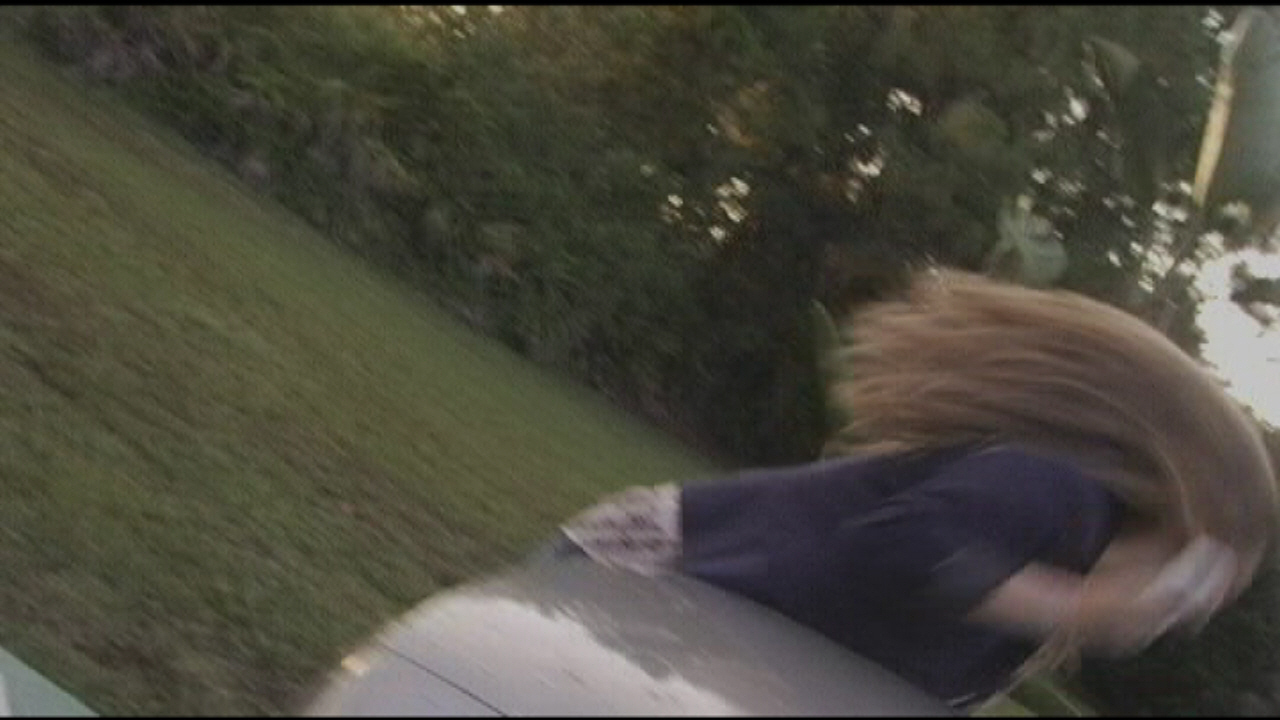 Sydney Rose Walker as "Heather" getting hit by a backing car.
ANDREW: What sparked your imagination to come up with this story "BFF Zombie"?
FEDOR STEER: I have a teenage daughter, also named Skylar, who lives in Newfoundland, Canada. A few years ago, she complained about not having anything to do in her desolate town of Stephenville. At that time, I was acting as a zombie/demon in the upcoming feature film "Sanctuary", and she mentioned how she loved zombie films. I suggested she grab a video camera and make her own zombie film. Ugh, she didn't know what to film. So I got on Google Earth, zoomed in on Stephenville, and found a rusty swing set on the beach, an old abandoned church in a field, and long stretches of empty road. I got on Facebook and picked out some names of Skylar's best friends, and by the next morning I had a little five-page script for her. Apparently she and her friends did break out a camera one day but couldn't stop giggling long enough to actually put anything on film.
ANDREW: All the actresses in the film seem to have a certain spark, and the characters where believable. How long was the audition process? Was it hard to find the right people for the parts? Did you have a few that where close, and how did it come down to who you chose? Give us a run down.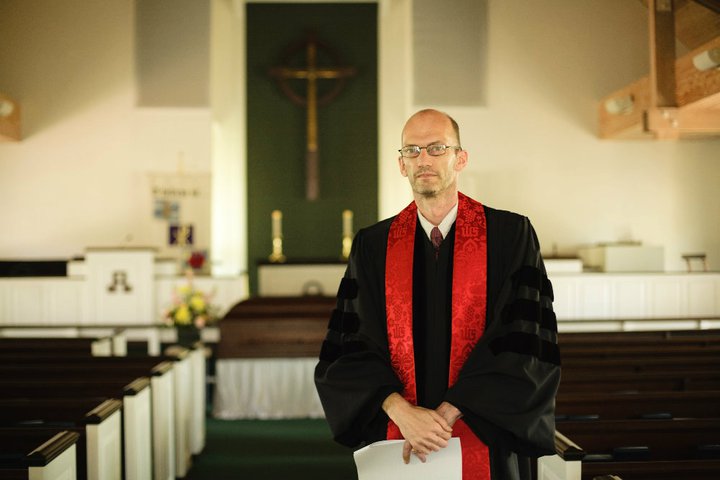 Writer Director Fedor Steer cameos in the film as a priest
FEDOR STEER: From my own acting experience, I have always been annoyed by the last-minute nature of the auditioning process. I thought it would be a great idea to give it a whole month. What a mistake! It dragged on and on, and I had to filter through hundreds of submissions. We held three days of auditions, plus a few video submissions. But after all that, the final decisions were (almost) pretty easy. Five girls stood out far above the rest. Three of those were no-brainers. Alexa Ditaranto, Julia Rosenberg, and Ella Wahlestedt simply blew us away. They were all beautiful, talented, professional, and enthusiastic.
The fourth was tough. It came down to Sydney Rose Walker and one other girl. Sydney is a natural physical actress with great comic timing. But she was another blonde, and I was worried it might be too confusing for the audience to distinguish between two blondes in the limited time of a short film. The other girl was a gorgeous red-head with an incredible look, so we gave her a shot. She did well in the auditions, but in rehearsals she got a case of the nerves and backed out. But now I can't imagine anyone doing a better job than Sydney as our zombie. She brought a giant spark of life to our un-dead, even through all the makeup.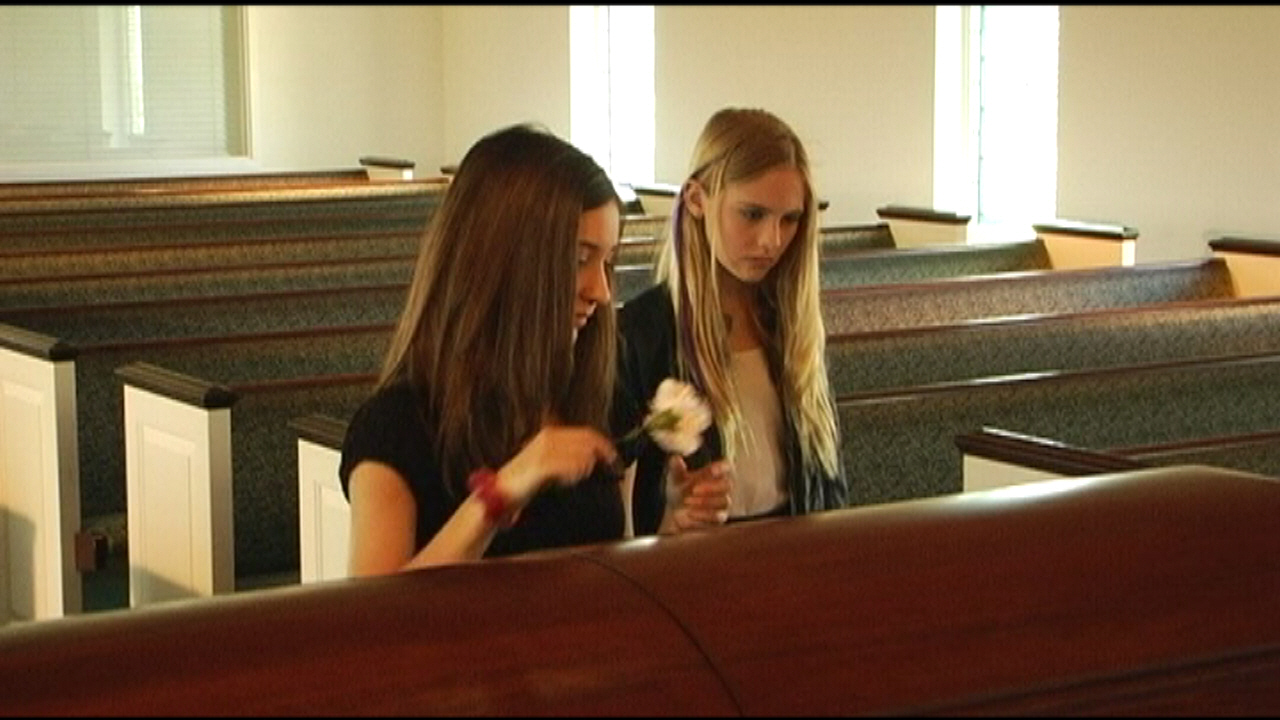 Alexa Ditaranto as "Skylar" and Ella Wahlestedt as "Julie" paying respects to a deceased friend.
ANDREW: What, if any, were the struggles involved in making an independent film like this?
FEDOR STEER: Just what every independent film struggles with… money. The deal I have with my wife is that my passion for film-making has to at least break even. If it's loses money, I need to find another hobby. I was able to raise some funds from family and Kickstarter.com. Complete strangers contributed $20 or whatever in return for their name in the credits and a copy of the DVD. We also got a big boost when Jim Beck came on board. He's a producer out in LA who loved the concept of the film and wanted to pitch in. Even so, we had to rely on the barter system a fair bit. For example, Ben Struble joined "BFF Zombie" as our cinematographer in exchange for my acting in his feature film "The Empty".
ANDREW: You had people flock to this project to work with you. Why do you think that is?
FEDOR STEER: Early in preproduction, I realized I couldn't make the film by myself. Four teenage girls and one guy with a camera would be… well… creepy. To bring in quality talent, I had to make it a legitimate production with a full crew. I approached it as though it were a feature film. I spent a lot of time planning and organizing and building a detailed website. One of the first things I did was make the movie poster. I used a photograph from my daughter's Facebook page; a picture she took of herself in the mirror goofing around with a girlfriend (it's still the movie poster, in case you were trying to figure out who it was). When I talked to people, I could then demonstrate I knew what I was talking about, and I had something to show them. Once I had a few key people on board, I was introduced to others and the project built upon itself as they all made contributions.
ANDREW: Tell us about the makeup effects. It was surprisingly elaborate for a low-budget short film.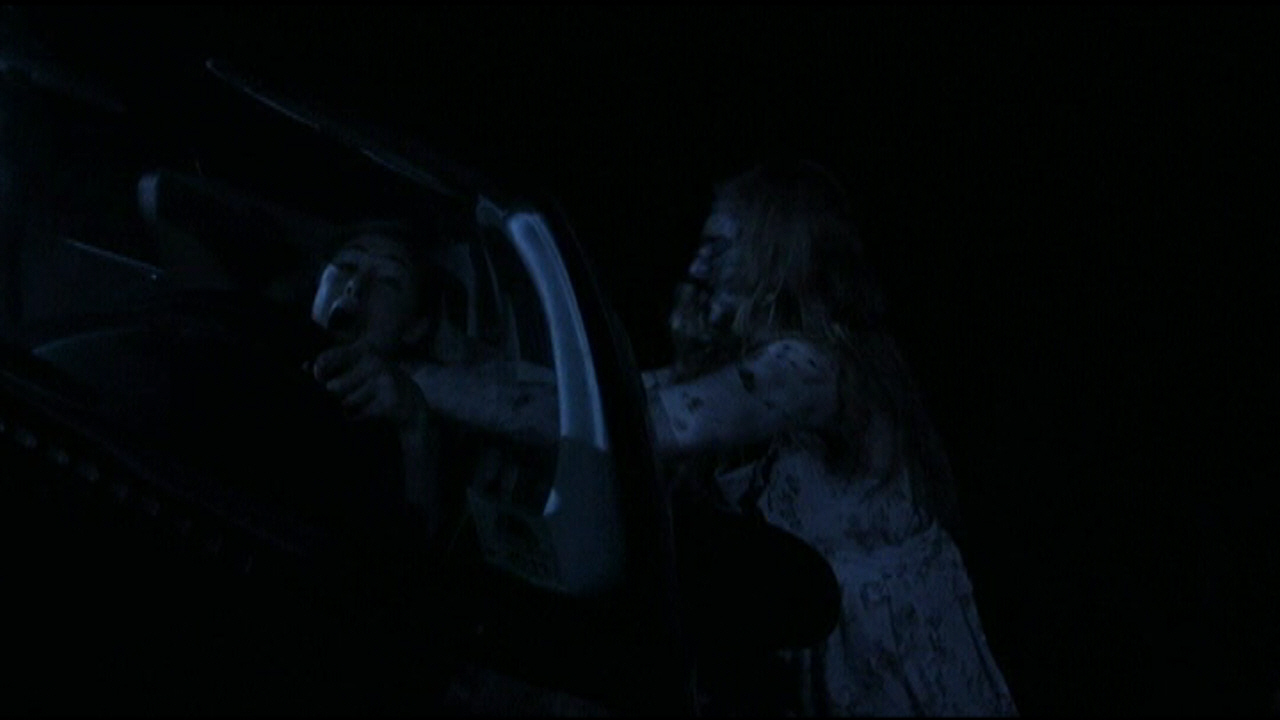 The Zombie played by Sydney Rose Walker pulling Julia Rosenberg as "Allie" Through a car window
FEDOR STEER: I had originally met Jessie Harris, our talented special-effects makeup artist, on the set of "Sanctuary". I knew she could do quality work, and I wanted her in Naples for "BFF Zombie". Getting her here from Orlando ate up a large chunk of our budget. It was worth it. What she created was unbelievable. But she couldn't stay for the last day. Fortunately, Joseph Shaw (our Assistant Director and Production Designer) showed off another one of his many talents and worked as her understudy. He brought in Jason Vanderhoeven to help as well. All I can say is that I'm glad it all worked outs so well.
There's another interesting component to the makeup story. What Jessie created was much more elaborate than what I envisioned. And much better than what I envisioned. And much more time consuming than what I envisioned. After all my careful planning, the two hours it took to apply makeup each day blew apart my meticulous schedule, particularly on the last day. We didn't wrap until 4am and by the time all the equipment was put away, the sun was up and the zombies were back in school.
ANDREW: Tell us about the music sound track; both the songs and the engineered music score. The audience at the film's premiere in the Fort Myers Beach Film Festival seemed surprised at the high production value of what was thought of as a local independent film.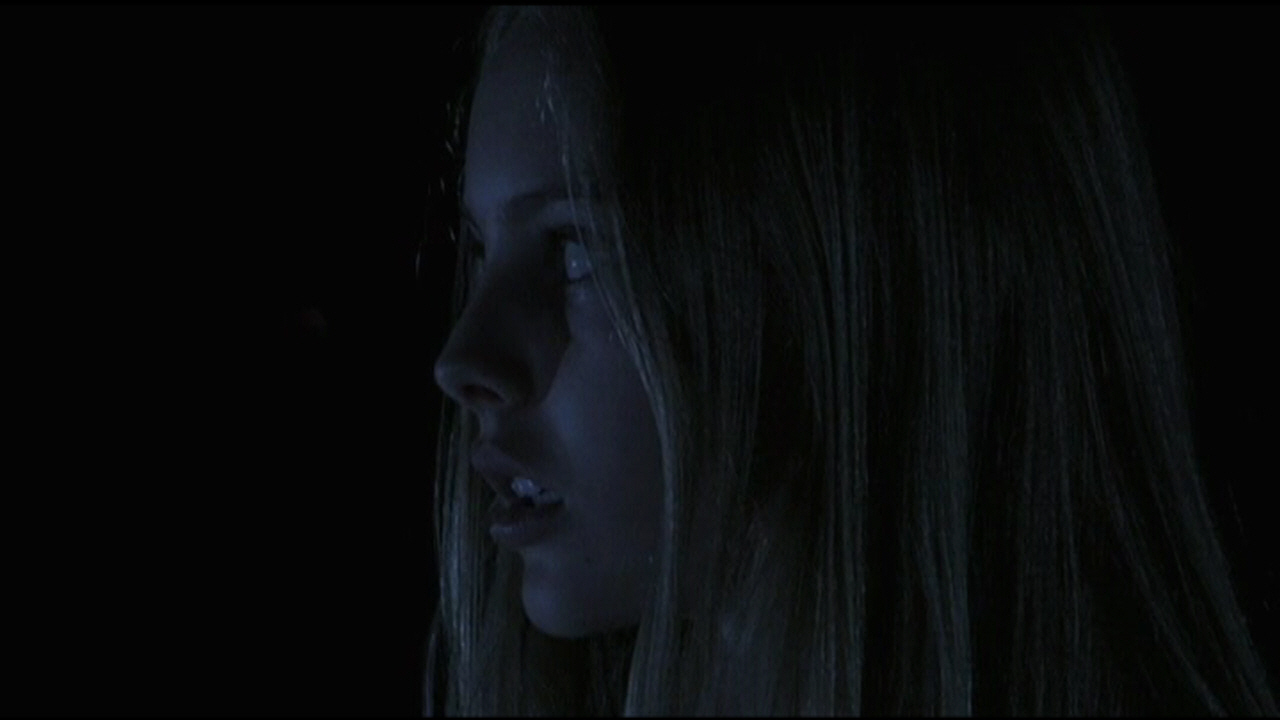 Ella Wahlestedt "Julie" hears something in the dark
FEDOR STEER: Really all I did was ask some of my talented musician friends if they had any original songs they could contribute. I specifically asked for quirky songs that would offset the otherwise macabre nature of zombies. Lisette St. Louis from Toronto and John Milosich from New York both came through. Lisette was actually quite a celebrity when she lived in Taiwan. She had a national television show and you'd see her face plastered on the sides of buses. She now travels and performs with a group known as "The Bettys". John sang at our wedding in Thailand. How cool is that? He sometimes plays with his band "The JoshDrews" and is also a professional actor. He is currently touring nationally with a stage production of "Warhorse".
During filming, we discovered that Sydney's dad is the agent for Miami musician Sarah Packiam. He suggested a few songs from her CD and they were a perfect fit. He was able to secure permission from Sarah, her co-writers, and Sony Music so that we were able to include them in "BFF Zombie". You can find her music on iTunes and Pandora.com.

Sydney Rose Walker getting transformed into a Zombie By Jessie Harris in the make up chair
And finally, in post-production, we needed underlying tracks for the suspenseful moments of the film… music that conveyed spookiness and all things zombie-like. Edwin Millheim, our stunt-coordinator, caught me completely off-guard when he revealed that he is not just all brawn and martial arts, but also a music engineer with his Meridian Designs Freelance Group. Within a few days he created exactly what we needed, customized to fit the precise timing of the scenes, frame by frame.
ANDREW: Tell us about some of the action and stunts. Was there ever a time you did not know if you could get something from page to performance and onto the screen?
FEDOR STEER: I had no idea how we were going to get some of the action onto the screen. Again I drew from the talented people I met on "Sanctuary" when I asked Edwin to join us. He is a stunt-coordinator extraordinaire and knows all the tricks. We had rehearsals weeks before we filmed and that allowed our actresses to visualize what would happen on set. We rehearsed more the day of the shoot, before wardrobe and makeup. And when it came time to do it in front of the camera, it all went smoothly and safely. I think some of the parents of the girls were a little nervous, but they saw that Edwin knew what he was talking about, that we were serious, and that we took precautions to prevent accidents. But I also think the girls had fun with the stunts and so a challenge we had was to hold them back a bit so they wouldn't hurt themselves.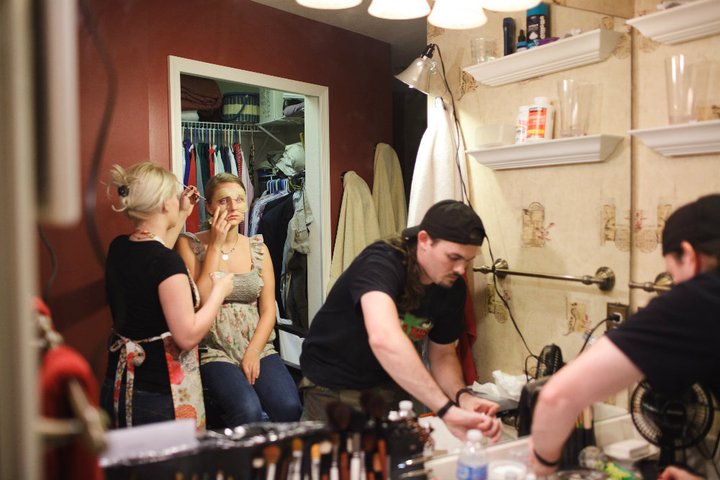 Jessie Harris and Joseph Shaw working their Makeup Magic on Sydney Rose Walker
ANDREW: This zombie is not like the traditional zombies we have seen in other films. This Zombie retains a lot of memories and human emotion, mainly revenge and jealousy. Did you write it that way, or was that something that came more to light in the excellent performance by Sydney Rose Walker?
FEDOR STEER: I wrote it that way, but it wasn't my original intention. It was supposed to simply be that the zombie comes back and kills a few people, ha, ha. But the story evolved after a few rewrites. The motivation of the characters became a more important element and ultimately the source of humor in the film, especially at the end. The relationship in the film, between the zombie and Skylar came out beautifully in the performances of Sydney and Alexa. Hope and despair, love and hate… it's all there between the blood splatters.
ANDREW: Will we see more films from you? What's next for BFF Zombie? More film fests? How can our readers get a copy of the film?
FEDOR STEER: "BFF Zombie" will be going to more film festivals over the coming year and you'll find updates about that on our Facebook page. But you can watch "BFF Zombie" right now by going to the website at bffzombie.lifeplay.org. Watching it will cost you a dollar, but that dollar (and any from the purchase of the DVD, complete with hilarious outtakes) goes towards sending the film to festivals and our next project. We've already started preproduction on the feature film "LifePlay". "Like" our Facebook page and sometime in the near future we'll post information on how you can get your name in the closing credits of "LifePlay".
Impulse Gamer continues with Edwin Millheim now….Now far be it from us to not ask Edwin a few questions, after all he is in our own back yard, well sort of as the United States Editor for Impulse Gamer. He is also an actor, and does fight stunts and action coordinating.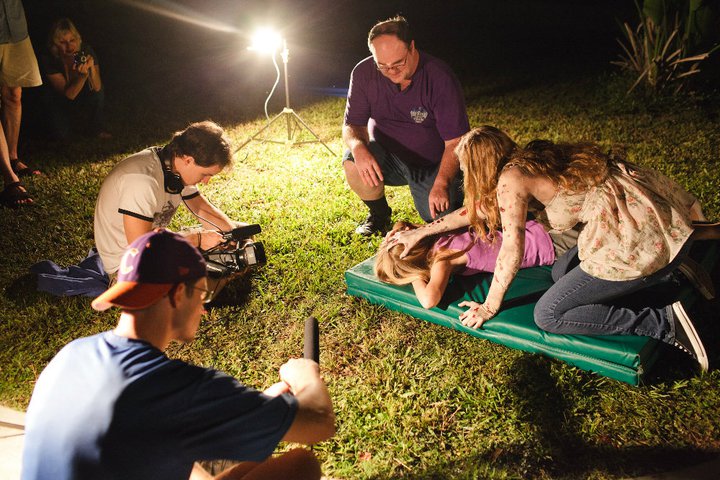 Edwin Millheim Stunt/action Coordinator walking Sydney Rose Walker and Ella Wahlestedt through a stunt fight, while Director Of Photography Ben Struble sets up for the camera shot
ANDREW: Tell us about your latest project?
EDWIN MILLHEIM: Well, I do acting and stage combat for live shows and when I can film projects as well. We not long ago finished up BFF Zombie, and it is now making the Film Festival rounds and press stuff. At this time I am training several new actors for a live show that will be in January 2013. It's some sword swinging, along with shield and spear fighting. So it's been a heck of a ride so far getting prepared. Some times when it's complex you take a long while to get it just right.
ANDREW: What are some of the stunts that you have helped choreograph in this project?
EDWIN MILLHEIM: Well for BFF Zombie, we had a tackle, along with someone getting grabbed at the back of the head and being bashed into the ground and then a car hit, and also being yanked out of a car. We also had set up one where one actress would be stomping on another's legs, we designed it and used that in a long shot, for some close up shot the Effects department made these really cool fake legs so the actress could stomp on those for the close ups, with the edits between the two shots it looks really painful.
ANDREW: Zombies… is it more difficult creating stunts with make-up?
EDWIN MILLHEIM: Well once again the make up for the Zombie in this was elaborate and durable. It was a long process to put on, but was worth it in the end. Jessie Harris, Joseph Shaw and Jason Vanderhoeven did some great make up on this movie. There where pieces of prosthetics placed on so the actress was able to move very well. It made working the stunts easier. I never had to worry about anything coming apart in any of the more demanding moves.
ANDREW: What was the most difficult aspect of this project?
EDWIN MILLHEIM: Holding the reins on the actresses. They really threw themselves into everything. They are very enthusiastic actresses. You know you do this for 20 + years and you know if you do not pull it off just this certain way something can happen. So, you kind of have the actors you're working with hold back a little. But being creative people and so devoted to the acting craft, when the cameras start going they are in the moment. I noticed that on the Sanctuary shoot as well. It's like watching your kid ride a bike for the first time. They are doing everything you told them to, but you're still mentally biting your nails. The really serious actors that are into their craft, they are like creative sponges. You work with them and they get it. The choreography ends up being a dance of sorts and they get it.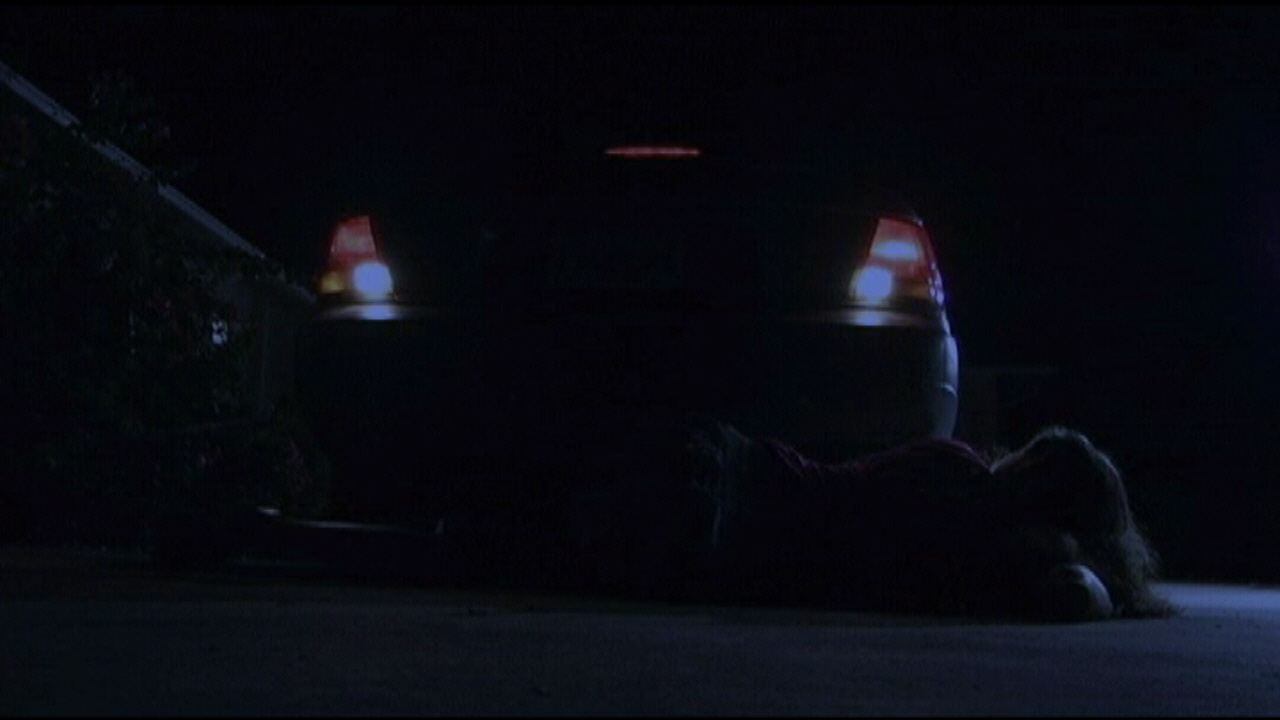 Julia Rosenberg "Allie" about to get crushed.
ANDREW: What are some of the dangers you encounter?
EDWIN MILLHEIM: Well I have not worked with Pyrotechnics for a while. I once had a small pyro charge rigged to my arm for a live show. It was a small charge and you do all the precautions, it all worked out of course, but you know I just hate working with fire. It's already potential for danger in everything you do for action and stunt fights. As I always say, our job is to look dangerous not be dangerous. Our place is to look over the choreography and consider what can potentially happen and take steps that it does not. No sense adding real danger. Have some safety built into the choreography.
ANDREW: Tell us about some of your injuries?
EDWIN MILLHEIM: Oh boy, don't jinx me. I have never gotten hurt doing this in all this time. I had a couple of ouches. I did a fall and had a tooth cap pop off. I hit the ground and felt it pop out and saw it sailing through the air. During practice I once had my fight partner's sword point find a home in my thigh muscle. Since it punched muscle it hurt so much I yelled out a few choice things, just in the pain of the moment. We adjusted the move angles and it did not happen again.
ANDREW: What are some tips you would give independent film makers in terms of safety?
EDWIN MILLHEIM: First and foremost, no film is worth getting hurt over. If your actors cannot do a certain thing, change it make it safer. Doing film you have a lot more leeway because you can also do camera angles to make something like a punch look closer than it actually is. If you are writing something like a heavier stunt or some action that involves weapons or firearms. Consider using fake firearms and doing the effects in post-production. If you are not used to or know how to do something like stunt fights, make sure you get someone who knows how to do it, and rehearse , rehearse and rehearse some more. Slow motion at first, bring it up to quarter once they have it, then performance speed. If you are going to use blank firing weapons, I would strongly suggest you have a qualified armorer on set. Every year in independent and even student film there are injuries and deaths from use of blank firing weapons.
ANDREW: Is there a place where people interested in stunts can go to learn?
EDWIN MILLHEIM: Actually yes, I think places like Sydney Stage Combat School comes to mind. Some folks there worked with and on some really good choreography for things like Star Wars, Troy, and Spartacus. They take safety and working that safety into even the simplest movements very seriously and it shows. I'm big on safety so I am a fan. Folks on the United States side can check with folks from Society of American Fight Directors, or if you see a live show and you really liked a performance, see if you can catch the actor after the show and ask them about it. We always love to pass on the knowledge. You can also find out about the national stage combat workshops coming up here: http://www.safd.org/training/nscw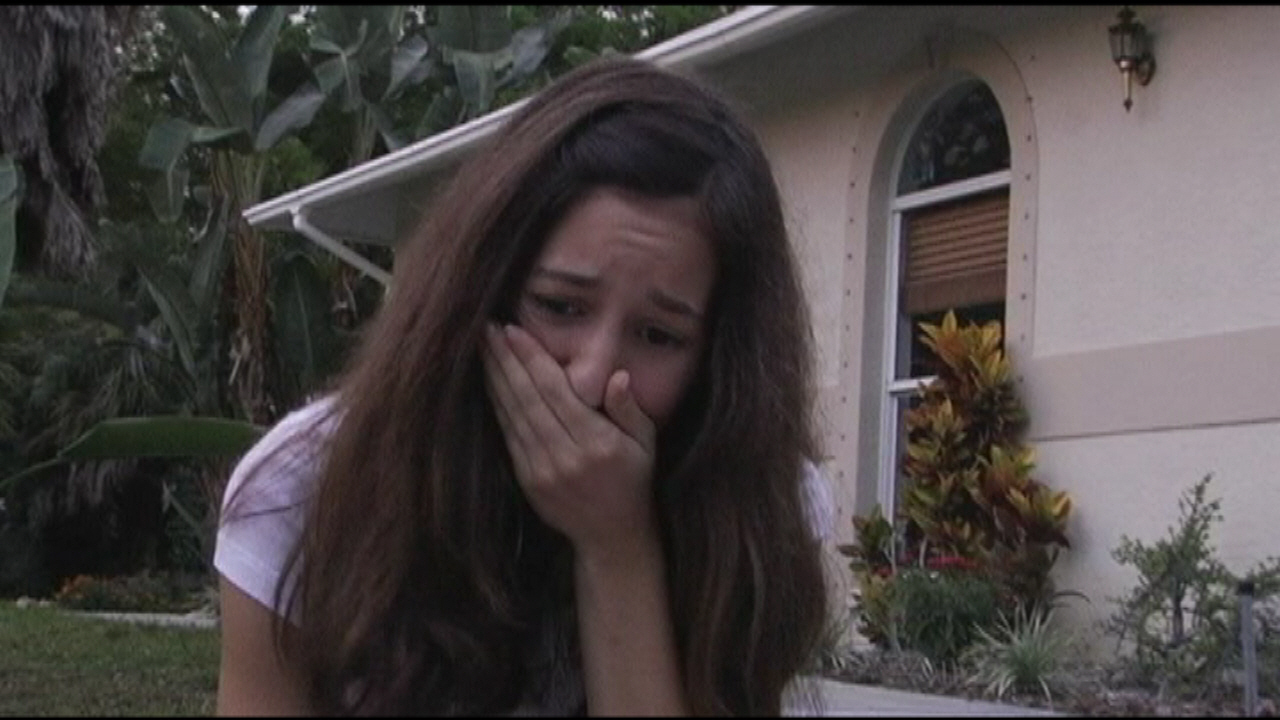 Alexa Ditaranto "Skylar" in shock
ANDREW: How did you become involved in the stunt industry?
EDWIN MILLHEIM: I have been practicing kungfu and teaching it as well for some time. Two students at the time over 20 years ago, asked me to choreograph something for them for an audition for a live action stage combat show. I never did anything like it and I enjoyed the challenge and the audience reactions too. I liked it, and I was also asked to do the show. I got bit by the acting and action bug and I have been doing it ever since. My daughter Shael, grew up around this too. I remember distinctly my wife bringing her to live shows and her sitting in her stroller close to the front, explosions going off, swords swinging all around. After this one show I come over to her just to see how she is doing and I ask if she wants to come out there and swing swords with Daddy one day. She nods her head enthusiastically and says yes. Few years later she had her first action sequence. I think she was like six or seven. She runs through a huge battle and has one move. She walks over a character and the guy says "Hello little girl" she turns and stomps on his stomach and runs through the rest of the battle.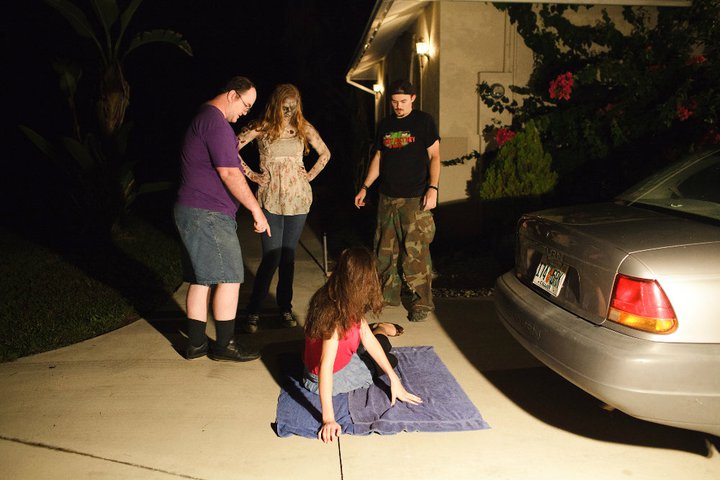 Edwin Millheim Stunt/action Coordinator Setting up the next part of a stunt fight with Julia Rosenberg on the ground and Sydney Rose Walker in full Zombie makeup. Joseph Shaw man of many hats on set looks on
ANDREW: What are some of the pitfalls?
EDWIN MILLHEIM: Not really a pit fall, but you have to know when to rest and give your muscles time to recoup. Getting ready for this latest show I have really been pushing it, not only am I doing two fights, but I am training everyone else too….my muscles are screaming at me. So you take a couple days of not doing anything. You have to get some rest, if you over do that can be counterproductive.
ANDREW: What about highs?
EDWIN MILLHEIM: The Audience is one thing. You see the smiles, and the reactions of the crowd and you created a memory for them, you illicit an emotional response. The other is as a kid you always wanted to be the pirate, the daring sword fighter, or other action hero. With this I get to be a part of it all the time.
That's it Impulse Gamers. You can check out more on BFF Zombie here: http://bffzombie.lifeplay.org/order.php