Cognito Comics Interview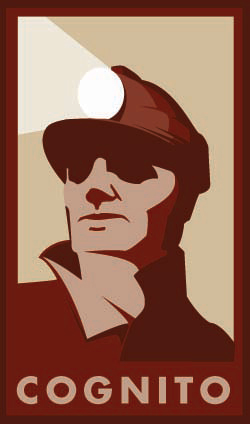 I'll shamefully admit to not knowing about Cognito Comics until I read an interview Ain't It Cool News conducted with the comic book publisher last week. I was intrigued by this iPad centric publisher and decided to check out their site. There they have a sample of their comic Operation Ajax, developed specifically for the iPad. The experience was amazing. Cognito, with the help of Tall Chair's development app, have realized the potential the iPad has for motion comics. I highly recommend checking out their website and experiencing the comic for yourself, I want an iPad after sampling it it's that good. So with that in mind I did the only logical thing, I interviewed them. Enjoy!

Q:Operation Ajax is your first iPad centric title. Does developing a graphic novel specifically for the iPad, with motion and other new elements, take longer than it would to develop a printed version?
A: Definitely! Each panel of each page is drawn in two to four layers, so that when we add motion none of the images are incomplete. The pencilers, inkers and colorists are all working on these layers, so it adds time at each step of the process. Then there's the motion design on top of that. Lastly, we implement the images into an engine that encodes the art and allows us to incorporate it into the reader application. We're about as far off from the Jack Kirby production model as you can get…
---
Q:How much more difficult is it to develop a fully functioning motion comic? Do you have to think differently in terms of editing and the composition of the page?
A: There's a lot of ways we could have gone about developing the art for this book, but we chose to start by designing the page as it would appear in the static book format, and then designing the interactive version from there. Our desire is to create an experience that feels like reading a graphic novel, but that takes advantage of an electronic mobile technology. Making the traditional comic layout as our creative point of departure helps us stay true to the comic tradition.
---
Q:What you're doing with motion comics is probably the best I've seen so far yet a lot of digital comics is just dumping the print version online. Why do you think other publishers haven't put the effort in to make digital comics a truly unique experience and fully utilize the medium?
A: Thanks, that's really nice to hear. There's a pretty basic difference between our product and the adaptation comics you can get through any of the other reader apps: Our images are created in a digital pipeline specifically for the iPad format. The result is that all our text, page layouts, motion, and color are clear and crisp. We've had a lot of fun reading the classics on our mobile devices, but what we've designed feels natural and fluid in a way that the adaptations don't. There will always be a market for printed comics. We know that for sure because we still love collecting and trading comics, and that's not going to change, but I love reading comics on my iPad too. I can't speak to the strategy of other publishers. Let's just say time will tell.
---
Q:You'll be linking to all sorts of extra material due to the historic aspect of Operation Ajax to really enhance the readers experience. Do you think any comic/graphic novel can be given this sort of motion comic treatement or will publishers have to be selective?
A: Ahah! This is really an interesting question that we ask artists and writers whenever we have the chance. I'd say that a comic book creator can take the creative opportunities presented by this narrative third dimension and run with it. Our only limitation is our own creativity. This applies to stories that incorporate nonfiction elements, and fully fictional stories alike.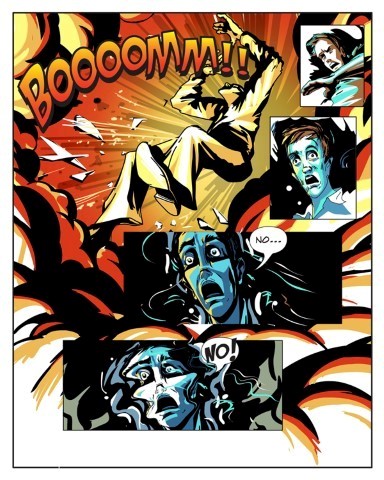 ---
Q: One thing I liked about Operation Ajax was the fact that the reader was in charge of the transition from panel to panel. You read at your own pace but also you experienced each panel individually and for the first time. Does that allow you to do different things as a storyteller? Knowing your reader can't see what's going to happen next?
A: Again you've tapped into something that's totally unique about this format. We definitely are using the panel transition process to intensify the feeling of moving from one moment to the next. I can't really get into specific examples, but I can tell you for sure that we really like playing with the element of suspense.
---
Q:What's the plan for the future? Are there several comics you are going to make or will you have to see how successful Operation Ajax is first?
A: I can't get specific, but we're really excited about collaborating with some awesome talent on future projects. It's too early to reveal anything though.
---
Q: Your mission statement is to "present socio-political and world issues to the general public through the engaging mediums of comics, animation, and games". Is that a testament to your respective backgrounds? Why strike out on such a broad front?
A: The best way to answer that question is to say that we see the future of digital media as being less divided into genres as in days past. It does have a lot to do with the backgrounds of our team. Until now, books were on paper and games were on tables or screens. Those divisions don't apply anymore. If you look at our mission from that perspective, the emphasis really becomes more about making meaningful work in the world of new media. Our purpose is to make products that are about something more meaningful than mere entertainment, because there's enough of that stuff being made already.
--
Q: Would you be looking to support your titles across multiple mediums ie an Operation Ajax game and animation or do you think each of your projects will be best suited to the one medium?
A: That's hard to say. I mean, the possibilities are endless, aren't they?
For some reason I always knew or expected it to be a start-up like Cognito that would really experiment with and play with the idea of motion comics and how the reader reads a comic. Like I said I want an iPad just so I can see how the experience feels over a 100+ page story. Thanks again to Cognito Comics for taking the time out to speak with me.