Western Digital Caviar Green 2TB SATA Hard Drive
(Western Digital 2TB Green Drive)
Western Digital have released the world's first 2TB hard drive that not only boasts some truly tremendous storage space but also some impressive specifications which has been exclusively designed to be one very eco friendly drive. Ladies and gentlemen, I introduce you the Western Digital Caviar Green 2TB SATA Hard Drive, the Green Drive.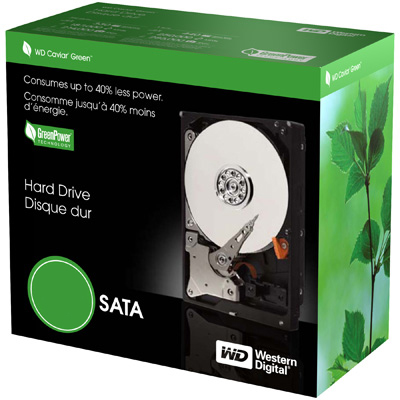 In terms of history, I still remember getting a 20MB (megabyte) hard drive in the late 80's and thinking that I would never fill this up, however the 90's and I purchased a 1.6GB (gigabyte) hard drive, once again thinking that I would never fill it up... Of course I was wrong again and here I am thinking that my 500GB hard drive is too small.
This is all a result of operating systems, software and games requiring larger hard drive space. Thankfully hard drive manufactures have been keeping up with not only the developers but also the community in terms of storing videos, music and the like.
So how big is a terabyte (TB)? The answer is 1024GB but to appreciate how large this drive is, you need to break it down even further.
| | |
| --- | --- |
| Bit | 0 OR 1 |
| Byte | 8 Bits |
| Kilobyte | 1024 Bytes |
| Megabyte | 1024 Kilobytes |
| Gigabyte | 1024 Megabytes |
| Terabyte | 1025 Gigabytes |
In laymen's terms, this is equivalents to;
| | |
| --- | --- |
| Photos | Up to 400,000 digital photos (5MB per photo) |
| Songs | Up to 500,000 songs (MP3) (128kpbs @ 4 minutes) |
| Video | Up to 150 hours of Digital Video (3.5MB per second) |
| DVD Videos | Up to 770 hours of DVD quality video (2.59GB per hour) |
| HD Videos | Up to 240 hours of High Definition video (8.3GB per hour) |
Epic is probably the best word to describe the amount of content that can be stored on this hard drive and if you divide the following table by 4, that will give you the standard amount on a 500GB hard drive. Another important feature of the drive is that it is eco friendly, meaning that the drive has good power consumption that not only benefits the user but also the environment. This relates to lower temperatures and quieter operations which is another bonus. Once installed, the drive was extremely quiet, even when it was accessing data thanks to the "Cool and Quiet" technology.
Features
Reduced power consumption - WD has reduced power consumption by up to 40 percent compared to standard desktop drives with the combination of WD's IntelliSeek, NoTouch, and IntelliPower technologies.

Helps enable eco-friendly PCs - WD Caviar Green drives yield an average drive power savings of 4-5 watts over standard desktop drives making it possible for our energy-conscious customers to build systems with higher capacities and the right balance of system performance, ensured reliability, and energy conservation.

Cool and quiet - GreenPower technology yields lower operating temperatures for increased reliability and low acoustics for ultra-quiet PCs and external drives.

Massive capacity - Capacities up to 2 TB offer the most available capacity for storage-intensive programs and space-hungry operating systems, like Windows Vista, with plenty of room left over for photos, music, and video.

Perfect for external drives - External drive manufacturers can eliminate the need for a fan in a high-capacity product with a WD Caviar Green drive, the coolest and quietest in its class.

IntelliPower - A fine-tuned balance of spin speed, transfer rate and caching algorithms designed to deliver both significant power savings and solid performance.

IntelliSeek - Calculates optimum seek speeds to lower power consumption, noise, and vibration.

NoTouch ramp load technology - The recording head never touches the disk media ensuring significantly less wear to the recording head and media as well as better drive protection in transit.
Perpendicular Magnetic Recording (PMR) - Employs PMR technology to achieve even greater areal density.

StableTrac - The motor shaft is secured at both ends to reduce system-induced vibration and stabilize platters for accurate tracking, during read and write operations. (2 TB models only)

Low power spin-up - WD Caviar Green drives consume less current during startup allowing lower peak loads.

Advanced power technology - Electronic components deliver best-in-class low power consumption for reduced power requirements and increased reliability.
Specifications
Performance Specifications
Transfer Rates - Buffer To Host (Serial ATA) 3 Gb/s (Max)

Physical Specifications
Formatted Capacity - 2,000,398 MB
Capacity - 2 TB
Interface - SATA 3 Gb/s
User Sectors Per Drive - 3,907,029,168

Physical Dimensions
Height - 26.1 mm
Length - 147 mm
Width - 101.6 mm
Weight - 0.73 kg

Environmental Specifications
Operating Shock (Read) - 65G, 2 ms
Non-operating Shock - 300G, 2 ms

Acoustics
Idle Mode - 25 dBA (average)
Seek Mode - 0 29 dBA (average)
Seek Mode - 3 26 dBA (average)

Vibration
Linear - 20-300 Hz, .75G (0 to peak)
Random - 10-300 Hz, 0.008 g² / Hz

Non-operating
Low Frequency - 5-20 Hz, 0.195 inches (double amplitude)
High Frequency - 20-500 Hz, 4.0G (0 to peak)

Electrical Specifications
Read/Write - 6.00 Watts
Idle - 3.7 Watts
Standby - 0.80 Watts
Sleep - 0.80 Watts
From the specifications, the standout features for us include the speed, acoustics and electrical specifications which are thoroughly impressive for a drive of this size. In relation to a 3.5" drive, the drive is also quite heavy due to the size of data that can be stored.
However, in order to do this drive justice, we recommend that you have a system capable of supporting and complementing the specifications of the hard drive. This includes CPU, RAM, motherboard and Operating System.
Installation
The installation of the Green Drive was relatively straightforward as all we needed to do was ensure that the drive was secure in our case, connect a SATA cord and connect the power. The rest was up to the motherboard and operating system. Our test system included the following;
Motherboard - Gigabyte GA-MA790GP-DS4G

Graphics Card - HD4870 X2

Memory - 2048MB (2 x 1024MB) DDR2 CAS4 1066Hz Dominator Corsair

Power Supply - Titan 850W ATX Intel AMD PC Case Power Supply

Operating System - Microsoft Windows Vista Ultimate Edition (64-bit) with SP and DirectX - 10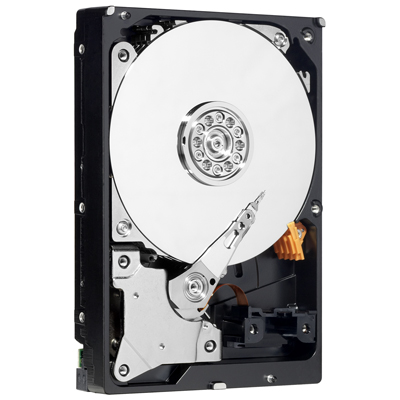 Once installed, Microsoft Windows Vista Ultimate Edition automatically detected the drive and it began the formatting process which took a longer than use amount of time compared to smaller drives and once the operating system was installed, we were ready to test this behemoth. Compared to our previous drive, the boot-up speed was fairly similar and accessing the drive through a variety of programs was quite fast.
We tested the drive with SiSoftware Sandra 2009 (System ANalyser, Diagnostic and Reporting Assistant), one of the world's most definitive benchmarking programs and the results were quite impressive, especially in relation to read, write and seek speeds.
Sandra 2009 SP2
Read and Write (MB)
Sandra 2009 SP2
Random Access Times (ms)
(74.4) Write Index
(78.91) Read Index
(4) Write Access Time
(16) Read Access Time
For a drive that is built to be eco-friendly, the Green Drive is still a contender with other smaller drives built for speed.
Another testing program we used was HD Tune 2.55 that showed some close results to other drives. The results once again mirrored those of Sandra 2009 with some decent results in all aspects of data access.
HD Tune 2.55
Transfer Rates
HD Tune 2.55
Random Access Times
(80.2) Average
(105.1) Maximum
(49.9) Minimum
(12.1)

HD Tune 2.55
Burst MB
(154.2)
In terms of transfer rates, The Green Drive performed a little slower than other drives, however the random access speeds of the drive was extremely impressive with the only shortfall (just) being the Burst rates. Even so, it performed exceptionally well for a drive of this caliber.
We also tested the drive using a variety of "normal" applications that include the operating systems, CS4, surfing the net and a variety of games from low performance ones such as Peggle to Crysis. When accessing the hard drive, the speeds remained at a good constant with no slowdowns or waits and proved a flawless experience for the user. The StableTrac technology also ensured that our system did not vibrate when accessing data unlike previous drives that we have used.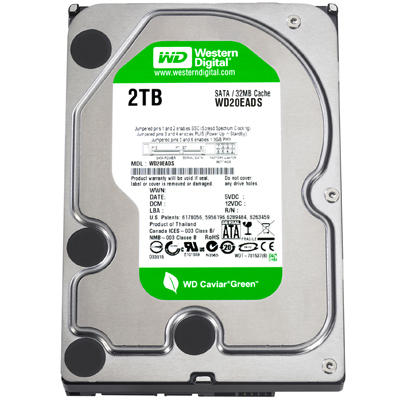 In conclusion, the Western Digital Caviar Green 2TB SATA Hard Drive is a very remarkable drive that although is not the fastest drive on the market, it still boasts some impressive results for a drive of this size. The only downsides to the drive is the price for now and the repercussions of a doomsday scenario, however developers have come a long way since drive failures. Even so, this is one drive that we could happily recommend to a variety of users from business to home and gamers.
Recommended!