Middle Men
Middle Men is an interesting film about the rise of pornography on the internet but more particularly the men that first started charging for this service. The men in question include Wayne Beering (Giovanni Ribisi) and Buck Dolby (Gabriel Macht) who just like Mark Zuckerberg from Facebook, made what pornography on the net is today. You know what I mean and I'm sure Dr. Google has accidentally popped something up that it shouldn't have.
Never in their wildest dreams did they believe how successfully their idea would become which sparked a true worldwide chain reaction. Unfortunately these two innocent fools did not understand the ramifications of their idea and this is where business-man Jack Harris (Luke Wilson) comes into the picture.
Harris is known as a middle man and a person who can almost fix any business mess but when he becomes involved in the lucid world of pornography, this mild mannered family man soon gets involved in the seedy side of this business.
For Harris, this includes sex, drugs, crime and unfortunately violence in this real-world story based on Christopher Mallick. At times Middle Men is reminiscent of Boogie Nights and director George Gallo does a great job at creating this underbelly to the world of pornography on the internet.
His direction helps create a rather realistic, funny if not depressing snapshot of pornography as when money can be made out of virtually nothing, every criminal in the town wants a piece of the action.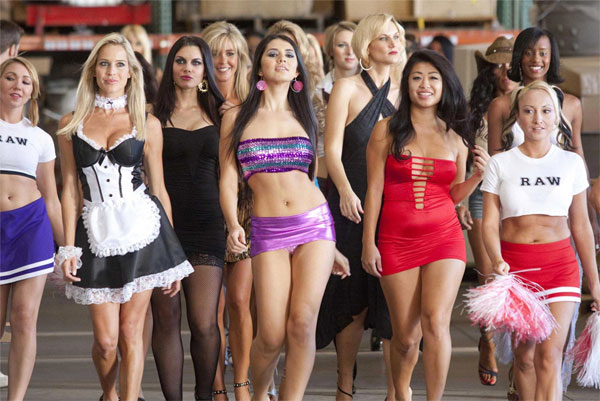 With that said, all the actors in the film are well cast and offer a sense of realism and comedy to the story such as the two masterminds, Beering and Dolby who seem to have been bumbling along in life... until they struck it rich. At times the dialogue is a little forced and contrived but overall, Gallo does a good job at retelling how the internet became pornographic.
Although based on a true story, there is little evidence to tell how much is real and how much is false. Nonetheless, this film features some good video and audio quality for a relatively unknown drama. In terms of extras, we get commentary with the director, outtakes and some deleted scenes. It may not be the best movie of the year but I enjoyed it and it really offers something uniquely different to what is currently available.
Check it out!