IRT - Deadliest Roads
(3 DISCS, 10 EPISODES + EXTRAS)
Holy #@$! That was and still is my reaction to this thoroughly entertaining and edge of your seat reality TV series. IRT (Ice Road Truckers) - Deadliest Roads is a spin-off from Ice Road Truckers that follows Ricky Yemm, Alex Debogorski, Dave Redmond and Lisa Kelly as they drive through some of the world's most dangerous mountain roads, more specifically those linked to India. To maker matters worse for our adventurous truck drivers, they are driving their vehicles on some roads that date back to 205 B.C. with sheer deadly drops, landslides and more particularly bad driving from the locals which makes their job that much more dangerous. According to statistics, there is a casualty every 4.5 minutes on some of these roads which is insane!
This ten part series begins in Delhi in this dog-eat-dog world of traffic chaos where the goal is to get from point A to B at the fastest rate possible. Of course, this doesn't help that the trucks are already carrying too much and needless to say, the results are quite predictable. Even one of the drivers from Canada, Alex Debogorski is caught up in several collisions and almost a lynching that forces him to return home. Debogorski is replaced by Dave Redmond, a trucker driver from Alabama who definitely has more gusto than our mild mannered Canadian with his no prisoner type attitude.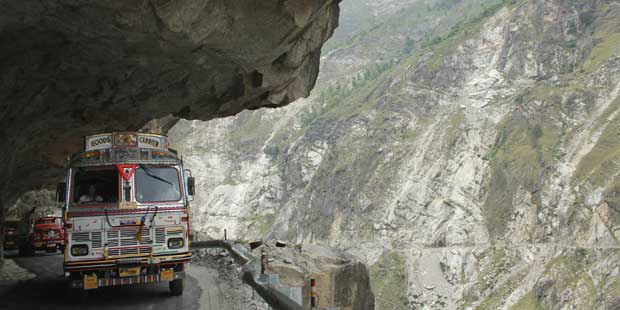 The truckers are also joined by spotters. In India, it's law for a spotter to drive wit the driver who not only assist them navigate through dangerous spots on the roads but also help them with the language barrier. The goal however for these truck drivers are to help the locales move supplies throughout the rural outskirts of India as they drive along some wonderfully named roads such as "Freefall Freeway" and "Pile of Corpses" near the Tibetan border.
From single lane roads going up mountain sides to drivers coming the other way, this is definitely a nail biting experience for not just the drivers but also the viewer. With roads falling apart around them and sheer straight drops to nothingness, watching these drivers attempt to normalise these conditions is pure adrenaline pumping entertaining. What a ride! I also failed to mention that unlike trucks in the US, these which have a steel cage around the cabin, in India, they are made out of wood!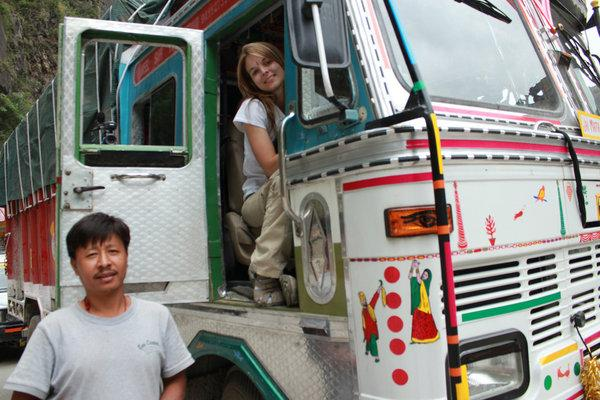 Lisa and her spotter Toshi
Needless to say, it's a very interesting and addictive watch that had me looking away at some of the dangerous these drivers face. There is also some humour involved in the series and some great relationship building between the spotters and the drivers. There is one memorable scene where Lisa finds a homeless puppy and she decides to sit him near her gearstick on the truck. Unfortunately she keeps getting distracted by the dog and her spotter Toshi puts him on the floor for both their safety. Priceless!

Video, Audio & Special Features
The video quality is a little lacking in this presentation as is the audio but thankfully the content more than makes up for this. Add in some cutting room floor extras and this nicely rounds off a very enjoyable and amazing series. Wow... what a drive! Recommended!