Top Cowís First Look Trade Paperback is an odd thing to review. Not only does it collect six different stories they arenít even vaguely tied together, like the Dr. Horrible Trade Paperback, by one overriding theme. The only connecting thread is the fact that they are all new, the first issue and coming to a comic store near you soon.
The six different stories are Marc Bernardin & Adam Freemanís Genius, Christos Gageís Sunset, Jason Rubinís Mysterious Ways, B. Clay Mooreís Black Vault, Joshua Hale Fialkovís Echoes and Filip Sablik and John Mahoneyís Last Mortal. They run the gauntlet from revenge tale (Sunset), to space horror (Black Vault) to the supernatural (Mysterious Ways) to serial killer story (Echoes), a gang war (Genius) and supernatural noir (Last Mortal) meaning thereís pretty much something for everyone collected here.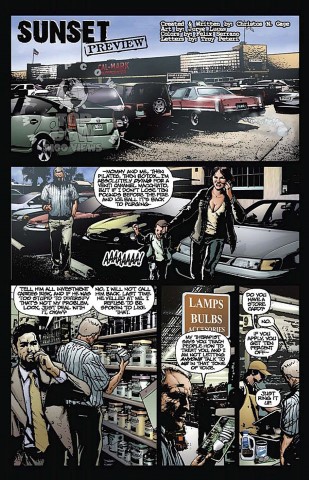 Certain stories grabbed my attention more than others. For me the top three stories were Joshua Hale Fialkovís Echoes, Christos Gageís Sunset and a close tie for third between Genius and Last Mortal. There was something deeply haunting, disturbing or mesmerising about these stories, especially Echoes which will almost make you hurl without even being gory. There was also something familiar about Sunset and Genius. If youíre a fan of Clint Eastwoodís brilliant Gran Torino or the cult classic The Warriors then youíll recognise ideas and influences from these films in the stories. At first I was even prepared to write them both off as too heavily influenced by those films but by the end they strike out on their own, taking the ideas sown in those films to their fullest. Last Mortal has a great, albeit pathetic lead character, who really captures the readerís attention with his narration and pathetic little life that takes an unexpected turn. The thing all these stories had in common was a strong lead who, at the end, had you wondering what their next move would be, how they will fix or resolve the situation they are in.
The other two stories just didnít grab me. The ideas didnít seem as exciting and the characters not as interesting and they were almost a little too ambiguous that you didnít really know what was going on and whether you could be bothered investing yourself in the story, especially Black Vault. I also had to chuckle at the dialogue of the Russian pilot in Black Vault which showed a heavy accent at the beginning but then seemed to fade away as the book went on. I had a similar reaction to the dialogue of Genius which mixed stereotypical ghetto/gangster slang with the teachings of Sun Tzu for some interesting results.
Like the collection of stories on offer each issue features its own unique art style that helps it to stand out from the rest. Once again certain art styles left a greater impression than others. While I generally liked the story behind Genius I found the art, at times, looked liked the background and the people were not a part of the same comic. They didnít seem integrated properly and it didnít look natural. At times it seemed intentional but it was still off-putting. In Black Vault there was a few times where it looked like the artist had left in a few wayward pencil lines that really shouldnít have been there. I get that it was going for that almost rough look with lots of small lines but in a few panels there were some of the start lines, like how you draw a line down the middle of the face and one across when you start drawing a face, left on the characters. It gave more of an unfinished look.
While there were some issues with some of the art what was on display in Echoes, Sunset, Mysterious Ways and Last Mortal was generally exceptional. Sunset managed to display the grizzled outlook on life the protagonist has with its artwork and showed some inventive violence, meaning our protagonist knows how to think on his feet, while the use of black, grey and white in Echoes and Last Mortal showed that you donít need colour to have a visually striking book. In particular the use of shading, especially in the scenes with little light, in Echoes were quite beautiful and really drew the reader in.
The Top Cow First Look Trade Paperback shows that Top Cow looks to have a bright and varied future ahead of them. From reading the book Iíll definitely be looking out for more from Echoes, Last Mortal, Sunset and Genius as their stories really captured my attention. At US$5 itís also a bargain buy and I guarantee that amongst the six stories on offer youíll surely find one, or several that will interest you enough to follow its progress.