Synopsis: A group of soldiers during the Vietnam Conflict must fight zombies in order to survive.
The first thing I thought when I saw the cover of this comic was, ďGross! What the hell is that supposed to be?Ē Thatís a clear indication the art is effective in grabbing the interest of a comic reader. Sometimes I donít think a two dimensional comic can be effective when it comes to inspiring physical, mental, and emotional discomfort. Itís art like this that changes my mind. Itís quite dark and gritty. Itís also quite ingenious; itís straightforward in its intensity. I find it easy to admire the artist. He knows what heís doing.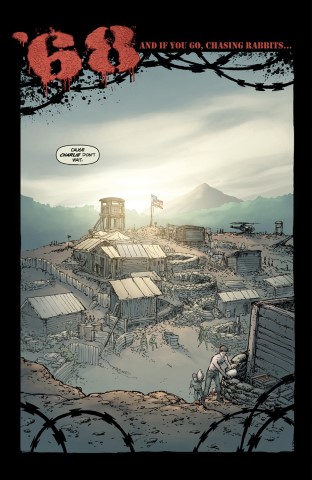 Now as far as the story goes, I first started reading it and groaned, ďAw, no another zombie comic!Ē Yeah, I like zombie comics like the next man. But sometimes I feel itís been done to death. However, after reading í68 I see thatís not the case. I am glad it isnít too. I like the way the story flows. At times this issue seems too fast paced. Other times it is about right. I like how the characters are believable. Thatís the way a comic should be. The characters are confused, lost in a situation far from the norm. That doesnít distract from the story. It enhances it.
The choice of Vietnam was also quite smart. Vietnam was a conflict that traumatized the mindsets of U.S. soldiers and civilians like no other. Itís a huge part of U.S. history. Many Americans would like to forget it, but it is such an integral part of the history of the United States that is cannot be forgotten. It was such a smart choice to use Vietnam as backdrop for a zombie story that I wonder why no one has used it until now. Or, if they have used it, why havenít they been successful at it until now?
Ď68 is a good, solid piece of work. I recommend it for zombie lovers. Itís also good for those comic lovers who want something new, fresh, and gory.