G.I. Joe Retaliation

GI Joe, real American heroes, GI Joe is there... just a year late…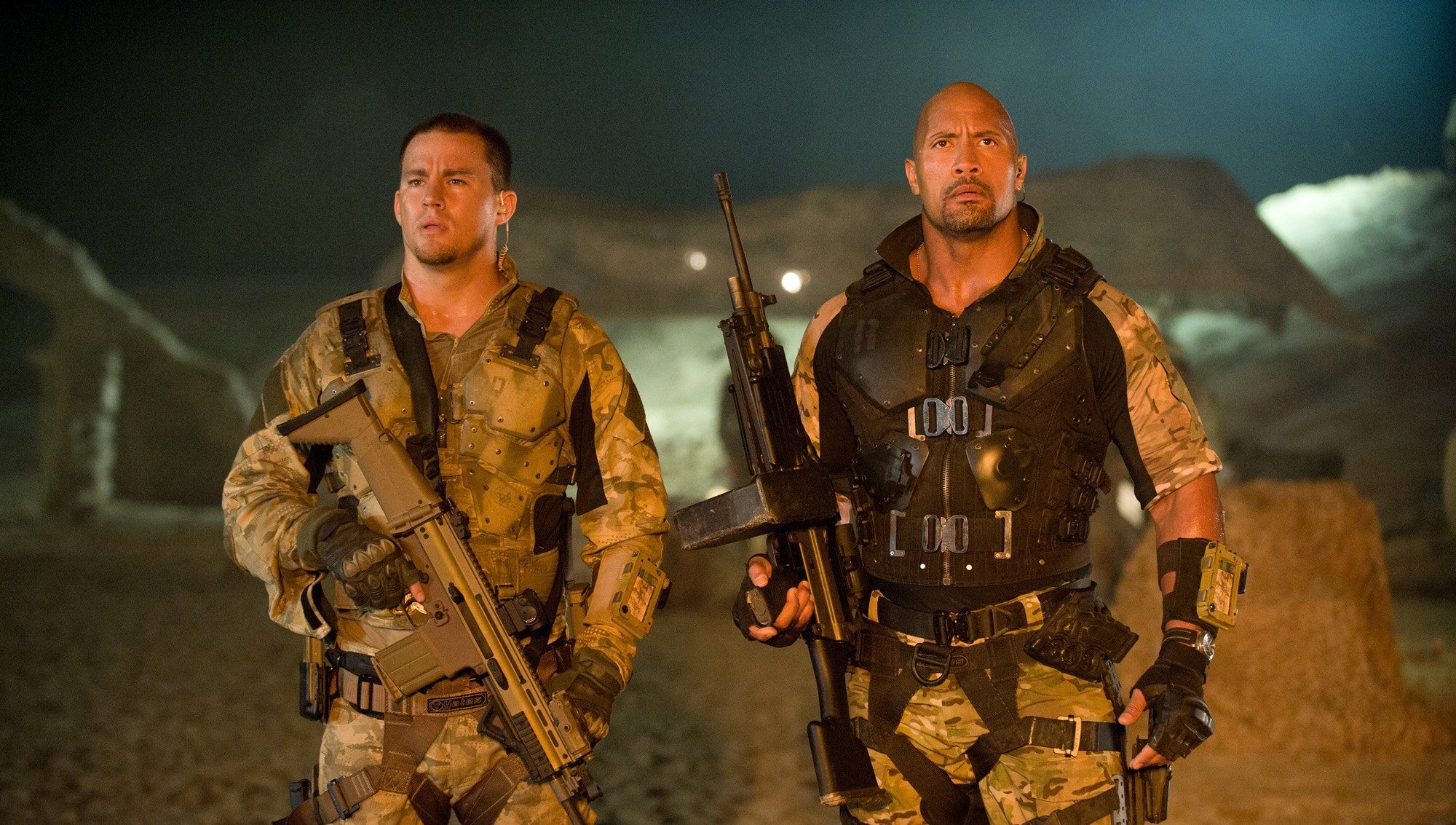 After the President of the United States orders the eradication of his own GI Joes the surviving Joes, the towering machine Roadblock (Dwayne Johnson) the free running yet somewhat useless Flint (D.J. Cotrona) and sexy weapons expert Lady Jaye (Adrianne Palicki), must regroup with the help of Snake Eyes (Ray Park) and General Joe Colton (Bruce Willis) to go against their mighty foes 'The Cobra' and the hidden threat with in the government.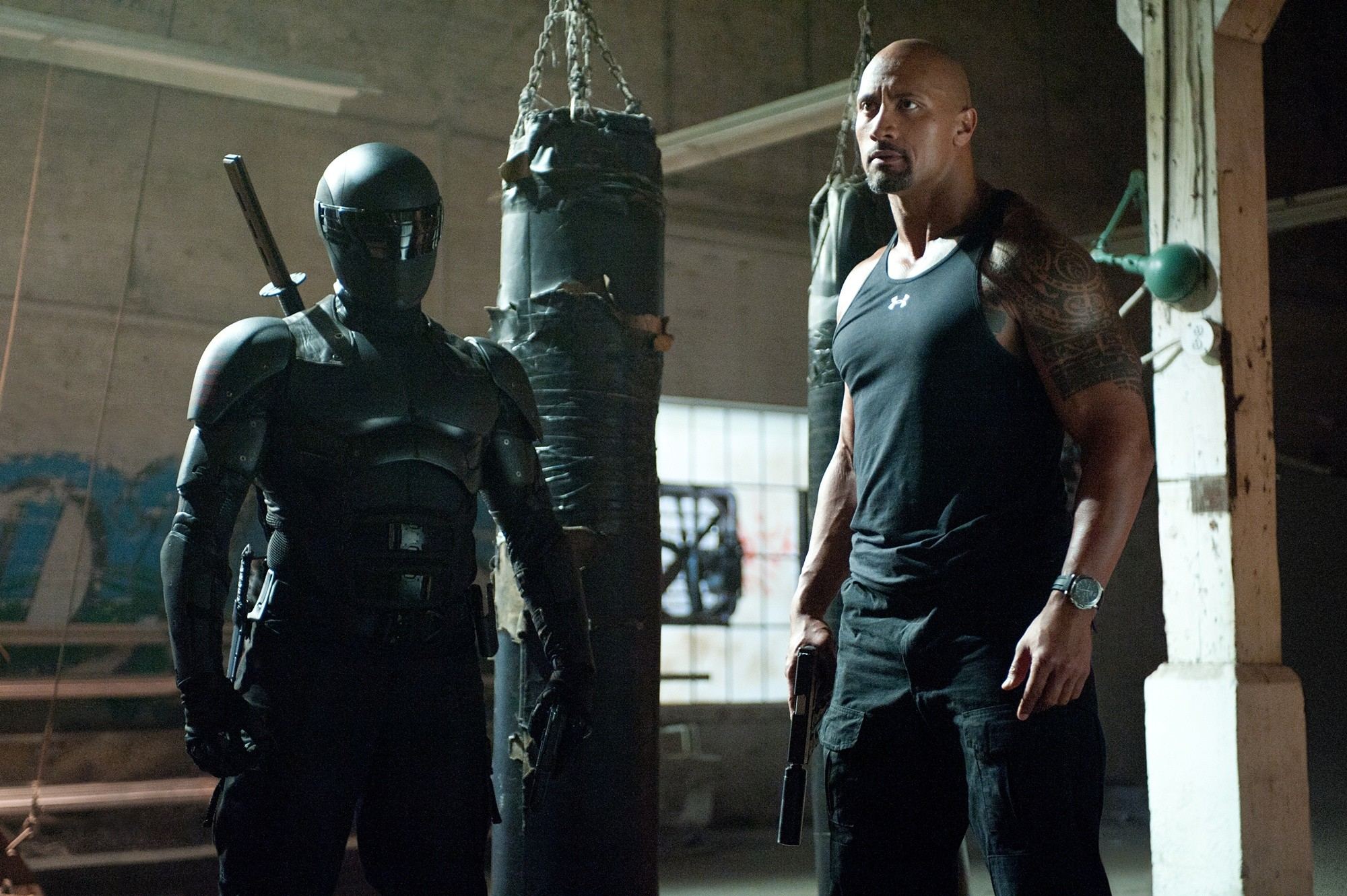 Just 2 weeks before its original release date GI Joe Retaliation was pulled from its release date and pushed back a year for a post conversion 3D and additional shot scenes with rising star Channing Tatum. This was believed to have happened because test audiences enjoyed the chemistry between Dwayne and Channing. After watching GI Joe, I really can't see why, their connections come off awkward and almost unbearable. 'SPOILERS' It's not like Duke survived the first act, all we got was a weird gaming session and awkward gun range shoot out where it was unclear if the pair was going to make out or shoot something.
New comer director Jon M. Chu famous for terrible movies like Step Up 2 and the Justin Bieber movie has taken the reigns from Stephen Sommers (The Mummy). Chu a self-confessed child of the 80s has set up more of a remake then a direct sequel to the ill-fated 2009 box office bomb "GI Joe: Rise of Cobra". 99%of the cast was either recast or written out of the "SeqMake" (I'm going to coin that name from here of out ) and the core idea for the premise remodelled to fit a more tough mercenary team rather then a goofy bunch of cadets with super suits. It's a surprise that this calibre of director can really bring his 'A' game for this material and change his style so rapidly. One would expect from his previous works, Bright colours, break out dance scenes and Justin Bieber. None of which, thank god made it into this movie. I say that he has brought his 'A' game, but for a movie that is based on a toyline that's not really saying much.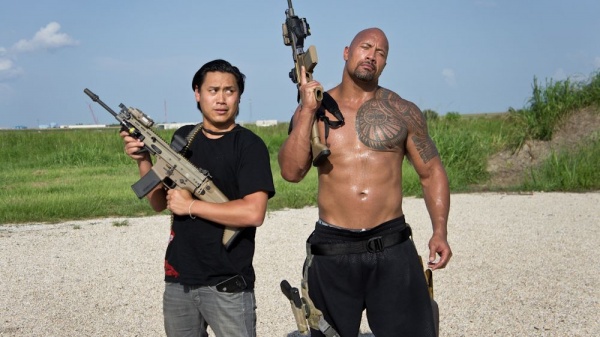 GI Joe Retaliation should have a lot going for it, big names, fairly big budget, an abundance of ideas and storylines to use and a tonne of unique characters to choose either from the toyline and cartoons. Yet we are given plot holes and generic characters. One I can't get away from is Flint. Who is he, what did he do in this movie. Did he have a talent? I know Roadblock was good with big ass guns and snake eyes is a stealthy mofo but flint, was he good with bombs? Nope that was Firefly (Ray Stevenson) was he a sidekick that was used for comic relief. Nope. Then why the hell is he in this movie. 'SPOILERS'. Why didn't they ditch the character and just keep Duke (Channing Tatum) in for longer or not kill him off at all. Flint just didn't do anything and didn't bring a thing to the plot.
Bruce Willis once again phones it in and plays Bruce Willis, captain money bags really must not enjoy acting anymore. He literally looks like he is bored crapless and can't wait for lunch cart to come by. Why are people hiring the old man? He is done. He's had enough. I've had enough. I remember a time when I used to say "if Bruce Willis is in a movie it has to be good. That guy doesn't do bad flicks". That was before Live Free or Die Hard (Die Hard 4.0 for the Aussie's). I wish someone would just fire his ass when he comes on set like that. Thank god Stallone ditched him for Expendables 3.
GI Joe Retaliation is filled with long drawn out scenes where nothing is happening. The first twenty or so mins in action packed, explosions, gun play and the rock kicking ass. Then we get a good sixty mins or so of talking and horrible character development with the characters that no one cares about. Mainly Shadow Storm and the mute Snake Eyes. I have no idea who the lead Roadblock (Dwayne Johnson) is. I know he has two kids and a secret love affair with Duke, but is he married, why is he in the Joe's? Did his parents die and he needs to revenge them? We get nothing. Which makes me wonder who is the lead character? I'm tipped off to believe its Roadblock; the poster showcases him front and centred. He is all over the movie but he is more of a ninja in the character development field then Snake Eyes is at being Silent Bob.
GI Joe has more plot holes then Swiss cheese. I know it's basically a kid's movie but come on. In one particular scene The President announces in a live telecast that his newly formed 'Cobra' team was dispatched to immediately take out the Joes. But they have Americas most wanted man 'The Cobra Commander' locked away in a highly secured prison. Now the Cobra Commander for those playing at home is basically Bin Laden of the GI Joe universe. Surely someone at home is putting two and two together and saying "hang on, somethin' fishy is going down at the olde White House. Boy get me ma pitch fork and let's do us some lynching".
GI Joe: Retaliation is nothing but Muscles, plot holes, big explosions and old man Willis making a mockery of action movies. I'm not going to remember this movie in T-Minus 10 secs, but for those looking for something to put them to sleep, the case could be used and a small and uncomfortable pillow.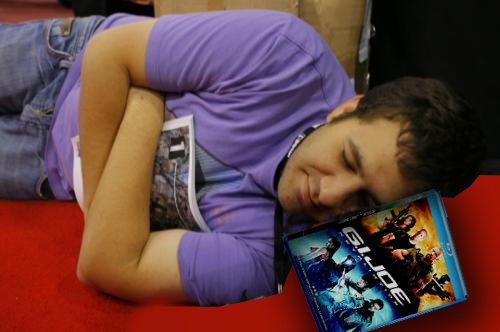 The Blu-ray contains 3 featurettes I found a little more interesting than the feature. You get an in depth look at the characters from toy to screen and good look into the arc of 'The Cobra' from their beginnings to now. Also featured are deleted scenes and a commentary with the director Jon M. Chu.
The Blu-ray transfer is top notch, sound quality and video are flawless, which is simply what you come to expect with such a recent release. Too bad to say that movie is not.