With so many supernatural TV shows being produced at the moment, it was inevitable that the BBC would follow. This is where Being Human the Complete First Series comes into the picture that revolves around three seemingly "normal" people who hold some very strange and dark secrets. It's Buffy the Vampire Slayer of the 21st century meets high quality TV drama.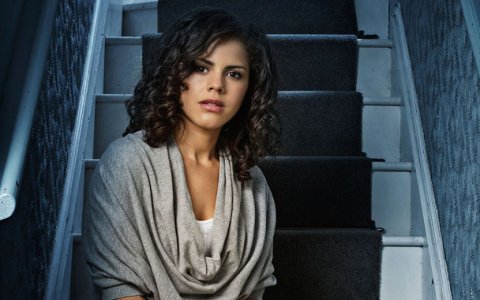 Just like Twilight, True Blood, the Vampire Diaries or Harry Potter, Being Human attempts to normalise the supernatural as the series revolves around three flatmates, Mitchell, George and Annie. These three character may appear like any other 20-something TV characters but in actual fact are the stuff of myth and legends.
Mitchell (Aidan Turner) is a Vampire, George (Russell Tovey) is a werewolf and Annie (Lenora Crichlow) is a ghost. These three are not your typical 20-something American drama series but rather, the creators of Being Human have designed a very intricate drama horror as these three attempt to live a so-called normal life but around them, the world of the supernatural threatens their very existence. More specifically, the murmurs of a vampire revolution!
Each of the characters are delightfully played by these British actors and whether it's Tovey as the nerdy hospital porter or the suave and secretive Mitchell (just like Angel from the TV series), played perfectly by Turner, these characters immediately attach to you from the very first episode. Of course, the trio would not be complete without Annie who is played brilliantly by the attractive Crichlow who plays an almost shy spirit of the underworld.
The content of Being Human is quite adult orientated and is not your tween Twilight adventure or Vampire Diaries romp but rather, the adult themes help bring out these characters and sometimes shines a very dark light on them. From dating to murder, friendships to hatred, the themes of Being Human are quite twisted and include a plethora of interesting concepts and genres. The first episode nicely sets up the motivations of each character and as the series progresses, their friendship or perhaps alliance grows stronger.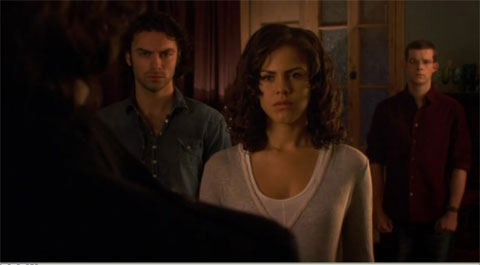 At times, Being Human is a little depressing such as Annie being shown her grave by another ghost which ends in a very metaphysical explanation of the after world and why she remained on Earth and not moved on. But these insights give the characters a uniqueness to them as they not only help themselves but those around them which creates some interesting dynamics amongst the group.
Season one of Being Human ends with a bang as Annie attempts to leave the boundaries of Earth but discovers that as a ghost, she has some very powerful abilities which may be needed to quell the vampire revolution. It should also be mentioned that there are some great co-stars included in the series such as Nina (Sinead Keenan), the love interest for George which becomes quite turbulent in the end. Whether it's turning terminally ill patients into vampires or some other bizarre story, Being Human is precisely that... these characters attempting to fit into a normal world, filled with humans but linked to a world of supernatural that is not meant to exist. It's a classic tale that has been twisted with modernity and works perfectly in modern day England.
Video, Audio & Special Features
Once again the BBC produce some outstanding quality in terms of video and audio. The video is presented in 16:9 that looks amazing on FULL HD but the only drawback to the series are the sometimes Doctor Who-like special effects. Some are a little cringe worthy. Thankfully the story more than makes up for this. Add in Dolby Digital 2.0 and the dialogue is crisp and clear as is the wonderful backing music. For special features, we have some interesting character profiles, cast interviews, behind the scenes footage and some deleted/extended scenes from series one. It's a good insight into the creation of the series and characters.
Special Features
Character Profiles

Exclusive Behind the Scenes Footage

Cast Interviews

Extended and Deleted Scenes
All in all, this is a wonderful series and if you enjoy any of the supernatural TV series at the moment, than you will definitely get a kick out of his adult orientated drama horror. Recommended!