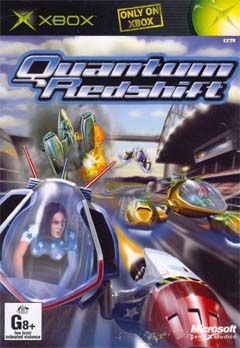 Quantum Redshift Screenshots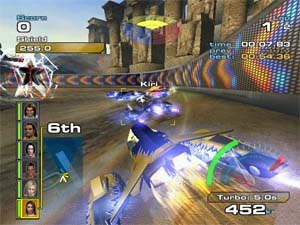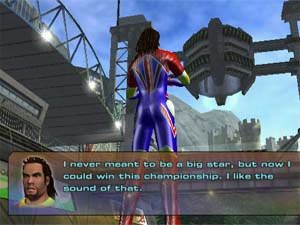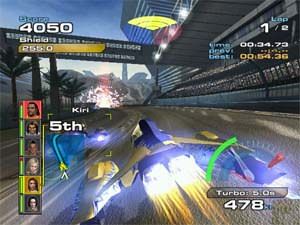 The Final Say!
Gameplay
7.3
Graphics
8.2
Sound
7.6
Value
7.0
Quantum Redshift
- reviewed by Andrew B
Review Date: 19 October 2002
Review Score: 7.5/10
Distributed By: Microsoft
In the 22nd century, racing has become an intergalactic obsession and racers are revered as heroes. The Quantum Redshift is a world champion racing competition that lets you race against 16 other racers in speeds that exceed 500 kilometres per hour in your Single Person Armed Racing Craft (SPARC). As the old saying goes "if at first you don't succeed, then try try again", unfortunately the racers of Quantum Redshift championship ignore this motto as there can only be one winner and a string of losers that are closely followed by the dead.
Quantum Redshift Features
Players 1-4 (Splitscreen)
16 Different Tracks
Four Modes of play, Time Attack, Tournament, Quick Race & Multiplayer
Dolby Digital 5.1
Quantum Redshift takes place in the distant future where you play the role of a Quantum Redshift Championship racer. Your vehicle, the SPARC lets you travel in speeds of excess 500kph and gives you access to over 150 different weapons. The premise behind Quantum Redshift is a futuristic racing game where you must become world champion but in order to do this, you must shoot, race and maim your way to victory.
Tournament mode is main method of gameplay in this game and lets you unlock a variety of different vehicles, weapons, new tracks and characters. This mode also features an in-depth storyline (with cutscenes) of the characters you race against. The game features five different difficulty settings that range from novice to redshift champion.
The basics of controlling your SPARC is accelerate, powerslide, brake and attack. The courses are littered with a plethora of powerups such as new weapons and shields. The developers have done an awesome job in creating high speed races that almost make you feel that you are racing at super speeds. The game screen contains a lap, shield, speed, time and turbo meter to show you a variety of details such as how low your shields are or when your next turbo is available.
Although Quantum Redshift is a good game, the more you play it the more frustrated you will become. As you progress in the game, the gameplay becomes faster and becomes almost impossible to play, especially when you want to turn a corner at super speeds. Thankfully, Quantum Redshift offers a very interesting storyline that makes this game kind of addictive. The rivalry between players becomes a key aspect of the game and if you have a particular rival, they will try their hardest to make your race extremely difficult for you.