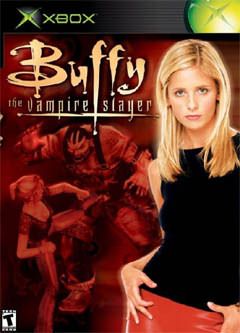 Buffy the Vampire Slayer Screenshots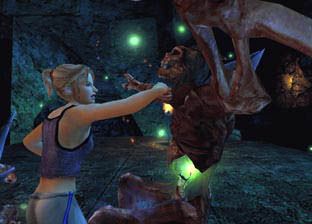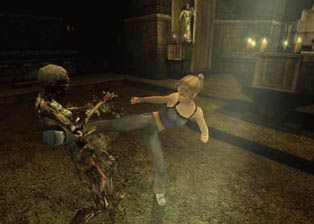 The Final Say!
Gameplay
8.0
Graphics
8.9
Sound
8.7
Value
8.5
Buffy the Vampire Slayer - reviewed by Tory Favro
Review Date: 02 October 2002
Review Score: 8.5/10
Distributed By: Electronic Arts
Buffy the Vampire Slayer is the latest of a recent glut of TV licensed video games. Released by Electronic Arts, it was pleasing to see the popular television series has been done proper justice by the developers who have taken the time to accurately portray the characters and surroundings of Sunnydale.

For those of you that are not in the know, Buffy Summers is the star of the show and she is what is known as a 'Slayer', meaning a slayer of vampires. She has moved to the town of Sunnydale, which it turns is a Hellmouth (a portal to the underworld that actually attracts of sorts of nasties). She attends classes at Sunnydale High, where with the help of her close friends, Willow, Xander, Cordelia and the Watcher Giles (who poses as the school librarian), she battles the forces of darkness week in and out.

One of the nice touches to the title is that The Collective (the developers) have called upon the voice talent of the actual actors to contribute to the many cutscenes that intersperse the main gameplay. The show's writers were also utilised to ensure that the game felt like an episode of the popular television show.
There are thirteen levels to explore during the game and for the most part, they are very large and detailed, keeping true to the aesthetics the series.

Let's get one thing out of the way, this game looks fantastic. All the characters are true to their real life appearances and are immediately recognisable. Environments have been meticulously mapped out and seem to have a life of their own. Environments are interactive and indeed certain items can be broken down to create more weapons. For example, a broomstick may be used of it's own accord, however when broken upon an object you can make a few stakes which are a far more desirable weapon.
The game is primarily combat and exploration although the style of play is very linear. The window of exploration is fairly narrow however you are kept so busy that you should not notice this until you have cleared an area and are wandering around an empty level.

There are so many nice touches to the title such as the banter between Buffy and the non player characters in the game, most of which takes part in the school's library which seems to act as a base of operations for everyone.