PC Reviews: Zone Alarm Pro
"The affordable solution to personal firewalls"

Zone Alarm Pro is the latest addition to the family of firewalls that have become one of the most important software packages to own if you are connected to the internet. A personal firewall is a memory resident program that runs in the background and provides a whole variety of services to protect the home or business computer.

The basic premise behind Zone Alarm Pro is stop intruders from accessing or damaging your computer system. Zone Alarm Pro stops hackers and Trojan horses from accessing your computer by blocking certain ports on your computer system that may prove a risk.

The installation of Zone Alarm Pro was extremely easy and took under a few minutes to install on our test machine that is a Pentium 4 1.7Ghz, 40GB Hard Drive, 256MB RAM with an ADSL modem. One of the main problems with an ADSL modem is that you are often unaware that you are connected to the internet because when you turn your computer system on, you are automatically connected to the internet and ADSL users or cable users are at the biggest risk from attackers.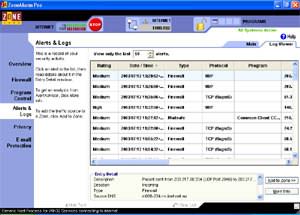 Zone Alarm Pro has a variety of different settings that range from low protection to high protection to prevent your computer from being infiltrated. Once the software was installed, I then proceeded to test the software. To test whether the firewall was working or not, I gave my editor my IP Address to FTP and PING, once he tried to access my computer system, Zone Alarm Pro automatically detected this unauthorized intrusion and alerted me to this attempt. The beauty of Zone Alarm Pro is that it shows you a map of where the intrusion occurred and you can get all the details from this "would be" hacker. It even gives you two e-mail addresses, the hacker's ISP and an international firewall agency so you can inform the authorities of this illegal attack.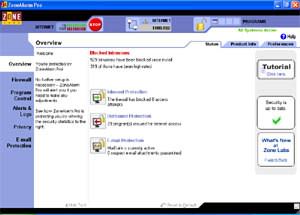 Another impressive feature of Zone Alarm is that when an attack occurs, it notifies the user what kind of attack was performed such as a scan of computer ports or a brutal attack on your system files. I've noticed that when you visit certain web sites, these systems scan your computer ports, whether malicious or not, it is still an illegal intrusion of your system and Zone Alarm Pro prevents this from happening. Zone Alarm Pro also shuts downs your entire internet connection if a deadly intrusion occurs to prevent them from damaging your system.
Zone Alarm Pro has an extremely easy interface to use and is suited for everyone, including novice and professional users. The program also supports both inbound and outbound e-mail protection that prevents the spread of malicious viruses or internet scripts. Finally, Zone Alarm Pro offers users a brilliant support system that allows you to download the latest updates and security prevention patches to ensure that your system is up-to-date.
I would highly recommend this program to anyone who accesses the internet, especially to ADSL and cable users. As the old saying goes "it is better to be safe than sorry" and it doesn't get any truer than this. Highly Recommended!
- Andrew B
The Final Say!
Design
N/A
Graphics
N/A
Sound
N/A
Value
9.0
Zone Alarm Pro
reviewed by Andrew B
Review Date: 10 July 2003
Review Score: 9/10
Distributor: Manaccom
Copyright ©2003 www.impulsegamer.com