PC Reviews: Share Express
"Share Express is the only program you need if you are a owner of stocks!"

Playing the stock market is a risky business but when you have the right information at your finger tips, the rewards clearly outweigh the risks. Share Express Portfolio Manager (or ShareExpress 2000) is a Australian designed share portfolio program that allows investors to monitor their share purchases and sales transaction with a simple click of the mouse.

An impressive feature of Share Express is that with a click of the button, the software can access the internet and have the latest share prices from the ASX, NZ the USA markets.
The installation of Share Express couldn't have been any simpler and in less than a minute, I was ready to configure the program with my personal share investments. The first thing you will notice with Share Express is the user-friendly interface that although appears quite basic, is extremely functional and features all the relevant information of the stock markets without it becoming too cluttered.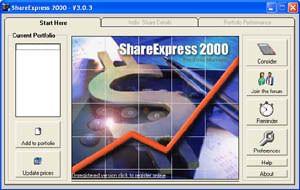 Before you can start, you must enter all your existing share portfolios into the program and a relatively straight forward process. For the Australian market, you must enter all the relevant stock market information that includes Australian Stock Exchange company names, number of shares and prices. Once the information has inputted into the program, you can then view your entire share portfolio that not only shows your gains and losses but if you are connected to the internet, it will display the latest share prices. It should be mentioned that this feature is only valid for 90 days from registration and after this period, a subscription service is available from www.click2.com.au to continue to use this service.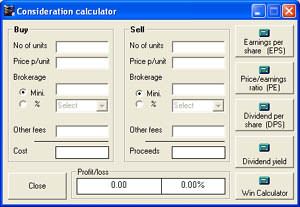 The program also you to export your data into a text file that can then be accessed by spreadsheet programs such as Microsoft Excel or Lotus. Although I've been a shareholder for a number of years now, I have never really taken a thorough interested in the stock markets but thanks to Share Express, all that has now changed. The program also boasts a very impressive feature that allows you to access to the on-line investment forum that contains a live chat, key investor links and indices. The built-in share calculator allows the budding share investor to calculate his/her profits that include a variety of features such as number of units, price per unit, brokerage and other fees that is ideal to check your personal investments.
I would recommend Share Express to all investors of shares as it's the easiest way to monitor your shares without getting lost in the complex world of the share market. With a password protection utility, Share Express is guaranteed to protect your personal information from prying eyes and also monitors not just Australian but also the United States and New Zealand. With an extremely affordable price, Share Express is the perfect solution to your share portfolios.
- Andrew B


The Final Say!
Share Express (Portfolio Manager)
Review Date: 23 September 2003

Distributor: Manaccom
Copyright ©2003 www.impulsegamer.com