PC Remote finally gives PC users an affordable alternative that combines the best features of Symantec's PC Anywhere and the inbuilt functionality of Microsoft Windows XP Professional's remote access. PC Remote is basically a remote access and file transfer program that lets you access another computer, no matter where you are in the world. The best part of PC Remote is that the software includes 2 licenses for a Host and Remote computer.

Before we could test this remarkable piece of software, we first had to install the program onto two of our test machines. One machine being the host computer that allows users to access the computer remotely and the other piece of software was the remote browser that lets you access the host computer.
PC Remote Features
- Connect to another computer across a LAN or via a modem, internet or serial port
- View the other computer's screen and control its keyboard and mouse
- Send and receive files
- Create macros to execute repetitive tasks
- Capture text from the other computer to your clipboard
- A plethora of security features that allows you set the access for your users
- Intuitive interface
- Pause the connection and resume later

Once the installation and configuration was completed, we were then ready to test PC Remote and my first impression was one of pure delight. Through our ADSL connection, I was able to access our test machine in our office. Whatever was displayed on the host computer was clearly displayed on the remote computer that included icons, programs and files. The beauty of PC Remote is that you can set a variety of different user types so you can prevent people from accessing unauthorised areas on your host computer that is a boom to business users.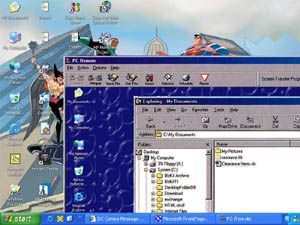 PC Remote also supports a variety of connectivity that includes the internet, LAN, WAN, modem and even serial ports. I was also pleasantly surprised at the refresh rate of PC Remote and there was only minimal lag when I was accessing files on the host computer. Those that are limited to dialup connections also have the choice of tweaking the image quality and speed of the connection that greatly minimises lag, especially if you are making an STD call.
The final test of PC Remote was enabling the host's motherboard to turn the computer on when it detected a ring tone. On my mobile, I dialled into the host computer that made the computer automatically boot up and I gave it a few minutes to initialise the ADSL connection. I then proceeded to run PC Remote on our "remote" laptop and then started accessing our host computer. Once I finished accessing the host computer, I then proceeded to shutdown the host computer. Without patting myself on the back too much, this is an ideal situation for PC Remote that it passed with flying colours.
In conclusion, PC Remote is an awesome program that is only a fraction of the cost of PC Anywhere and is virtually identical. PC Remote also supports a variety of Windows based operating systems that include Windows 95, 98, NT 4.0, 2000 and Windows XP that takes up only a fraction of the CPU and memory usage when compared to PC Anywhere. This guarantees that PC Anywhere can be run on a variety of computer configurations. With some great remote control features, an impressive security function and a simple interface, PC Remote is the perfect solution for people wishing to access a remote computer. Highly Recommended!
- Andrew B
The Final Say!
PC Remote
Review Date: 6 October 2003

Distributor: Manaccom
Copyright ©2003 www.impulsegamer.com