PC Reviews: PowerProducer 2 Gold
With almost everyone owning a digital video camera these days and with the price of DVD burners going rock bottom, it's not difficult to see why everyone wants to keep their precious memories in the high quality DVD format. Fortunately for our friends at CyberLink, they have once again re-released their popular and extremely easy to use video editing program called PowerProducer 2 Gold.

Although the original PowerProducer 2 featured everything you needed to make your own professional DVD movies, CyberLink have once again done the impossible and have improved both the features and speed of this software package, allowing you to create your own professional DVD movies with just a few clicks of the mouse.
The installation of CyberLink PowerProducer 2 Gold was a breeze and it automatically installed when the CD was inserted into the CD-Rom drive without any fiddly processes or difficult questions, ensuring that even the most novice of computer users could access this program.
What's New PowerProducer 2 Gold
* Expanded Video Capturing
* Expanded DVD Import
* Full DVD VR Support
* Enhanced MPEG Encoder
* Motion Menus Gold
* Accu-Chapter Technology
* Playlist Authoring
* Streaming Rendering
* DivX Movie Production

Before we get to the crux of this review, PowerProducer 2 Gold allows users to import videos and photos from a variety of sources that includes digital video cameras, digital cameras and a variety of other portable storage devices such as a zip drives and the extremely popular thumb drive.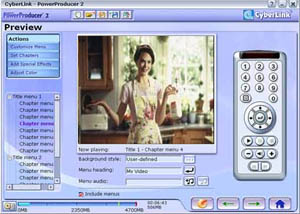 PowerProducer 2 Gold also supports a variety of formats that includes MPEG-1, MPEG-2, AVI, DV-AVI, DAT, Mpeg-Audio, LPCM, AC3 and once again one of the world's most popular video formats, DIVX! With the inclusion of DIVX into the PowerProducer series, users can now finally manipulate DIVX video files without downloading a plethora of codecs or use five different programs to convert their DIVX movies into DVD.
With the user-friendly authoring system of PowerProducer 2 Gold, it only takes users a couple of steps to create your own professional slide shows and DVD menu systems. There is also a new compression format called SVRT that basically decreases the time to render images that not only keeps the quality of the original image but also decreases the loading time of images, making it nice and quick. Rendering a 700MB movie took around 25 minutes to render which is considerably quick when compared to other programs on the market.
As with all good video editing software packages, PowerProducer 2 Gold also allows you to splice your movies (e.g. professional video editing), insert commentary, background music, special effects and as mentioned before and create your own professional chapter menus. Another bonus feature of this software package is that you can also re-edit existing DVD's (non-copy protected) to ensure that your memories stay professional, safe and with your own personal touch on it.
Once you have created your own DVD or photo slide-show, PowerProducer 2 Gold also comes with QuickBurn that allows you to burn your information to DVD without running additional programs.
In conclusion, PowerProducer 2 Gold is the perfect video editing program that I would recommend to the novice and amateur computer user because this is as simple as video editing gets. Not only does it include most of the features of higher end programs but it's 100 times easier to use. Check it out!
- Andrew B
The Final Say!
PowerProducer 2 Gold
Review Date: 1 November 2004

Distributor: Manaccom
Copyright ©2004 www.impulsegamer.com