PC Reviews: PowerProducer 2
PowerProducer 2 is the latest in video editing software from acclaimed developers CyberLink that not only includes the many features of a professional movie studio but also caters for the both the novice and the professional user.

PowerProducer 2, with its user friendly-interface allows you to create five different disc formats that include DVD, VCD, SVCD, mini DVD and Editable DVD so no matter what system you have, you are guaranteed only the best results.

As with all CyberLink software, the installation process is extremely easy and self-installs when the CD is inserted in your CD-ROM.
Having fiddled with the previous version of PowerProducer, one of the main features that you will notice with this current incarnation besides the interface now being fully Windows XP compatible is the introduction of a variety of new video formats that include the highly popular DivX format. Another impressive feature of the software package is that PowerProducer 2 is your one stop video editing studio. That is, the program has the ability to capture video and images from a variety of different devices (such as camcorders and digital cameras) and then edit your multimedia movies or pictures and burn them to CD or DVD.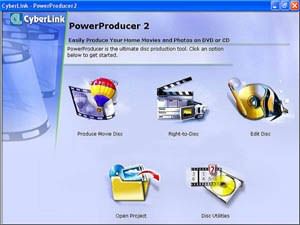 When creating a movie, PowerProducer 2 allows you to create a variety of different disc format that include the highly popular VCD format and even DVD. Unfortunately we were unable to test the DVD feature but instead we concentrated on VCD discs. Both these formats are extremely similar, the only difference being that the DVD format holds better quality images and sound. The software also supports both television formats or PAL and NTSC and also allows you manipulate the quality of your images. Once you have imported your images (e.g. from a camcorder or hard drive), you can then proceed to create your own movie disc.
As with all good video editing software packages, PowerProducer 2 allows you to edit your movies, create introductions, include an audio overlap (e.g. music or voice over) and create a variety of professional movie effects. The video preparation, depending on the video and audio quality can sometimes take awhile to render but for the average computer user, it will take around one hour to finalise your movie. Once the movie has been prepared, you can then proceed to transfer your movie to either the hard drive, CD or DVD. The final CD was flawless and we were quite pleased with the overall quality that was produced by PowerProducer 2. Another impressive feature is that you really don't have to be a computer professional to use this program as the interface is relatively quite straightforward.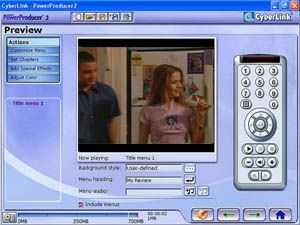 PowerProducer 2 also boasts an impressive slideshow feature that allows you to create your own digital slideshows with music, audio commentary and even professional customised menus for your presentations. The only limitation that PowerProducer has is the limitation of your own imagination.
In conclusion, PowerProducer 2 is the perfect accessory for computer users who wish to import their own videos and photos onto CD or DVD. Although Windows XP does come with its own movie producer, it is no way as user-friendly or intuitive as PowerProducer 2 and I would highly recommend this software package to anyone who is interested in video editing on their computer. Highly Recommended!
- Andrew B
The Final Say!
PowerProducer 2
Review Date: 1 September 2003

Distributor: Manaccom
Copyright ©2003 www.impulsegamer.com