PC Reviews: Neopaint for Windows
"Neopaint for Windows is one of the most affordable artistic paint packages on the market and also offers users the many features of expensive commercial programs."

Neopaint for Windows is an extremely affordable paint package that is aimed at the novice computer artist. Although aimed at the novice, Neopaint for Windows still features many of the artistic capabilities that are available in the upper end programs such as Adobe Photoshop and Communique's Paint Shop Pro 8.

Neopaint for Windows is also fully compatible with Windows 95, 98, 2000, NT and Windows XP. The program also supports a variety of graphic formats that include JPEG, GIF, PCX, TIFF, BMP and PNG to name a few of the files that can be accessed by this program.
If you have a digital camera and you wish to modify your photos than look no further than Neopaint for Windows as not only can you create some impressive special effects but you can also use this program for desktop publishing and logo design. The basic premise behind Neopaint for Windows is to turn your computer into a fully functional artistic paint studio that allows you to draw your own pictures, modify existing pictures, create logos, animate gifs, resize photos and restore pictures that are a few of the features that are available in this program.
As with all programs distributed by Manaccom, the installation of Neopaint was extremely easy and automatically initiated the install when the CD was inserted into the CD-ROM and after a minute, the program was then ready to be run. Once the installation was complete, the first thing I noticed about Neopaint was that how similar it was to Paintshop Pro. Although not as in-depth as this program, Neopaint still had all the basic and midlevel features of many of the more powerful paint programs on the market.
The interface for Neopaint for Windows is a little rustic and actually feels like you are using a Windows 98 program because of the way everything is set out. The icons are extremely big and colourful, so you are guaranteed to know where everything is after a few attempts of having a go with the program. The main interface of Neopaint has a menu system at the top with various window explorer icons below that allow you to save, open, print and undo. Whereas the larger icons are used for fonts, drawing and various paint capabilities with a colour selector on the left hand side of the window. The interface is extremely user-friendly and I'm sure beginners will have no troubles at mastering this program.
I tested the program by loading the impulsegamer logo and I then proceeded to fiddle with the picture quality. Neopaint allows you to adjust a variety of the pictures attributes such as brightness/contrast, colour balance & perform a variety of special effects such as blurring, erode, soften and sharpen. Neopaint is also fully compatible with any scanning devices that you have on the computer and by going to the file menu and selecting Scan/Acquire Image, it automatically loaded my HP scanning software. This is ideal for modifying photos because once the scanning was complete, the pictures were automatically ready to be used in Neopaint.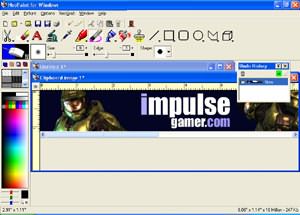 Neopaint also has a variety of drawing tools such as creating lines, squares, circles and various other shapes that include 3D dimensional boxes. If you are feeling a little bit more daring, there is also drawing tools that allow you to use a spray can, brush tool and various speciality brushes to give your picture that professional touch. Web designers will also be pleased to know that Neopaint supports some powerful animation tools that allows you to create your own animated GIFs that are the perfect way to spruce up your WebPages.
Neopaint for Windows is strictly for the novice and midlevel artistic computer user and if you are on a budget than I would highly recommend this program to you. In this day and age where everyone has a digital camera, Neopaint is the perfect companion to give your photos that professional look. Check it out!
- Andrew B

The Final Say!
Neopaint for Windows
Review Date: 5 September 2003

Distributor: Manaccom
Copyright ©2003 www.impulsegamer.com