PC Reviews: Microsoft Photo Standard
The age of the digital camera has finally dawned on us and now the average person can take professional photos without undergoing any complex photography courses. Although most digital cameras, whether Olympus, Fuji, Nikon, Canon or Kodak take most of the guess work out of taking photos, a program is still required to print out professional looking prints on your home computer system.

Fortunately for the home user, Microsoft has been their since the beginning (1975 actually) and Photo Standard is the perfect accessory for the photographic amateur. Photo Standard allows you to turn your computer into a professional photo studio that not only improves your photos but also allows you to print your photo with that professional look.
Microsoft Photo Standard version 9.0 is the latest edition of the highly popular home photo editing software that allows users to adjust the results of almost every aspect of their digital photography. The first time you run Photo Standard, you are greeted with an extremely user friendly interface that isn't as convoluted as many of the high end photo manipulation programs such as Adobe Elements or even Microsoft's Digital Image Suite that are both based at the more professional user. On the contrary, Photo Standard is aimed at the novice user who still wish to access the professional features of many of the high end programs (such as red-eye correction or photo restoration tools), without the complex and in-depth menu systems.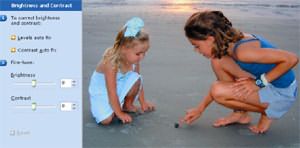 The new user interface of Photo Standard removes much of the clutter that sometimes gets in the way of the novice user and now allows for a much larger workplace. This new larger workplace area allowed me to see more of the my photo without it being cluttered up with toolbars.
One of the biggest additions to Photo Standard is the inclusion of a new acquisition wizard that allows you to access digital photos from a variety of sources that include digital cameras, scanners, personal hard drives and the internet. This wizard is extremely easy to use and by just a few clicks of the mouse, I was accessing not only my personal digital camera but also the internet to import my digital imagery.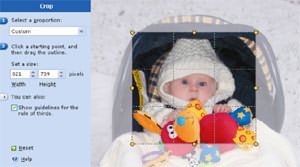 Home users that wish to incorporate professional looking frames or even turn their photos into postcards, calendars or greeting cards will be pleased to know that Photo Standard features over 1,300 professionally designed templates that easily allow you to achieve these results. The new mini-lab feature not only saves you time but allows you to batch name and fix common problems with just a few mere clicks of the wizard.
The red-eye reduction of the program has been greatly improved and simplified since its predecessor and it automatically turned my red-eye infected photos into perfectly normal photos. Photo Standard also supports a variety of professional features such as sharpening (for those blurry photos), hue, composition, special effect features, adding text to your photos and even resizing your photos so that you can put them on various mobile devices.
In conclusion, Microsoft Photo Standard is a huge improvement over the previous version and not only makes it easier for novices to use through the various wizards but also allows them to give their photos that professional look. I would recommend this program to anyone who is a little unsure of their computer and wish to print their digital photos from home because this program has the same features of many of the high end programs at only at a fraction of the cost.
- Andrew B


The Final Say!
Microsoft Photo Standard

Review Date: November 2003
Distributor: Microsoft
Copyright ©2003 www.impulsegamer.com