PC Reviews: Microsoft Office OneNote 2003
Microsoft Office OneNote 2003 is the latest addition to the Microsoft office family that turns your desktop or notebook into a fully functional digital note-taking program. Instead of having all your notes in messy folders or post-it-notes that become lost or unorganised, OneNote easily merges all these options into one program. No matter what kind of information you have, whether it's typed, handwritten, drawn, graphical or spoken, OneNote 2003 organises all this information into your own personal organiser.

As with all Microsoft programs, the installation of OneNote 2003 was a breeze and it automatically installed upon my laptop when the CD placed into the CD-ROM drive.
Features
Type notes anywhere on the page and then rearrange them as you'd like

Record audio that's synchronised with your typed or written notes

Input any type of information into your notes, whether graphics, drawings, pictures and the like

Write or draw your own information into OneNote through the use of a pen input device

Search and convert your handwriting on a Tablet PC

Works seamlessly with Office

Easily share your notes through e-mail or publish them as web pages
Once the installation was completed (without a reboot mind you), I was greeted with an extremely user-friendly interface that was extremely reminiscent of Microsoft Office 2003. Although the program looks and feels like a Microsoft Office product (menus are located at the top with popular icons below such as back, undo, search, print and various font options directly below, this is where the program ends in its similarity. The main window pane is designed as a folder (or organiser) called "My Notebook" that has various user defined folders that I created such as Contacts, Lecturers, Assignments and Personal. This feature allows users to give their organiser that personal feel without predetermined factors. OneNote 2003 also contains a variety of pen options (ideal for tablet PC owners) such as thickness, colours and various other pen functionalities that ensures that your notes will standout. This is basically a digital pencil case without the clutter or leaking pens.
Unlike a word processor or a digital calendar, OneNote 2003 allows you to "write" notes anywhere on your notebook through the use of a free-form page on your folder. I would highly recommend this feature for anyone who owns a tablet PC because unlike the programs that come with tablet PC's, OneNote offers the user a greater range of freedoms that almost works like a real organiser. The free-form page allow you to add graphics, notes, tables and almost anything else you wish to help you organise.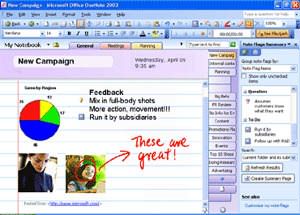 OneNote 2003 also contains a very in-depth summary pane on the right of the screen that allows users to be notified of important events (such as key ideas or to-dos) so that they don't lose track of this information in the mass of data that can be implemented into this program. As OneNote 2003 is part of the Microsoft Office family, the information can then be easily transferred into programs such as Word, Excel and even PowerPoint through the copy, cut and paste feature.
One of my favourite features of OneNote 2003 is the ability to include a variety of data formats (handwritten notes, graphics, text and audio) into the program that not only breaks the monotony of text filled pages or web pages but allows you to highlight important information from the filler.
Although we do not have a tablet PC to test this function, OneNote 2003 features an impressive ability to search and even convert your own handwriting. Business users and university students who own a tablet PC will love this feature because your can easily find "key" words or concepts by the click of a button. Everything that you write, draw or even doodle into OneNote 2003 will remain there until you delete it and unlike a real paper notebook, you are not limited by paper and pen.
Including audio-commentary to your notebook is extremely easy and by clicking on the record audio feature, provided you have an internal or external microphone, you can easily turn this program into a professional Dictaphone. OneNote 2003 also contains an impressive algorithm that compresses your audio without it losing any quality or taking up too much space on your hard drive.
The print function of OneNote 2003 is great and it printed out my folder exactly how it was set out in the program. OneNote 2003 also includes a great auto-save feature that ensures that no matter what you type, draw or write is guaranteed to remain in the program without the need to be constantly saving.
In conclusion, OneNote 2003 is a huge step from the current organiser programs that are on the market at the moment and I would highly recommend this program to anyone who owns a laptop or more specifically a tablet PC because this is probably the most useful and professional program available. In this digital age of computers and the super information highway, it is really time to get rid of all that cluttered paper on your desk and those annoying post-it-notes that have a bad habit of getting lost or falling down and Microsoft Office OneNote 2003 is the perfect solution.
- Andrew B


The Final Say!
Microsoft Office OneNote 2003

Review Date: November 2003
Distributor: Microsoft
Copyright ©2003 www.impulsegamer.com