PC Reviews: Microsoft Office Professional Edition 2003
One can get a head ache looking at all the things Microsoft has to offer by way of its office programs. To tell the truth, depending on an individuals needs not every office product would be right for every one. Microsoft Office 2003 Professional seems to be more geared towards a business than anything else. All the applications are integrated very tightly and are backwards compatible and the little extras of small features makes it all worth while. Lots of templates, a research library, and various other tools and continued updates online.

This write up I dare say will only give a bare glimpse of this massive software suite and will not really do it full justice. After all the average user of the software may only use a small percentage of what the software suite can actually do.
Getting to the meat of the matter doing research into the different Office products before a purchase is perhaps the best thing to do. There is a fit out there for everyone. Before my exhaustive look at Microsoft Office 2003 professional, let me give a run down of the office products and what they have to offer. Now just bare in mind prices may be different depending on your source of purchase. Either way, Microsoft products tend to have a hefty price tag on them,
But by the same token, I have found them worth it by way of what you are able to accomplish with the products. A clear case of getting what you paid for? That remains to be seen and I am sure there are varying thoughts to that point since there are several alternatives out there and some of those are even free. Some of the other programs out there are Open Office (free at Open Office.Org), Corel, Star Office, just to name a few. Granted I am a long time Microsoft Office user and have grown to enjoy working with the program I know. So for me the Microsoft Office products are always a clear choice.
Office 2003 has the following system requirements:

Computer and Processor: Personal computer with an Intel Pentium 233-megahertz (MHz) or higher processor, Pentium III recommended

Memory: 128 megabytes (MB) of RAM or above recommended

260 Ė 400 MB of hard drive space depending on version and applications installed.

Operating System: Windows 2000 Professional (Service Pack 3) or Windows XP.

Microsoft Office Professional Edition 2003

Word 2003
Excel 2003
PowerPoint 2003
Access 2003
Publisher 2003
Outlook 2003 with Business Contact manager

Many individual applications can be purchased separately to suit your needs, (Word 2003, or Excel for example); price wise the suite is a much better deal.
Chances are if you have purchased a computer from a computer company like Gateway or Dell you would have also had a choice of getting a Microsoft Office product as well in a bundle. This may have only consisted of the basics such as Word, PowerPoint, Excel, Outlook etc. Office 2003 series consists of more and they include Access, Excel, FrontPage, InfoPath, OneNote, Outlook, PowerPoint, Project, Publisher, Visio and Word.
OUTLOOK 2003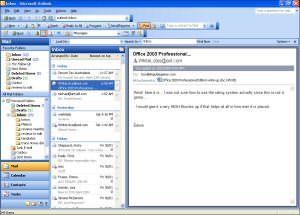 Email pretty much goes hand in hand with owning a computer, so letís take a look at Microsoft Outlook 2003 firstÖ. For a business Email is becoming an even more important factor in communications. The real problem comes when they face a virtual mountain of SPAM or unwanted emails cramming into the Inbox. Outlook 2003 comes built with a spam control which has easily adjustable controls. If youíre upgrading to Outlook 2003 you will be happy to know that any messages from your old version will import just fine with out any loss of data.
Some of the things that are an improvement are longer messages or emails are easier to read. Outlookís reading pane or box is shifted over to the right side of the screen now and displays much more information. Anything for less scrolling and I am happy.
Organization of email is now easier as well. Email messages can be grouped by size, date, subject, or importance. There are also enhanced rules and alerts to aid in organizing emails. Depending on how the user sets it up they can now automatically trigger alerts or reminders such as when tasks are due or meetings are about to begin. Other aspects are the calendar and task reminders, using the navigation pane or window or GO on the menu bar gives the user access to contacts, calendar, folders, tasks, shortcuts and the Journal. The use of searching for folders in the company server requires a connection to Microsoft Exchange Server 2003, Exchange 2003 or exchange 5.5. The basic lay out of whatís displayed can be relayed out depending on user preference.
Outlook 2003 has pretty much gotten an all new look really, user interface seems to be the big thing to get over hauled in this program. It looks good it looks tight and seems to run a lot smoother than its older versions.
Word 2003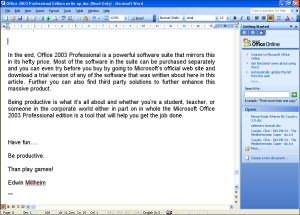 Word is something that most people are familiar with. To me often WORD is the core of the Microsoft Office world when I think of the products. Now there is integration with WinWord and Win Server 2003 and with Windows Sharepoint Services. Using the Information Rights Management you can set the date and even the time when a document is able to be viewed. You can also read Information Rights Management protected documents; with permission you can even modify the document. User interface is cleaner in the respect that documents can be viewed side by side much like reading a book, tool bars are very close to what they look like in Word XP, but are more flexible because they can be adjusted easily by the user to suit there tastes.
Word 2003 is now integrated with messenger, so you can now chat using Instant Messages within Word. For those of us who program in XML format, you can save documents in XML format in order to separate the content from its format. XML or Extensible Markup Language has been a round for a long while. XML is a text language that can be understood by many different applications on different platforms. With Office professional edition 2003 companies can use customized XML formats to enable easier and much more advanced information creation, capture, exchange and reuse it. Other aspects of WORD that I found most useful are the integrated search panes/windows and the new updated dictionary and Thesaurus all useful tools for any one working on articles, books or just about any function where expression and relaying of an idea with the written word comes into play.
Powerpoint 2003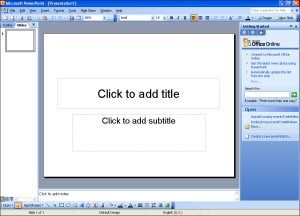 Yet another program that is common for the most part. Standard home users may not make much use out of this program, but in the business world for making presentations it is a great tool. The power point viewer has been improved in Office 2003 and packaging slides for use on a CD for distribution can now be done. The program allows you to package everything for the presentation including all of the supporting files, links and automatically runs the presentation from the CD. The viewer is also included on the CD so no further installation of the viewer is needed. Even if the computer that gets the CD you just created does not have PowerPoint installed. Further, if making a CD is not possible you can package the presentation to a folder for posting on a network or archiving.
PowerPoint 2003 also supports other media formats such as WMX, WVX, ASX, WMA and WAX. If the Media codec is not on the system in question PowerPoint 2003 makes an attempt to find and then download it by way of Windows Media Player.
The package is rounded off with lots of new animation effects and all kinds of charts. Further integration of sound and animation in a presentation is now much easier.
A further boon to those that may hit a wrong key while youíre building your presentation, you will be happy to learn that the recovery part of the program to recover documents has been greatly improved. In the grand scheme of this software suite, PowerPoint 2003 is just a small upgrade from before, the new features may not be enough to excite over if you have PowerPoint XP.
Publisher 2003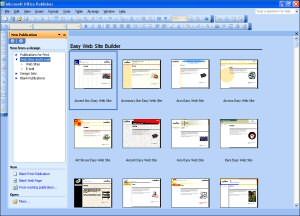 Publisher is perhaps one of the other tools other than WORD that almost everyone can make use of... In most of itís versions it is an extremely useful tool. For a business its use is perhaps one of the essential tools in the suite. In this one package you have the ability to do a lot of your business publishing and marketing materials all in Publisher 2003.
Publisher has always been easy to use and Publisher 2003 is no exception. You almost donít have to have any talent in design at all to create some very eye catching designs.
The package has an almost over whelming selection of tools to use, but a helpful Wizard feature (As in the past) helps you create just about anything. Such as Web Sites, there is even an E-Mail newsletter wizard. Print publications such as newsletters, brochures, postcards, Labels for CD or DVDís can also be created.
To help in the publication process there is an expanded library of templates which even includes stationary sets.
Making an electronic publication with the punch of merging text and pictures from other data sources such as Excel or Access is a snap. Heck, just playing with the program when the creative bug hits you is a blast.
Excel 2003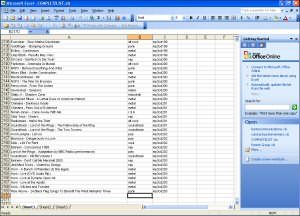 Excel 2003 gives you the ability to turn your data into information, and in turn enable it to be analyzed. This function alone is beneficial to any company that needs to produce information in any department and relay information so that all employees in a work group are on the same page when it comes to knowing whatís going on.
Excel works with XML also and makes it much easier to connect every one to the business process, while still maintaining control of your work. Using Access you can control who has ACCESS to your work thus protecting it from being used by someone you would not want using it. It further brings so many tools at the userís finger tips to enhance productivity. Using a new Pane/Window, called the Research Task Pane brings electronic dictionaries, thesauruses and other online sites right into Excel 2003 to aid in incorporating information in spread sheet. This of course requires a connection to the Internet Such software I find no use for it in home but at an office environment it is a massively useful tool.
ACCESS 2003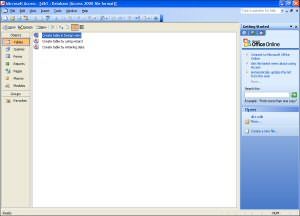 Access 2003 provides a powerful set of tools that are sophisticated enough for professional developers, yet easy to learn for new users. Create or use powerful database solutions that make organizing, accessing, and sharing information easier than ever. It is perhaps one of the other tools that a business will find a lot of use out of. Access enables a user to incorporate from several different data sources; it supports several formats including XML, OLE, Open Database Connectivity (ODBC) and Microsoft Windows SharePoint Services.
Not something the average user would make much use of, but if you are in a small business or into programming of any kind you may find this useful.
As noted at the start of this article, each software included in the Office 2003 Professional Suite have so much to offer and to try to go over every aspect here would be prohibitive in terms of size of the article.
In the end, Office 2003 Professional is a powerful software suite that mirrors this in its hefty price. Most of the software in the suite can be purchased separately and you can even try before you buy by going to Microsoftís official web site and download a trial version of any of the software that was written about here in this article. Further you can also find third party solutions to further enhance this massive product.
Being productive is what itís all about and whether youíre a student, teacher, or someone in the corporate world either in part on in whole the Microsoft Office 2003 Professional edition is a tool that will help you get the job done.
Have fun...
Be productive.
Than play games!
Edwin Millheim
The Final Say!
Design
9.9/10
Graphics
N/A
Sound
N/A
Value
9.8/10
Microsoft Office Professional 2003
reviewed by Edwin Milheim
Review Score: 9.8/10
Distributor: Microsoft
Copyright ©2004 www.impulsegamer.com