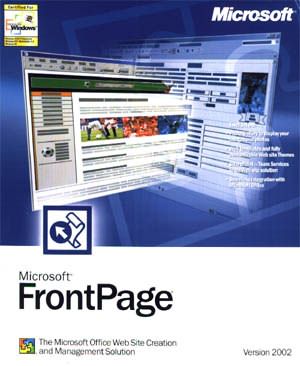 Microsoft FrontPage 2002 Screenshots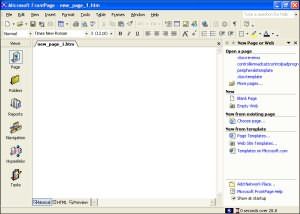 Initial page showing task pane on right.

What you see is what you get (WYSIWYG)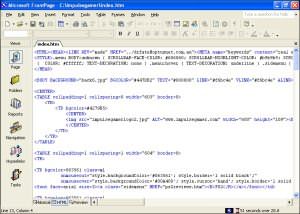 You can also edit in HTML for purists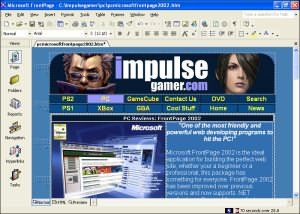 The Final Say!
Gameplay
N/A

Graphics
N/A

Sound
N/A
Value
9.0
Microsoft FrontPage 2002
- reviewed by Tory Favro & Andrew B
Review Date: 19 May 2002
Review Score: 9.0/10
Distributor: Microsoft
"One of the most friendly and powerful web developing programs to hit the PC!"



Microsoft FrontPage 2002 is the ideal application for building the perfect web site, whether your a beginner or a professional, this package has something for everyone. FrontPage 2002 has been improved over previous versions and now supports .NET applications. Some of the new features include;
HTML editing and site management come together in one application
SharePoint Team Services help you set up an intranet site in minutes
Cascading Style Sheets, DHTML, and optional hyperlink underlining enhance your formatting
ASP and HTML source preservation, and XML reformatting enable professional web features
Finer-grained permissions help you control access to your site
Custom Link Bars offer more flexibility in setting up how your pages link to each other
Microsoft Script Editor helps you write and debug ASP and script code
Single-page and drag-and-drop publishing and built-in FTP support enable faster, easier publishing
FrontPage (FP) 2002 allows you to create professional web pages in to time, using a What You See Is What You Get (WYSIWYG) environment or for a more professional feel, you can edit your pages using HTML code. The best thing about FP is that is has a similar look and feel as previous versions, so the learning curve is small. This new interface is based on the current Microsoft Office XP look.

If FP could be compared with another program, we would put this on par with the Microsoft Office series. That is, FP is a cross between a word processor and a web developing program. This program is ideal for beginners as it contains many different web templates, frame pages and style sheets that can give your web page the look that you are looking for.
Some of the other new features of FP are new tools that include a photo gallery, drawing tools and automatic web content. As part of the .NET industry, FP has many e-commerce tools that allows you to create, share and organise your web sites. For professionals, FP now comes with SharePoint that is great news for web developers. This software allows various people to work on the same web site simultaneously.
While testing this software application package on some of our personal web pages, we ran the site management tool that discovered some unlinked pages. This impressive feature allows you to find problems on your web site such as unlinked files or broken hyperlinks. This is great news for web debuggers when you are trying to find exactly what is wrong with your web site.

FP also has the ability to create photo albums that automatically create a web page with thumbnails and links to the appropriate pictures. These automated tools also include many DHTML (Dynamic HTML) features such as rollovers or rotating billboard-style transition effects. Besides support for DHTML, FP also supports native ASP functions.