PC Reviews: PC-cillin 2002 Anti Virus
PC-cillin 2002 is the latest anti-virus software package from Trend Micro. In this dangerous world of internet viruses and unauthorized access to your computer, there are a number of anti-virus programs that prevent viruses and hackers from damaging your system. Norton Anti-Virus and McAfee are generally considered the more popular virus packages, however Pc-cillin 2002 gives these competitors a run for their money. Unlike the standard version of Norton Anti-Virus, PC-cillin 2002 offers a wide range of features that include;

Personal firewall
PC-cillin for wireless
Trojan system Cleaner
ScriptTrap technology
Emergency lock
Improved user interface
Intelligent update capabilities
New product registration method
Virus Protection 101
A virus is a malicious program that affects computer programs & hardware and like a biological virus, a software virus is contagious. There are many types of viruses, from benign to malign. For example, some viruses may appear on April Fools Day with a message and others can literally corrupt all data on hard drives. Trojan horses are programs that attach themselves to other programs and sometimes lie dormant until a specific instruction triggers their malicious code. Regardless of the function that a virus performs, they are an illegal intrusion of your computers software and hardware. The solution to protect your computer is to install an anti-virus program and PC-cillin 2002 not only protects your computer from viruses but also prevents hackers from illegally accessing your computer.
The beauty of the current version of PC-cillin 2002 is the range of new features that is guaranteed to protect your system from a variety of viruses (both known and unknown) and hackers from damaging your system. Below is a list of what PC-cillin 2002 performs and an explanation of the functions it performs.
Personal Firewall protects your system from Trojan horses, spyware and from hackers who may be trying to access your system remotely
PC-cillin for wireless protects your PDA (Pocket PC, Palm, etc) from various viruses that can potentially effect your handheld units.
Trojan System Cleaner runs every time you scan the system for viruses and checks both system and normal files whether they have been infected with Trojans.
ScriptTrap Technology protects your system from scripts that are generally sent via e-mails and are automatically activated when you read the email. Probably one of the most annoying type of viruses around as they are sometimes used to send information back to a server such as your email address and before you know it, you have been added to various spam email lists.
Emergency Lock is activated if your system is under attack from a virus or hacker and closes down all internet activity thus preventing any damage from occurring to your system

Intelligent Update checks whether there are any new updates or patches on the Trend Micro server. This ensures that your system it always up to date from the latest virus and hacker threats.

Scan incoming and outgoing emails from viruses that ensures virus free emails.

Scan all files on hard drives, floppy drives and network drives for viruses before they become a problem. If a virus is found, PC-cillin 2002 will eliminate the virus.
The installation of PC-cillin 2002 was extremely easy under Windows XP and the software was automatically installed when the CD was inserted. I do recommend that once the software is installed that you connect immediately to the internet and download the latest virus update to ensure that your system is protected. The interface has been changed since the last version of PC-cillin and is a more slim-lined interface that is easier to use. The program itself contains a variety of different functions that can scan incoming and outgoing emails, scan your system upon bootup and a recovery program that can be used to get your system back online if your system has been infected by a boot sector virus. That is, a virus that prevents your computer from booting up.
Once PC-cillin 2002 was installed on my system, I was amazed at how many spam emails were being stopped from entering my system that contained viruses and scripts. These are probably one of the most annoying emails because they usually contain attachments with either a .exe or .pif file that are viruses. Apart from the waste of bandwidth these emails cause, they can inflict quite a bit of damage to your system if they are accidentally run. The program also supports a variety of email programs that include Microsoft Outlook, Microsoft Outlook Express, Eudora Pro and Netscape Messenger. Hence ensuring a wide range of protection against viruses.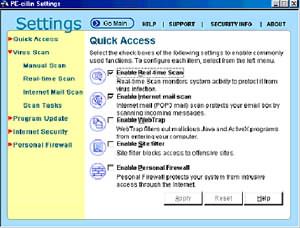 Another interesting feature of PC-cillin 2002 is the WebTrap function that protects your computer against malicious Java and Active X applets. These applets are usually automatically run when you visit a web page that contains this malicious code, PC-cillin prevents this from happening. The Personal Firewall also offers a variety of functions that protects your system from hackers such as the cloaking option that prevents your computer from being found when connected to the internet. The Firewall also has three different levels of blocking from low to high because some programs require that certain ports on your computer are open.
I've been asked the question many times of which Anti-Virus software should someone use? Norton Anti-Virus, McAfee or PC-cillin? They all do basically the same functions, protect your system from malicious viruses. After using the latest version of PC-cillin 2002, I would probably recommend this virus package because it offers additional features that only the professional edition of Norton offers. Not to mention it's roughly $60 dollars cheaper than Norton Anti-Virus Professional. For the home user, PC-cillin 2002 is a must have software package for people who browse the internet and use e-mail. Apart from the latest protection it offers against viruses, scripts and Trojans, it also protects your system from unauthorized access via the firewall. If you're looking for a program that almost offers 100% protection against viruses and the like, than PC-cillin 2002 is for you, highly recommended!
The Final Say!
Gameplay
N/A
Graphics
N/A
Sound
N/A
Value
9.0
PC-cillin 2002
reviewed by Andrew B
Review Date: 25 September 2002
Review Score: 9/10
Distributor: Manaccom
Copyright ©2002 www.impulsegamer.com