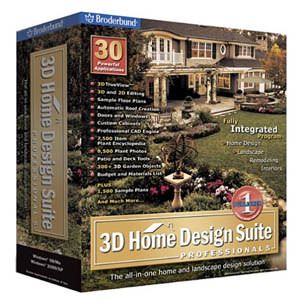 Architecture Features:
- Complete Home Design
- Professional grade CAD engine
- Edit in both 2D and 3D
- Dynamic Dimension Editing
- Inspiring sample floor pans
- Custom doors and windows
- Custom cabinetry
- 3DTrueView Photo realistic rendering
- Automatic roof, ceiling and floor creation
- Skylights, fixtures, mouldings and more
- Budget and materials list
- Export as .DXF, .3DS, .VRML, .BMP &
.JPG
- Lighting
- Customise 2D and 3D objects
- Multi-level rooms
- 1,500 sample plans
The Final Say!
Design
8.5

Usability
7.0

Installation
9.0

Value
8.5
3D Home Design Suite Professional 5
- reviewed by Andrew B
Review Date: 6th July 2003

Review Score: 8.5/10

Distributor: Atari Australia
"The perfect companion to professionally design and create your own house & landscape package."
It is very rare that you find a software package that combines all aspects of home design in one easy to use application. 3D Home Design Suite Professional 5 (3D Home Design) is one such package and features everything the amateur and professional needs to design their own home (or client) and landscaping.
The latest version of 3D Home Design now caters for Windows 2000 and XP but is also backward compatible with Windows 98 and ME that now makes this product one of the most operating system friendly programs around. The installation of 3D Home Design was a breeze and was automatically installed when I inserted the first CD into my CDROM. After the lengthy installation of 3D Home Design, I was then ready to create my own dream house.
One of the first things that novice users will notice about the software package is the complexity of the application itself that virtually contains hundreds of different options that may leave some users a little mortified. Fortunately the software package is extremely intuitive and features literally over 1,500 sample plans that can be used as a template for your future designs. The developers have also included an in-depth tutorial package that teaches you the ins and outs of the software application, so after a few weeks of tutorials and practice, you will soon become a self made architect.
The creation of your house has no boundaries and you can create as many windows, staircases, pillars, doorways, halls & rooms as your imagination lets you. Another impressive feature of the program is that you can also fit your house with furnishings to give it that realistic look.
3D Home Design is based on a professional grade CAD engine that basically lets you create your house plans in both 2 and 3D. The application also comes with a realistic photo rendering tool that turns your house from a mediocre and plain 3D view to a stunning virtual recreation of your future house. By using CAD software, you can then printout your house plans and then give them to an architect to improve or even build a house from them.
My favourite aspect of 3D Home Design was the landscaping part of the program that allows the user to implement a wide variety of different styles of gardens. The program itself boasts that over 7,500 plants available and if you want to see how these plants will look like in winter, you can actually set the program to display your dream house of one of four seasons.
Graphically, 3D Home Design is an extremely impressive software application that featured everything you would expect to see in the real world such as realistic brick textures, photo realistic plants and a variety of other objects such as rocks, furniture, fences, arbours as nothing has been left to the imagination. The downside to the superior graphic system of 3D Home Design is that you will require a fairly powerful computer if you are building large houses with attention to detail. The reason being, is that the program must render certain aspects of the house and the more powerful the processor you have, the faster this program will perform. The programmers recommend a minimum of a Pentium III 500MHz processor, 128MB RAM, an open-gl 3D graphics card and a resolution of at least 1024x768. This package was tested on an Intel Pentium 4 1.7Ghz CPU with 256MB RAM and performed perfectly but I did notice the occasional slowdown that would of been improved with more memory.
In conclusion, 3D Home Design Suite Professional 5 is an amazing software application that I would highly recommend to all novice and professionals users who wish to design their own house. The program also comes with a shop smart program that allows you to budget on the house and gives an estimate of the costs of design, landscaping and a variety of other features. Although the program itself is intimidating because of the hundreds of functions that this program can do, I recommend that all novice users remain patient with the program because eventually, even the most novice user could soon master this program. Professionals with CAD and landscaping experience will have no problems using this software application as it has not been "dumbed" down for the novice but is an extremely powerful software program. Another downside to the program is that the software package contains native American fauna so getting that "Australian" look to your landscape may be a little difficult to achieve. Even with these small problems, 3D Home Design Suite Professional 5 is still one of the best programs around.
Copyright ©2003 www.impulsegamer.com