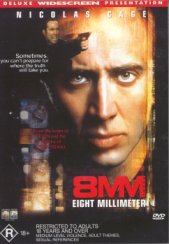 The Final Say!
Review Score
8.0/10
Reviewed by Tory Favro
Review Date: 25 April 2002
Distributed by: Columbia Tristar
8MM covers the story of private eye Tom Welles, played by Nicholas Cage. He is contracted to find out if a movie filmed on 8mm reel uncovered in a wealthy man's safe truly depicts the brutal murder of a young girl. Who is the girl? Is the film even real. Tom has to lower himself into the sleazy world of illegal hardcore porn where every taste is catered to, including snuff films.

I found the movie to be fantastic with a strong performance by Cage and an ending that will shock you. At times I found some of the subject matter to be extremely tasteless even to the point of being sickening, however could understand why director Schumacher needed to take us there in order for us to understand the underground society of illicit porn.

With a cast of bizarre immoral characters, 8mm will keep you on your toes all the way through the movie.

Features:
Picture Disc
Widescreen Format
Audio Commentary by Director Joel Schumacher
Filmographies of Director and Key Cast
Original Movie Trailer
Behind the scenes featurette of the making of the film.

Copyright ©2002 www.impulsegamer.com