News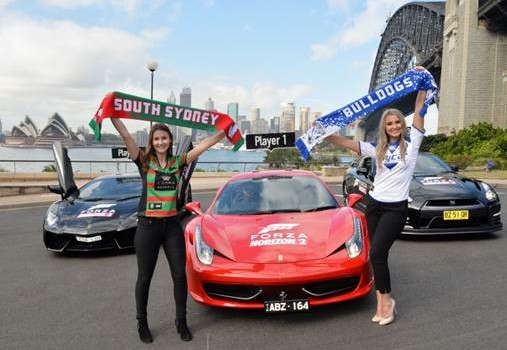 Published on October 3rd, 2014 | by admin
0
Xbox Newsbeat 27 September – 3 October
Lamborghinis and Ferraris Join the Uber Service to Mark the Launch of Forza Horizon 2
This give a whole new meaning to arriving in style.
This weekend, Sydneysiders using the popular on-demand car booking app Uber will be able to travel in some of the world's most luxurious sports cars free of charge as part of a unique collaboration with Xbox Australia.
Taking place to mark the launch of the highly anticipated racing game Forza Horizon 2, the three day app takeover sees cars featured in the game – including a Lamborghini Aventador, Ferrari 458 Italia and Nissan GT-R – hitting the streets of Sydney, with members of the public able to request the exotic motors via the Uber app – including those NRL fans travelling to the Grand Final!
Although the supercars would cost punters over $900,000 on the showroom floor, smartphone users can simply download or log into the Uber app and enter the promo code 'UBERFORZA' to unlock the custom vehicles and request a free ride on-demand. The supercars will take passengers wherever they need to go within Sydney's CBD, Eastern Suburbs and Inner West at no charge.
Jeremy Hinton, Business Group Lead for Interactive Entertainment at Microsoft Australia, said: "Taking a trip in a Lamborghini or Ferrari is something that most of us would consider a dream experience. We wanted to mark the launch of Forza Horizon 2 in Australia by helping our fans turn this dream into a reality. To celebrate this occasion we will bring the supercars featured in game, which are considered by many to be amongst the most desirable cars in the world, to our fans."
David Rohrsheim, General Manager, Uber Sydney said: "Uber's goal is to connect riders with safe and affordable transport options at the push of a button in every major city around the world. Uber is about making an ambitious transport dream a reality – this weekend we're excited to be making childhood dreams a reality."
Forza Horizon 2 is available now on the Xbox One and Xbox 360 and allows players to race through a massive wide-open world in more than 200 of the world's greatest sports cars.
For everything you need to know about Forza Horizon 2, please visit the Xbox Website.
Minecraft: Xbox One Edition Reaches Retail Stores November 20
For all the budding creative gamers that want that hard copy feel
Know any budding creators who haven't upgraded to Minecraft: Xbox One Edition yet? If so, we'll help you cross one item off your holiday shopping list. Following the digital debut of Minecraft: Xbox One Edition earlier this month, we're excited to announce the smash hit game will also hit store shelves beginning on Nov. 20.
Minecraft fans can easily transfer their Xbox 360 creations and most of their downloadable content to the Xbox One Edition and play in up to 36 times larger worlds. And, with the widest range of downloadable content on console, players will never run out of new worlds to explore with four player split-screen on one console or up to eight players over Xbox Live. It's Minecraft any way you please this holiday— whether buying the disc, downloading directly onto your Xbox One, or grabbing a digital download code or gift card from participating retailers. And to all you veteran Minecrafters who've already been playing Minecraft: Xbox 360 Edition, don't forget you will be able to digitally upgrade!
As an FYI – The upgrade offer is only eligible for the digital version of Minecraft: Xbox One Edition; players must own the retail disc or digital version of Minecraft: Xbox 360 Edition and connect to Xbox Live with their account when playing the digital version.
For more information and to read more about your favourite Xbox titles, please visit the Xbox Wire.
Forza Horizon 2 Has Arrived – Plus New Details on Forza Hub!
Get ready, start your engines – go!
Forza fans, the wait is officially over! Starting today, you can pick up or download your copy of Forza Horizon 2 and race through the massive wide-open world of southern Europe in more than 200 of the world's greatest cars.
Also, starting today you have a new way to explore the Forza universe. Forza Hub has arrived. Available now as a free download exclusively for Xbox One, Forza Hub is your all-in-one app for everything happening in the world of Forza. Here we'll give you a brief rundown of what you can expect from Forza Hub.
You can download Forza Hub for free from the Xbox One Store. Once you have it on your system, you'll be able to access a ton of Forza news, community announcements, redeem your monthly Forza Rewards, and even launch events in Forza Motorsport 5 and Forza Horizon 2 on Xbox One.
For the very latest in Forza Horizon 2 news and more information on Forza Hub, please visit the Xbox Wire.
Create, Ride, Destroy, Scream – Here's What to Expect from ScreamRide
But seriously, as if you need any more reasons?
During this Summer's gamescom 2014 Xbox Briefing, ScreamRide's reveal stood out, even though it wasn't exactly clear what kind of game we were looking at. Is it a simulation? An action title? Recently, I met up with Executive Producer Jorg Neumann, who shared much more on ScreamRide, including a look at the tools used to construct roller coasters that defy reality and what happens when your friends start riding them.  "Unprecedented levels of destruction?" OK, ScreamRide, now you have my attention. The screaming begins this spring on Xbox One and Xbox 360.
For the full trailer or if you'd like to find out more about Screamride, please visit the Xbox Wire.