Revolutionary All-In-One HD Display, Home Theatre System and Music System
Now Available in 46″ and 55″ Screen Sizes 
Bose introduces the VideoWave® II system, the next generation of its breakthrough entertainment system that combines a high-definition TV, home theatre sound system, and music system into one revolutionary product.  Beginning in July 2012, the VideoWave II system will be available in 55″ and 46″ screen sizes, featuring a 1080p LED backlit display for stunning images, a new, more refined industrial design, and an updated click pad remote for the easiest, most intuitive control of home entertainment ever developed.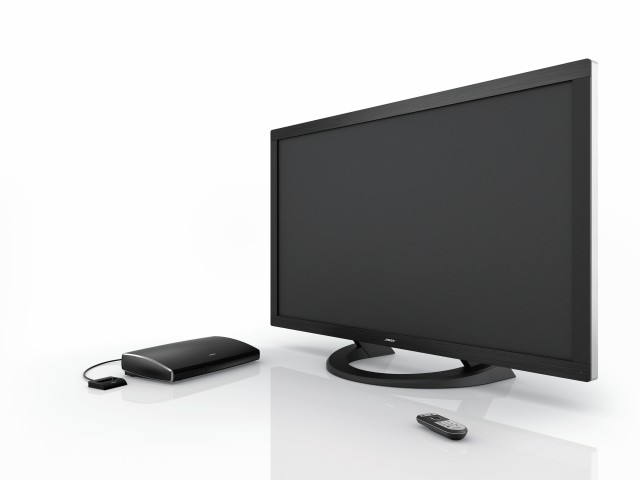 The New Bose VideoWave System: It's A High-Definition Television
The new Bose VideoWave system delivers a brilliant picture, now with a new 1080p LED backlit display.  Image quality is crisp and vivid for watching movies or TV, and the display now includes an aluminum-finish bezel for both model sizes, and a thinner, sleeker frame for the 55″ screen.  The new VideoWave system is powerful, but slender and elegant enough to be wall-mounted, and uses just one cable to connect to a small console — which can connect up to six devices, including an Apple® TV, Blu-Ray Disc™ player, cable or satellite box, gaming devices, and many others.
The new VideoWave® system's click pad remote uses just a few buttons, a touch-sensitive click pad, and an on-screen interface to control everything, eliminating the multiple remotes for multiple devices.  With the click pad, every command can be made without looking away from the screen — change channels or sources, fast-forward, rewind, pause, quick skip, and anything else.  There's no guessing or confusion, and because the Bose® click pad remote uses RF technology, it doesn't need to be aimed, and all the devices it controls can be hidden from view.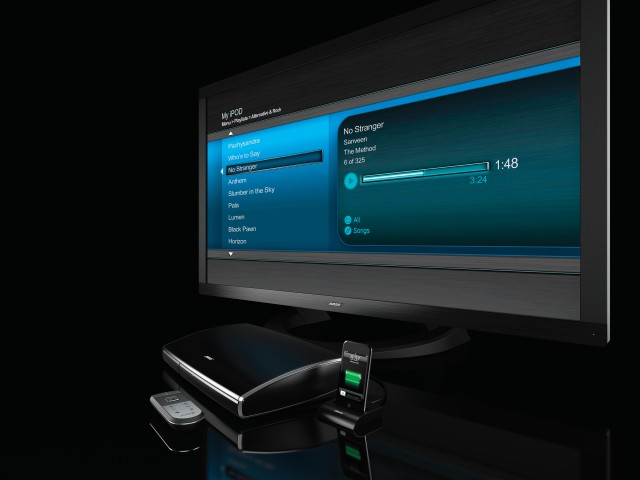 The New Bose VideoWave System: It's A Home Theatre System
The new VideoWave system integrates a home theatre system behind the display, yet delivers unmistakable cinema sound –- immersive and powerful.  There are no separate speakers, no bass module, and no speaker wires.
A cluster of six high-performance woofers inside the system are carefully matched to a powerful acoustic Bose waveguide to deliver the impact of deep low notes with no audible distortion, even at the highest listening levels.  Exclusive Bose PhaseGuide™ sound radiator technology is combined with a seven-element speaker array and advanced Bose digital signal processing to distribute spacious sound well beyond the screen — so channels of sound are heard in places where there are no speakers.
The new VideoWave system can be placed almost anywhere thanks to Bose ADAPTiQ® technology, an exclusive audio calibration technology that recognizes room shape, size, even furnishings, and adjusts the sound to compensate for each — automatically.
The New Bose VideoWave System: It's A Music System
The new VideoWave system comes with a dock for an iPod® or iPhone® and completely transforms music listening.  The system's built-in speakers reproduce instruments and vocals with the clarity and separation of a multi-component audio system.  Artists, songs, and playlists are displayed on the screen, and the click pad remote allows for full access and control.  A video mute feature can turn the screen off when desired, and do what was previously impossible: fill the room with full-range, accurate music reproduction, and not a single speaker in sight.
Details and Availability
The Bose® VideoWave® II system has a detachable table stand and is compatible with third-party VESA wall brackets (sold separately).  It replaces the Bose VideoWave system, and will be demonstrated and sold in Bose stores beginning on July 30, 2012.
The system is available for AU $6,999 (NZ $8,999) for the 46″ model and AU$7,999 (NZ $9,999) for the 55″ screen size.
About Bose Corporation
Bose Corporation was founded in 1964 by Dr. Amar G. Bose, professor at the Massachusetts Institute of Technology.  Today, the company is primarily known for acoustics; however, its research has resulted in products for non-audio fields.  Bose inventions have improved the performance of:
Loudspeakers
Home entertainment systems
Automotive music systems designed for the interior acoustics of each car model (first introduced by Bose)
Noise reducing headsets for pilots and the public (first introduced by Bose)
Sound in public spaces
The production of sound for musicians requiring electronic amplification of their instruments
Materials testing and durability simulation instruments for biomedical, industrial and commercial applications
Driver suspension systems for heavy-duty trucks