Award-Winning First-Person Environmental Puzzle Game Also Coming to PlayStation®Network and Xbox LIVE Arcade in ANZ soon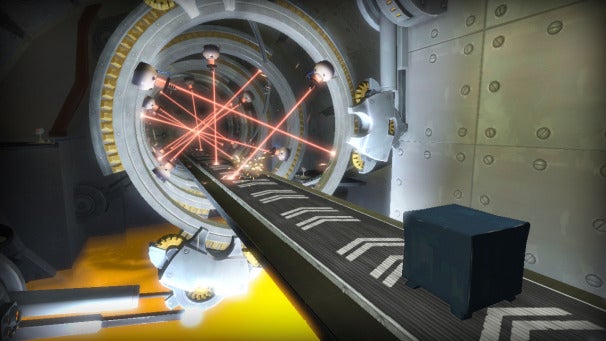 June 25th, 2012 – Square Enix Ltd., the publisher of SQUARE ENIX® interactive entertainment products in Europe and other PAL territories, today announced that Quantum Conundrum™, the newest game from PORTAL™ co-creator Kim Swift and developer Airtight Games, is now available on PC for USD$14.99.  Players can also purchase a Season Pass through Steam® for USD$19.99, and get a downloadable Quantum Conundrum soundtrack and two future downloadable puzzle packs. Quantum Conundrum will be available shortly in ANZ on the PlayStation®Network for the PlayStation®3 computer entertainment system and on Xbox LIVE® Arcade for the Xbox 360® video game and entertainment system from Microsoft.
One of the most decorated titles at E3 2012 in Los Angeles, Quantum Conundrum earned recognition as one the show's top games, including 13 media nominations and awards for Best New Franchise, Most Innovative, Best Puzzle Game, Best of Show, Best Platformer, Best Original Game and Most Valuable game from outlets like IGN, Game Informer, PC Gamer, GameSpy, Destructoid and more.
"Quantum Conundrum is one of the most innovative, thought-provoking games of 2012 from one of the great designers of our industry, Kim Swift," said Mike Fischer, president and chief executive officer of Square Enix, Inc.  "We're proud to launch the next evolution of puzzle games and we're anxious to see how gamers react."
ABOUT QUANTUM CONUNDRUM
In Quantum Conundrum, players take on the role of a young boy dropped off on his uncle's doorstep for the weekend; his uncle just so happens to be the brilliant, eccentric inventor, Professor Fitz Quadwrangle. Upon entering the Professor's vast manor home, retrofitted with crazy technology to test his latest hypotheses, players quickly realize their uncle has gone missing. Fortunately, players immediately find Professor Quadwrangle's latest invention, the Inter-Dimensional Shift (IDS) Device, which, at the press of a button, can shift the world around them to a different dimension. In order to find their uncle, players use the IDS to dynamically alter between five dimensions and progress through bizarre and challenging rooms in the labyrinthine Quadwrangle Manor. Becoming adept at using the various dimensions – sometimes in combination – will be critical to solving puzzles and moving on to the next room.
Related Links
Quantum Conundrum Official Homepage:          www.quantumconundrum.com
Quantum Conundrum Official Facebook® page: www.facebook.com/quantumconundrumgame
Follow Professor Quadwrangle on Twitter®:       @ProfQuadwrangle