Housos is the not so epic, stories of Shazza, Dazza, Franky and Kylie - four best mates from down on the block. Sure, they drink away their problems, they might even have frequent domestics but down on the block it's all for one and one for all.
Housos follows the adventures of the residents of the Sunnyvale Housing Commission in 'every-town' Australia. They battle cops and they scam Centrelink, they even have the occasional threesome and swingers party, but once you're down with the crew in the hood it's "Sunnyvale for life".

Fact of life; Australia is getting dumber, less educated - and at the bottom of the barrel you'll find the fully sick adventures of the residents from Sunnyvale... What does it mean to be a houso? It means that life is far from easy. What do you do if ambulances won't come into your area because kids throw rocks at them? Hmmm, maybe you should steal a fire truck and get to the hospital that way? What do you do if your dad owes thousands to the bikies and your boyfriend needs bail money? Maybe importing shifty boogie boards could solve all your problems. It's funny how much work they put into actually avoiding real work.

From the creator of 'Fat Pizza' and 'Swift and Shift Couriers', Pauly Fenech, the assassin of political correctness, does to bogans what Kath and Kim did to lower, middle class Australia. Housos is a fashion statement from Australia's dodgiest suburbs; thongs, hoodies and Ugg boots will transport you to a world where self-medicating, poorly educated stooges are not only the norm they're a fact of life. They may be trashy but they are literally as thick as thieves. With the best of the 'Fat Pizza' and 'Swift and Shift Couriers' ensemble 'Housos' brings the real face of Australia's suburban underbelly to life.
- TO WIN -
TELL US IN 25 WORDS OR LESS
WHO IS THE HOTTER COUPLE AND WHY?
Is it Kylie & Franky (top) or Shazza & Dazza (bottom)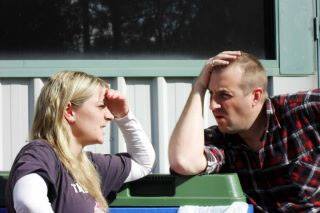 * PROMO ENDS DECEMBER 31ST 2011 @ 11:59pm