Nat Geo Quiz! Wild Life
Quiz games have definitely changed the face of party games on the PlayStation 3, especially with Buzz! Of course, quiz games are not just limited to Sony and Black Bean Games have released their own quiz game called Nat Geo Quiz! Wild Life which has been put together with the help of National Geographic, one of the world's most popular resources of wildlife, history and the like.
This current game obviously revolves around wild life and is a game that can be played by everyone, provided there is more than just one person. You can play the game as a solo instalment, however it is lacking that oomph factor, especially with the competitive streak of people. The simple formula is... more people = more fun!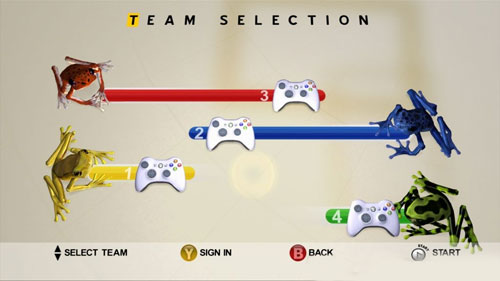 Nat Geo Quiz! Wild Life could be considered a casual game or family game and both suit the premise perfectly. When you first load the game, it almost looks like a National Geographic documentary with its branding and high quality videos. Some nice presentation that the developers have managed to recreate in a video game.
In terms of control, accessing the questions and menu system is done through the PlayStation 3 DualShock controller which most people should have no issues whatsoever in accessing it. Even though the game has a edutainment feel to it, this will probably be squashed by the players competitive nature which makes this the perfect party game. We tested this game with four people and had a blast playing it and needless to say... tempers rose!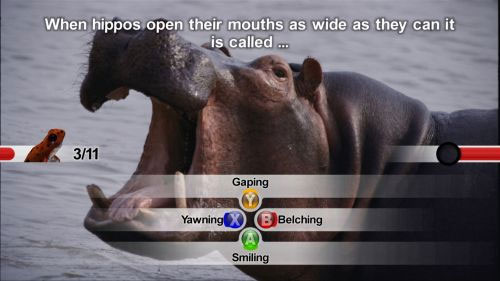 In terms of gameplay, the game follows a similar premise to Buzz! and Scene It which uses multiple questions, sound and visual prompts to assist with the questions. With hundreds upon hundreds of questions, it's very rare that the same question will come up if you play it again, you are pretty much guaranteed different questions.
The questions are quite diverse, including how they are presented such as jigsaw pieces, movies or even world clues but generally, most are multiple choice. As a carrot for the player, there is even a quest mode that urges the player to get ten questions scored correctly in a row which is not as easy as it sounds. Depending on who is playing, the game supports a variety of difficulty levels, ensuring that younger gamers can also have a go. Definitely a great family experience.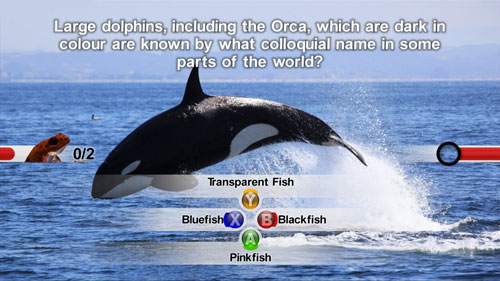 Visually, Nat Geo Quiz! Wild Life is a good looking game on the PS3 with high definition videos taken from a variety of National Geographic documentaries. The high resolution videos look great and sometimes make you want to learn more about the animal or animals in question. The sound bites are professionally recorded and the only downside to the title is the commentator who sounds a little too Buzz for my liking. Personally, I would have preferred someone who is more refined and more National Geographic than tacky quiz master.
In conclusion, Nat Geo Quiz! Wild Life is another fun quiz game to this genre on the PlayStation 3 and although it doesn't use the Buzz! controllers which is a shame, the PS3 controllers work almost as well. Thankfully the game is well designed and doesn't look like a cheap third party game that has been tacked together. With the National Geographic badge behind it, the developers have paid respect to their long diverse history and at the same time, making an enjoyable game!