I must confess that I've actually been looking forward to this game for quite some time... nearly 10 years because that was the last time both Marvel and Capcom characters graced the same game. With a new slick new interface and more characters than you can poke a fanboy stick with, Marvel vs. Capcom is oozing with fighting goodness and from the very first moments of the game, you immediately know that you are in for a treat. Just look at these lovely screenshots!
More importantly, the game is very good... and I seriously mean that! Just like Capcom's award winning Street Fighter IV that proved the faux 2D/3D fighting genre was not dead, Marvel vs. Capcom 3: Fate of Two Worlds take a leaf out of the same book.
So what brings these characters together again? The answer is Doctor Doom who decides that his universe is not big enough for him but when the giant and godlike Galactus comes on the scene, it will take a team-up of epic proportions, both heroes and villains alike to foil his world crushing plans. The story may be clichéd and generally not that important to the game but where this title shines is through myriad of characters from two diverse universes, one of comics and the other of gaming.
With 36 characters available to player (two more available via DLC), gamers can enjoy pummelling the AI, friends and online gamers with fan favourites such as The Hulk, Spider-Man and Phoenix. Although playing the Marvel characters was a real hoot, what impressed even more were the diverse Capcom characters such as Dante, Viewtiful Joe and my favourite, Arthur from Ghosts 'n Goblins.
A special mention should also be made for Deadpool who still brings a fat smile to my face from his over the top and ridiculous one-liners plus sexy looking cinemas. I'll spoil one character from the game however... Arthur. Our little friend from Ghost 'n Goblins is able to call his magical golden armour, just like the arcade game as a special attack and if he gets beaten too much, he loses his armour and fights the rest of the round in boxer shorts. Now don't tell me that is not perfect because it is.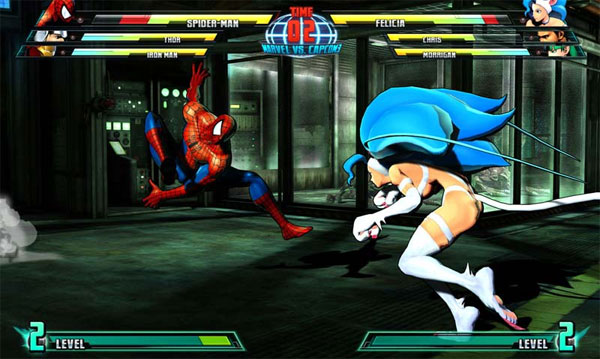 The gameplay of Marvel vs. Capcom 3: Fate of Two Worlds is a traditional fighting game that lends itself from Street Fighter, however this is a three-on-three fight. Initially the game is like a fighter on Ritalin due to the speed and so much going on at once but when you distance yourself a little, things rapidly begin to fall in place. If you can pick up a controller and handle yourself in most games than this title won't pose any issues to you. Even those who have never played a fighter before will easily be able to jump straight in by mashing buttons together. Yes, the game can be played as a button masher (for a short while) but as you progress, you will need to work out all the combo attacks and your special manoeuvres.
The controls have definitely been streamlined from the previous Marvel vs. Capcom game that works quite well. With that said, there are four main attacks that include light, medium, hard and special. But by linking them together or jumping in the air, they create something special and increase your damage as do your hyper combos. Skill is definitely a key asset here. You also have access to the X-Factor and by pressing all four attack buttons, it literally turns your character into a superhero for a limited amount of time. Great for when your getting your collected hides handed to you.
There is a training mode but nothing is more fun than jumping straight in the deep end because this is a game that is more fun by doing so. Another highlight is that each character is vastly different that will ensure a high replay value and definitely value for money. The three-on-three system is entertaining to use as you call on back-up or swap between characters to beat the absolute living daylights out of your enemies. The boss fight at the end of the single-player game however is quite frustrating due to the "size" of the enemy but think of it as a challenge.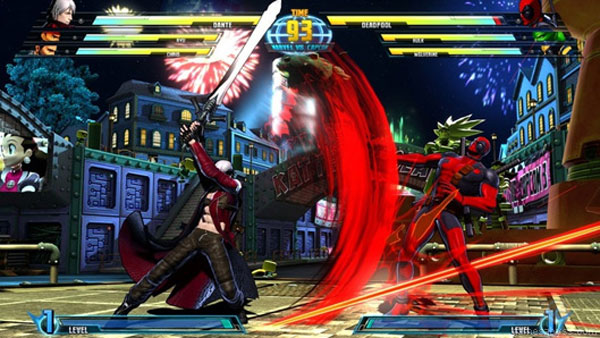 Online play (Ranked Matches, Player Matches & Lobbies) is just as fun as playing against the AI or another human player in the same room but generally gives you more satisfaction when you beat a real-player. By playing online and if you're good, you will be ranked accordingly and needless to say, there are plenty of kickass player out there.
Marvel vs. Capcom 3: Fate of Two Worlds Characters
Marvel
Capcom
Captain America
Deadpool
Doctor Doom
Dormammu
Hulk
Iron Man
Magneto
M.O.D.O.K.
Phoenix
Sentinel
She-Hulk
Spider-Man
Storm
Super-Skrull
Taskmaster
Thor
Wolverine
X-23
Akuma
Albert Wesker
Amaterasu
Arthur
Chris Redfield
Chun-Li
Crimson Viper
Dante
Felicia
Hsien-Ko
Mike Haggar
Morrigan Aensland
Nathan Spencer
Ryu
Trish
Tron Bonne
Viewtiful Joe
Zero
Graphically, this is game is eye candy. The attention to detail is amazing and all the characters look like their comic or game based counterparts. The backgrounds are well animated and sometimes there is too much going on at once, hence the warning at the start of the game. One issue I had with the graphics is that sometimes the characters go out of the screen which does cause a few gaming problems and they appear a little too big on screen. Thankfully it did not pose that much of an issue.. maybe a little. Voice acting is brilliant and once again, Capcom go over the top and boy does it pay! :)
Conclusion
This game is just good, plain and simple. If another game knocks Marvel vs. Capcom 3: Fate of Two Worlds off its perch this year, I will eat by socks. I haven't had so much fun in a fighter in quite some time. With lots of fan service, perfect controls and graphics to die for... not to mention some voice acting treats, Marvel vs. Capcom 3: Fate of Two Worlds definitely made gaming fun again as you pick up the controller and get lost in this wonderful universe of two worlds. Definitely go out and buy this game now because there is a new fighter in town.
Highly Recommended!