Shinobido Way of the Ninja
Whilst resembling Tenchu in more ways than way, Shinobido is a really cool game that I think in some ways surpasses what has currently been experienced in other Ninja games recently.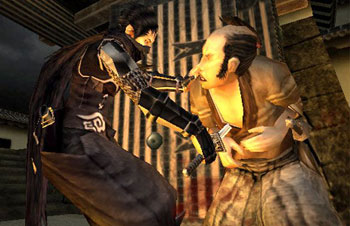 The hero in this story is Crow and after the typical ďIíve woken up and am not sure what happened scenarioĒ, you discover that Crowís soul has been taken and stored in stones around the land that he will have to go adventure and do battle for.
One of the shining lights of this title is the physics engine that creates the game world and the way that your character and enemies interact with it. Fallen combatants will slump realistically over items or spots on the ground rather than just lying prone or stiff.
Three warlords dominate the game world of Utakata and you will need to do missions for them in order to get your soul back. There is a RPG element to the title in that if you complete missions for one warlord in particular then your popularity will diminish with the others and vice versa. Itís a juggling act that does affect the greater powerplay taking place during the game. It feels like one that you are not directly affected by but will have bearing on the greater game overall.
The game looks good for the most part and is on a par with most of the new release titles that are currently on the PS2. My fear for the console is that as it is phased out, gamers are going to be making do with dumbed down ports from more advanced consoles. Itís interesting to see what certain developers are able to do with the PS2 graphically in terms of what they can make a game look like. Still for my money, one of the nicest looking games on the machine would be Metal Gear Solid 2. However I digress.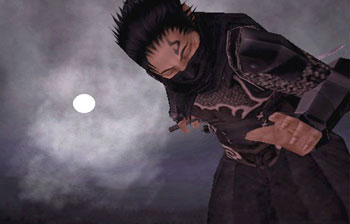 Some gamers will have a learning curve with the controls as they feel a tad loose at times which can cause you to make Crow overreact which is certainly not what is wanted when you are controlling a ninja on a stealth mission. This over time will frustrate players as itís not a thing that you can get used to or allow for, itís a niggle in the controls that persists for the game.
This is a neat game that is pretty to look at and for the most part is a fair whack of fun to play. The storyline is neat and compelling enough to make you want to play through the title to work out what is going on. Crow is interesting enough to make you want to find out more and get his soul back (luckily for him) and the rivalry between the warlords and the effects your loyalty to one or the other have are very interesting.
This is an enjoyable game that I think most players will like once they get over the loose controls. If you are unsure then give it a try first through the rental shop then make a purchase as for some of you it might be a bit hit and miss.