We recently reviewed Video Strip Poker Supreme from Polish Developers Torquemada Games which received a respectable 8/10. They also asked us to review their older title, Video Strip Poker Classic that is once again another download from the net. So what's it all about? It's about playing poker against beautiful women and then stripping them down to nakedness by winning poker hands. It's a classic game that has been revisited by Torquemada Games.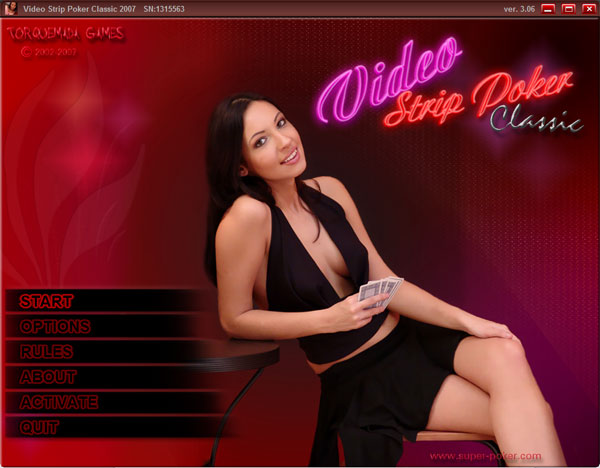 As you can see from the above menu, the game contains 6 options. Start (play poker), options (tweak your settings, e.g. music, card prompter, how many cards, etc), rules (how to play), about (the developers), activate (activate your copy of Video Strip Poker Classic) and finally quit. The menu is simple and straight to the point.
At it's core, the game is basically a soft porn game that contains some amazingly hot Eastern European women. And I do mean hot. When you click start, you basically get to select which girls you will play against. You can download additional player packs from the net, all with a cost. It's good to see that the developers continue adding new player backs for the games.
By double clicking in the girl, it will bring up the game. Once in the game of poker, you will see the girl in a particular setting (e.g. bedroom or outdoor area), wearing not much and being quite seductive towards the player thanks to the videos. Like anyone other poker game, you have the option to bet, stay, drop, draw and call. It is recommended to turn the card prompter off which basically leaves the playing to the player as opposed to the software selecting your best cards.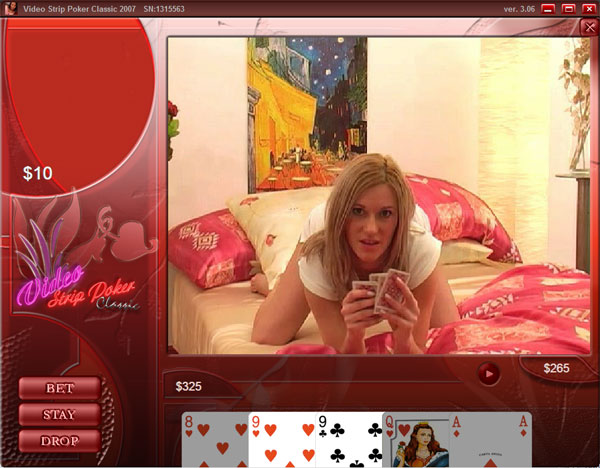 Betting is done in $5 increments up to $25. If you manage to keep winning several hands, your opponents kitty eventually goes to zero and this is when they will sell a piece of their clothing back to you. Some of the girls become quite upset when they lose, although in this seductive and very cute way. You basically keep on playing until you lose all your money or the girls lose all their clothes. As we said... it's strip poker.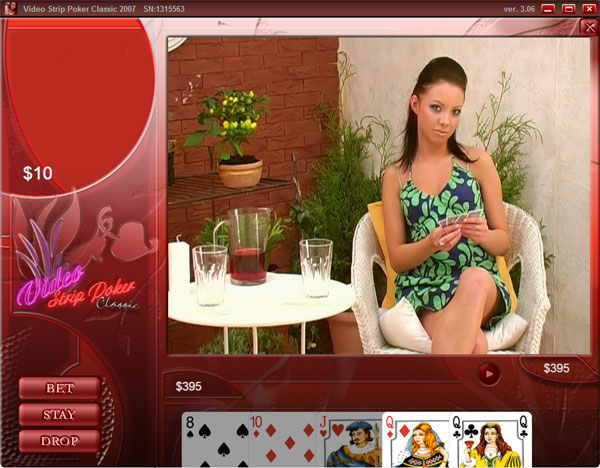 Different environments for the girls
The highlight of the game are the amazing girls that Torquemada Games have collected in this game and some of these are models from Playboy and other European publications. Thankfully there are quite a few player packs available which ensures additional longevity. In regards to the gaming interface, it is a little dated and the videos are not as clear as Video Strip Poker Supreme which also does play a little smoother.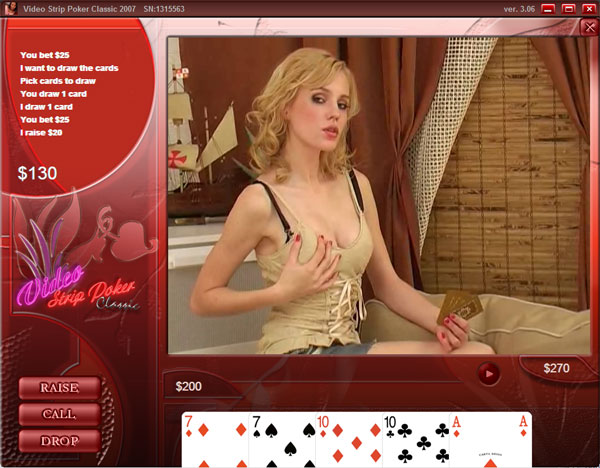 The classic element of soft porn
Given that, this is the classic version of the game and compared to the Video Strip Poker Supreme, I believe the game is considerably harder, especially trying to get your opponents naked. This is where the problem starts, do you go for the other game with better graphics and a slicker interface but with easier gameplay or the classic version that is more dated? It's a hard choice and both games should definitely have a slider for a difficulty level. However we believe that the Supreme version is better due to the overall quality but if you want a challenge, classic is definitely for you.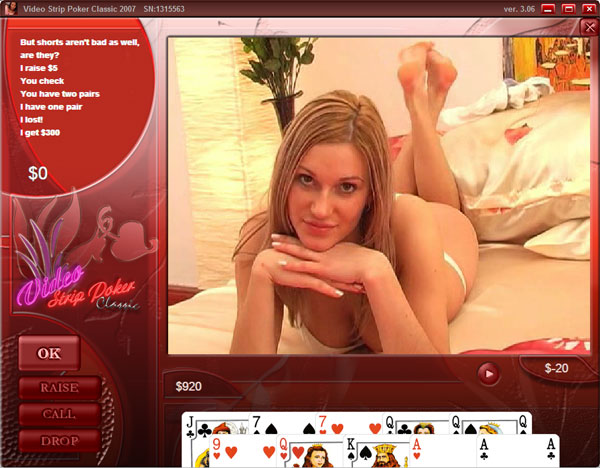 Our favourite girl Martha (18 years old, hungry for life yachting enthusiast)
Even so, it's great that Torquemada Games are supporting an ancient game on the PC and Video Strip Poker Classic definitely fills a gap in this genre. Let's see some more updates and more importantly, more girls! Check it out folks! It's soft porn meets gaming!
Check it out at www.Super-Poker.com!
And what everyone requested... more screenshots - click to zoom!