Norton AntiVirus for Mac
(Dual Protection)
Symantec have re-released an innovative product for users of Intel-based Macs who are running both the Mac OS X and Windows operating system on their computer. Although the Mac OS X is not as vulnerable to viruses as Windows based machines, those running dual operating systems are at a greater risk than those just running the standard Mac operating system, due to the exploits of the Microsoft Windows based family of operating systems.
Thus, Norton Antivirus for Mac Dual Protection is the perfect compendium for these users who are using Apple Boot Camp or VMWare Fusion and the like to protect their value data. In laymen's terms, this means running both the Mac operating system and the Windows operating system on one computer.
Key Technologies - Norton AntiVirus 11 for Mac
Antivirus

Internet Worm Protection
Key Technologies - Norton AntiVirus 2008 (PC)
Antivirus

Antispyware

Internet Worm Protection

Rootkit Detection
Best of all, the product also works on the latest Leopard interface and users can now have a peace of mind that both their operating systems are being protected by this powerful anti virus software.
Features
Works with new Mac OS® X v10.5 (Leopard™). NEW

Redesigned user interface makes navigation even easier. NEW

Protects against attacks that target software vulnerabilities. NEW

Improved scanning performance. NEW

Automatically detects and removes viruses and worms

Prevents virus-infected email from spreading

Includes an all-new Norton AntiVirus dashboard widget

Delivers industry-leading protection in the background, so you can work and play without noticeable impact on performance.
We tested the flaws of both our systems with some "known" viruses and the program promptly stopped these threats without these programs infecting the system. The difficulty was testing the program with the Mac due to the limited number of viruses, however we did manage to find a flaw in the system and this so called virus was stopped in its track.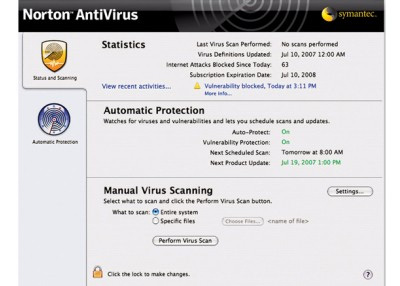 Whether it was an e-mail, surfing the internet or attempting to run an infected file (especially on the PC), Norton Antivirus for Mac Dual Protection successfully halted any infection of our hard drive on both systems. With that said, as Windows operating systems are at more risk than Apple systems, this is definitely a must have system for Mac users on an Intel-based system that provided almost 99% protection.
In conclusion, Norton Antivirus for Mac Dual Protection should definitely be considered for those users running dual operating systems and best of all, the program supports both Leopard and Boot Camp. With 12-month subscription, Norton Antivirus for Mac Dual Protection will not only give you some peace of mind but allows you to continue using your dual operating systems as it silently protects your system and ensures that you have the latest upgrades.
System Requirements for Norton AntiVirus 11 for Mac
System Requirements for Norton AntiVirus 2008
Windows Vista® Home Basic/ Home Premium/Business/Ultimate**
Windows® XP with Service Pack 2 Home/XP Pro/XP Media Center Edition

300MHz or higher processor

256MB of RAM

300MB of available hard disk space
** Must meet minimum Windows Vista operating system requirements.

Email scanning supported for POP3 and SMTP compatible email clients.
Supported instant messenger clients:
AOL® – 4.7 to 5.9
Yahoo!® – 5.x and 6.x
Microsoft® – 6.0 or higher
Trillian™ – 3.1 or higher